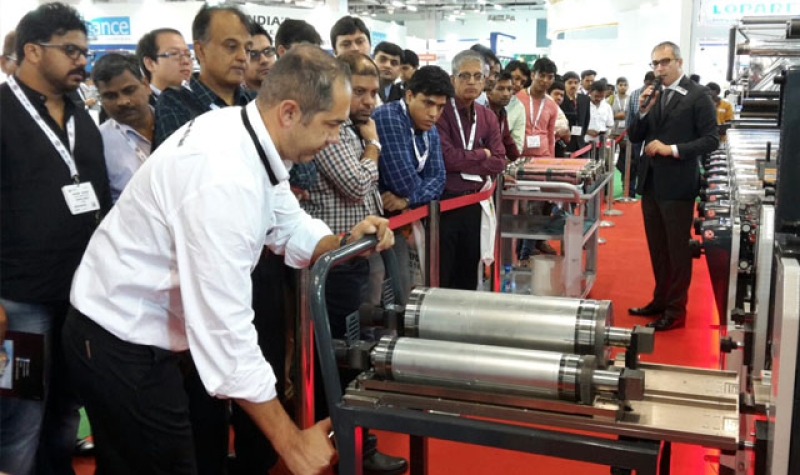 Labelexpo India 2016: great success for iFlex launch in Asian market
November 24, 2016
At Labelexpo India, the most important exhibition in South East Asian area, held in Greater Noida, close to New Dehli, from 17 to 20 November, Omet met with success by selling two iFlex: A significant international acknowledgement for the Italian company, true leader in the market of narrow-web printing press manufacturing.
The first iFlex is to be installed at the new premises of Huhtamäki PPL Webtech Labels in Mumbai, in the beginning of 2017. The Finnish group is specialized in flexible packaging and is active on the market for more than 80 years, counting 14 manufacturing sites in India.
Even Insight Graphics chose OMET iFlex to "re-start", after a terrible fire destroyed its label division based in Kolkata. "I'm very impressed by iFlex's performance – stated Ashish Shah, managing director-. Even if it is an entry-level press, it features a deep level of automation and it is extremely easy to use".
"We are very glad that two of the greatest and most promising players in the Asian market chose OMET – said Paolo Grasso, OMET Area Manager-. They understood the value of the technology applied to our machines and how fast they can generate ROI".
The 2 sales in the first 2 days of exhibition demonstrate the great appeal of our presses in the local market. Even a huge multinational company like Huhtamäki PPL – added Harveer Sahni from Weldon Celloplast, OMET's official distributor in India – after witnessing the ergonomics and the performance in terms of level of waste, they had no doubt in selecting OMET as perfect partner for their business".
OMET starred also as official sponsor of the Flexo category in the LMAI Awards night, during a pleasant ceremony, which registered a huge success.
Labelexpo India gathered more than 200 exhibitors and attracted thousands of visitors, demonstrating once again the relevance of the business in this area, where Omet has been investing a lot: the opening of OMET India office in New Delhi is a fresh operation aiming at guaranteeing constant service on the market.
---
Labelexpo India 2016: ottimo debutto sul mercato asiatico per la iFlex OMET
Durante Labelexpo India, la fiera di settore più importante del Sud Est Asiatico che si è svolta a Greater Noida, vicino New Dehli, dal 17 al 20 novembre, sono state vendute due macchine: un significativo riconoscimento sul piano internazionale per l'azienda italiana, leader nel settore delle macchine stampa di fascia stretta e media.
La prima iFlex sarà installata dalla Huhtamäki PPL Webtech Labels nel nuovo stabilimento di Mumbai, all'inizio del 2017. Specializzato nel packaging flessibile, Huhtamäki opera sul mercato da oltre 80 anni e conta ben 14 siti produttivi in India.
La seconda è stata commissionata dalla Insight Graphics di Kolkata, che ha scelto OMET per "ripartire" dopo un disastroso incendio che 4 mesi fa ha distrutto la sua divisione etichette a Kolkata. "Sono impressionato dalla iFlex – ha detto Ashish Shah, direttore dell'azienda -. Anche se è una macchina entry level ha un elevatissimo livello di automazione ed è estremamente semplice da utilizzare".
"Siamo molto contenti che OMET sia stata scelta da due dei più grandi e promettenti player del mercato asiatico – ha detto l'area manager di OMET Paolo Grasso -. Hanno riconosciuto il valore della tecnologia applicata alle nostre macchine, e il ritorno sugli investimenti che possono generare".
Due vendite nei primi due giorni di fiera dimostrano che le nostre macchine sono capaci di incontrare la domanda del mercato locale, anche se si parla di colossi come Huhtamaki PPL – aggiunge Harveer Sahni, della Weldon Celloplast, il distributore OMET in India – dopo aver valutato ergonomia, performance e livello di sprechi, non hanno avuto dubbi nel ritenere OMET il partner perfetto per il loro gruppo".
OMET è stata anche sponsor ufficiale della categoria Flexo Printing degli LMAI Awards, tradizionalmente assegnati durante questa fiera: la serata di premiazione, avvenuta il 18 novembre, ha riscosso una notevole partecipazione.
Labelexpo India ha raccolto oltre 200 espositori e attirato migliaia di visitatori confermandosi appuntamento chiave per quest'area di mercato su cui OMET sta investendo grandi risorse: è recente l'apertura degli uffici di OMET India a New Delhi, che garantiranno una presenza e un servizio costante sul territorio. Attualmente sul mercato Indiano sono operative – in totale – circa 20 macchine OMET.