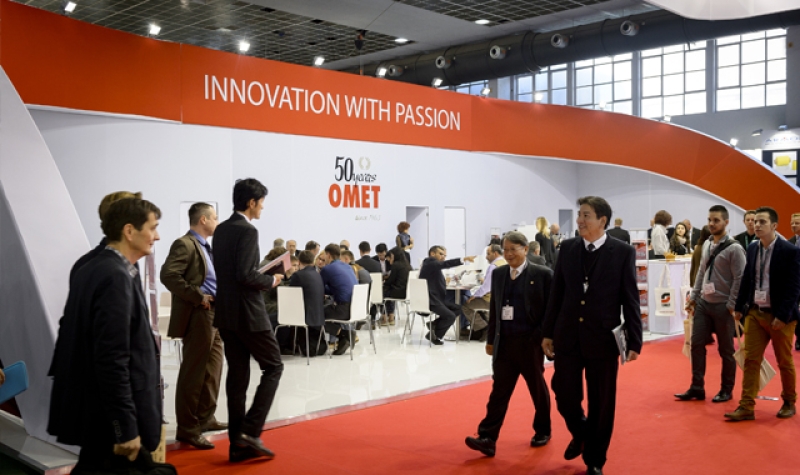 Labelexpo 2017: OMET revolution continues
June 1, 2017
From 25 to 28 September, OMET will be among the main exhibitors at Labelexpo Europe 2017 in Bruxelles. The appointment will be at the booth C49-C53 , hall 6, the usual point of reference for technology and innovation: all the visitors will attend an extraordinary show, with amazing live demos showing all the potentialities of OMET machines, always one step ahead of competitions.
For many years, Labelexpo has been the main occasion for OMET to reveal his concept of innovation in the label and flexible packaging printing market. In 1995 OMET Multiflex was the first machine to show a real quick-job changeover thanks to the exclusive removable inking cassette, with astonishing printing quality result, giving a boost to flexo printing potentiality.
Many players of this sector still think of the Varyflex launched in 2001 as the best innovation ever seen in Labelexpo: it was the first machine with servo gearless flexo technology in the narrow-web printing market. Such innovative solution guaranteed a perfect printing registration and a consistent reduction of waste, which means high quality products and costs saving. In combination with the first electronic control, it has become in the following years a sort of benchmark for all machine manufacturers. It was a sort of revolution brought by Omet into the new millennium, together with flexo sleeve concept showed for the first time on Varyflex during the same exhibition.
Six years later, during Labelexpo 2007, OMET promoted a new "revolution" with the XFlex: it was the first press with short web path, thanks to the integration of the chill drum with the impression cylinder, allowing for the least start-up waste on a narrow-web flexo press. XFLEX was also the first machine featuring the Vision System able to achieve a perfect printing register, with no manual operations, simply by pressing a button. During the live demonstrations, the visitors looked for the "trick" that allowed to obtain a perfect register of 0,05 mm, independently from the skills of the operator.
The same "trick" was shown in every following exhibition, where OMET continued to bring further innovations, as a sign of constant investment in research and development: the first variable-size rotary die-cutting unit (MonoTwin Cut) and the first flexo-digital inkjet hybrid press (X-jet) in 2009; the first flexo-offset press with automatic sleeve format change (XFlex X6 Offset) in 2013; The first press with pre-registration through laser pointer and iVision system for real-time register adjustment (iFlex) in 2015.
For the next edition of Labelexpo OMET will confirm its passion for innovation, showing 3 presses with new relevant technologies and developments: a little taste of the complete product portfolio. OMET is able to provide printing machines for any necessity, from the simplest label to complex applications, from combined printing technologies to special solutions and tailor-made projects.
You will find incredible innovations at OMET booth C49-C53 , hall 6.
Because this is what OMET does.
---
Labelexpo 2017, l'innovazione OMET continua
Dal 25 al 28 Settembre OMET sarà a Bruxelles per la fiera Labelexpo Europe 2017. L'appuntamento è allo stand C49-C53 nel padiglione 6, che come sempre si proporrà come punto di riferimento per la tecnologia: i visitatori potranno assistere a reali dimostrazioni di stampa con cambi lavoro in tempi brevissimi e scarto vicino allo zero, valutando di persona le performance produttive e qualitative dei prodotti OMET, difficilmente paragonabili alle altre dimostrazioni visibili in fiera.
Da anni Labelexpo Europe è l'occasione in cui OMET porta grandi innovazioni nel mercato della stampa di etichette e flexible packaging. Nel 1995 la Multiflex OMET fu la prima macchina a mostrare il cambio lavoro rapido grazie al cassetto di inchiostrazione estraibile, dando una forte spinta alla stampa flexo e dimostrando con i campioni stampati durante la fiera che l'alta qualità non era soltanto un'esclusiva della tecnologia offset.
Molti addetti ai lavori pensano che la più grande innovazione mai vista a Labelexpo sia stata la Varyflex esposta nel 2001 allo stand OMET: era la prima macchina con tecnologia flexo servo gearless (senza ingranaggi) sul mercato della stampa a nastro stretto e medio. Questa tecnologia, divenuta negli anni successivi una sorta di standard per tutti i costruttori di macchine, permetteva di avere un registro di stampa perfetto, una importante riduzione degli scarti e il primo controllo elettronico. Fu una sorta di rivoluzione portata da OMET nel nuovo millennio, abbinata alla tecnologia flexo a maniche (sleeve) vista in fiera per la prima volta proprio in quell'occasione sulla stessa Varyflex.
Una nuova "rivoluzione" è stata proposta da OMET nel 2007 con la XFlex, che ha portato novità fondamentali ai visitatori della fiera più importante nel mondo della stampa di etichette: la prima macchina dotata di passaggio carta breve grazie all'integrazione del tamburo raffreddato con il contrasto di stampa e conseguente scarto minimo mai avuto su una macchina da stampa a nastro stretto.
XFlex è stata anche la prima macchina con sistema di visione e registro stampa impeccabile, ottenuto senza l'intervento manuale dell'operatore ma solo premendo un pulsante. Durante la dimostrazione in fiera, i visitatori cercavano il "trucco", la "magia" che permetteva di avere un registro perfetto di 0,05 mm a prescindere dall'abilità dell'operatore.
La "magia" è stata mostrata sulla XFlex ad ogni occasione anche nelle successive edizioni della fiera, dove OMET ha sempre portato ulteriori innovazioni nel segno della continuità: il primo gruppo di fustellatura rotativa variabile nel 2009 (MonoTwin Cut), la prima macchina da stampa ibrida flexo-digitale inkjet sempre nel 2009 (X-Jet), la prima macchina da stampa combinata flexo-offset con cambio maniche automatico nel 2013 (XFlex X6 Offset) e la prima macchina flexo con puntatore laser per il preregistro e sistema iVision per la correzione istantanea del registro nel 2015 (iFlex).
Per la prossima edizione OMET non sarà da meno. Porterà il suo contributo innovativo con 3 macchine in dimostrazione sul proprio stand: un assaggio della completezza della gamma offerta, che comprende macchine da stampa per ogni esigenza, dalla semplice stampa flexo di etichette a materiali più complessi, da stampe combinate a soluzioni speciali, totalmente customizzate, con progettazione ad hoc per qualsiasi tipo di supporto.
Importanti novità vi attendono allo stand OMET C49-C53 nel padiglione 6.
Per OMET, l'innovazione è un'abitudine.