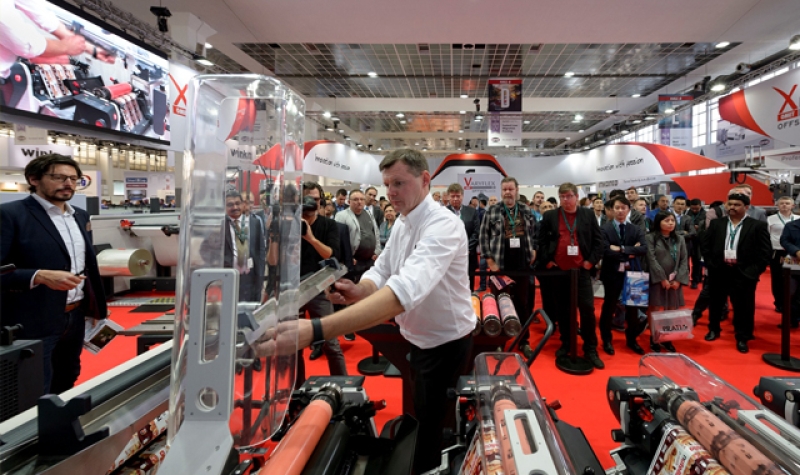 LABELEXPO 2017: iFlex, innovation made of simplicity
October 24, 2017
Great success for OMET at Labelexpo 2017.  One of the greatest and most impressive booths of the entire exhibition welcomed thousands of visitors from all over the world, confirming OMET leadership in the European and International market. Main attractions were the three printing lines, iFlex, XFlex X6.0 and X6 Offset, presented with live demonstrations showing also the concepts of the Industry 4.0.
iFlex drew particular attention thanks to its new version with specific chill rolls, which increased the versatility of the press born to revolutionize the concept of label printing. Thanks to a set of unique innovations, it allows for perfect printing results through ease of use, intuitiveness and quick operations.
OMET iFlex is a narrow-web printing press 370 mm wide (14" 4/8), with maximum speed of 190 m/min and printing repeat from 5.5" to 18". It offers the possibility to print with different technologies, such as flexo UV, UV LED or water-base and rotary screen printing, with in-line die-cutting (repeat from 8" to 24").

iFlex is a Made in Italy narrow-web press dedicated to the label market, able to produce all kind of labels with the highest efficiency, including wraparound and shrink labels, thanks to the possibility to implement the specific Film Asset. It is the ideal solution to start a new business in the label market, a growing sector attracting more and more players, or to enhance an already qualified machine range, since it is perfect for both short and long runs.
Its main strong point is the functional design: it features short web path to minimize start-up waste and it requires low maintenance and minimum spare parts thanks to its compact but very ergonomic design, poor for wearing components, making it a real cost-effective solution. It features unique smart applications, specifically conceived to make the entire printing process easier and intuitive.
iLight is an innovative pre-registration system with laser pointer on every flexo unit. The laser beam indicates the ideal alignment of the print cylinder, allowing quicker job changeover and register set-up. A second laser system is installed inside the die-cutting unit to help the operator in positioning the flexible die with no mistakes. iVision is the innovative register adjustment system allowing for color-to-color register setting in real-time,   through a set of smart cameras, one on each printing unit. The operator needs few seconds to adjust the mark just by watching the image on the dedicated display. iLight and iVision combination drastically reduces set-up time and waste, making every operation extremely easy and intuitive.
Like all OMET printing lines, iFlex offers a superior print quality thanks to a new direct driven transmission on the impression cylinder: iDrive. This exclusive system increases the print precision and erase the common issues of flexo printing: it is the only narrow-web press with only one gear per print unit, which enables better performance and higher stability, without any gear mark issue.
iFlex is a complete line configurable with different finishing and converting options. The Easy-Change Die-Cut unit with ECDC system eliminates long changeover time through a special sliding device, which facilitates the handling of heavy magnetic cylinders, with no need for lifting devices and no effort for the operator. The new version of iFlex features further improvements in the converting section, such as the addition of the sheeting station and the evolution of the exclusive Rock'n'Roll matrix stripping unit, now with "Dual Function" capability to provide higher stripping performance with all kind of label shapes. It can work in two different ways according to the type of substrate and the die-cutting shape: either as contact-style or as tower-style system.
---
Labelexpo 2017: iFlex, l'innovazione che si fa semplicità
Grande successo a Labelexpo 2017 per OMET, che con migliaia di visitatori allo stand, uno dei più grandi e scenografici di tutta la fiera, conferma la posizione di leadership nel mercato europeo e internazionale. Le dimostrazioni live delle tre linee XFlex X6.0, iFlex e XFlex X6 Offset, potenziate secondo i driver dell'industria 4.0, hanno suscitato molto interesse da parte di tutti.
Particolare attenzione ha ricevuto la nuova versione della iFlex con specifici tamburi di raffreddamento, una linea con tecnologia Made in Italy e tutti i componenti prodotti in Europa, che con la sua versatilità sta rivoluzionando il concetto di stampa per etichette. Grazie ad una serie di innovazioni uniche, permette di raggiungere le massime performance di stampa attraverso semplicità operativa e rapidità d'esecuzione mai viste prima.
OMET iFLEX è una macchina da stampa a nastro stretto di fascia 370 mm (14″4/8), che offre una varietà di formati stampa da 5.5″ a 18″. Velocità massima meccanica di stampa 190 m/min, con la possibilità di utilizzare stampe  flexo UV, flexo UV LED, flexo all'acqua e serigrafia, con fustellatura rotativa in linea (formati di fustella da 8″ a 24″).
La iFlex è in grado di produrre tutti i tipi di etichette con massima efficienza, da etichette autoadesive, a wraparound e shrink labels, grazie alla possibilità di configurazione con l'apposito  Film Asset. Adatta a brevi e lunghe tirature, per la sua facilità di utilizzo è ideale sia per chi vuole entrare nel mercato etichette, settore in crescita che attrae sempre più player, sia per chi vuole potenziare il proprio parco macchine.
Il suo punto di forza è il design funzionale: è compatta ma ergonomica quindi di facile accesso per l'operatore; ha un passaggio carta corto e quindi permette di avere uno scarto minimo in avviamento e richiede manutenzione limitata perché povera di materiali ad usura.
Ha caratteristiche uniche nel suo genere, grazie agli esclusivi sistemi smart, studiati appositamente per rendere il tutto il processo di stampa facile e intuitivo. iLight è un innovativo sistema di pre-registro con puntatore laser su ogni gruppo stampa. Il laser indica l'allineamento ideale del portacliché, permettendo una velocizzazione del cambio lavoro e l'accelerazione dei tempi di messa a registro. Un secondo laser, posto perpendicolarmente alla fustella, garantisce rapidità ed efficacia al cambio del lamierino magnetico della fustella, senza errori.
iVision è il sistema di regolazione del registro di stampa istantanea che grazie all'uso di telecamere su ogni gruppo stampa permette la messa a registro in tempo reale di ogni colore viene man mano che il materiale avanza, controllando l'immagine sull'apposito display. La combinazione di iLight e iVision aiuta a ridurre drasticamente i tempi e gli scarti in avviamento, rendendo ogni operazione estremamente immediata e intuitiva.
Come tutte le linee da stampa OMET, iFlex assicura una qualità di stampa superiore allo standard grazie a un concetto innovativo di trasmissione diretta senza ingranaggi. iDrive è il sistema che permette di accrescere la precisione e di eliminare le criticità date dalle trasmissioni tradizionali: è la prima macchina in fascia stretta dotata di un solo ingranaggio per gruppo stampa, che permette migliori performance e migliore stabilità, eliminando la possibilità di barrature.
La iFlex è una linea completa che può essere configurata con diversi gruppi di finishing e converting. La fustella a cambio rapido con sistema Easy Change Die-Cut (ECDC) elimina i lunghi tempi di cambio dei cilindro di fustellatura tramite uno speciale dispositivo a scorrimento, senza l'utilizzo di paranchi da sollevamento e quindi senza alcuno sforzo. Ulteriori miglioramenti sono stati apportati alla macchina per ampliarne le capacità, come l'aggiunta della stazione per l'uscita fogli e l'evoluzione dell'esclusivo sfridatore OMET Rock'n'Roll "Dual Function" che permette di sfridare qualsiasi forma di fustellatura in modo agevole e alla massima velocità di produzione, potendo utilizzare sia sfridatura a contatto sia sfridatura tradizionale.