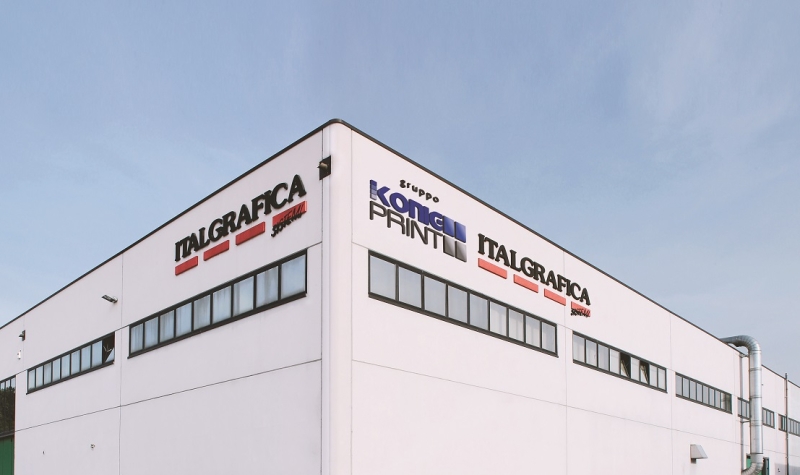 Italgrafica's Success Mantra: Deep know how and technical expertise
May 20, 2020
"To be successful in a highly competitive and constantly evolving market, it is absolutely necessary to be increasingly flexible, quick and innovative". These are the guiding principles of Francesco Niorettini, General Manager of Italgrafica Sistemi, a leading company of the industrial label sector which has become an international point of reference for its specific technological skills and its attention to quality, environment and needs of the customers. Over recent years Italgrafica has installed 3 fully customized OMET Flexy-S 330, 1 XFLEX X6 and a XJET hybrid, with a second XJET flexo + digital hybrid to be installed in 2020.
Italgrafica Sistemi began production in 1992, thanks to the experience gained in the screen printing sector by Francesco Niorettini. "We started from scratch" – quotes the General Manager – taking a path that has led us to a group turnover of around 12 million euros today. We initially concentrated on the industrial sector, with technical labels to be applied on various equipment. This allowed us to develop an in-depth know-how on adhesives and other features of these labels".
In 2004-2005 Italgrafica started producing in additional sectors such as food, beverage and cosmetics. "We realized that the market was asking technical characteristics that nobody was satisfying, especially in the field of adhesives, where we were highly specialized. For example: a customer in the food sector needed easily removable labels for glass jars, because the end users wanted to reuse the containers. This is why we have developed a specific type of adhesive and, given the excellent results, today we offer this adhesive to other customers".
Technical skills in the field of adhesives and materials, associated with extreme flexibility, resulted in an irreplaceable and highly differentiating competitive advantage against the competitors. "Customer, with their needs and products, are always the starting points for us" adds Francesco Niorettini. "Our proposal and solutions starts from there. For example we can offer very technical premium materials, to our customers in the automotive sector or provide economical and optimal solutions for food manufacturers as per the specific needs of their sector. Our strength is in the ability to understand precisely the need of our customers, by acting as their consultant and presenting them with personalized offerings".
After the decline of the durable labels (freshmen or labels for household appliances, boilers, industrial machines) in 2008-2009, many companies have relocated to Eastern Europe. Italgrafica, on the other hand, acted against the trend, continuing its activity in Italy and focusing on innovation, paying attention to materials, finishes and details. "In those years we distinguished ourselves by doing more than our competitors, who only answer to a customer's request and fail to provide any advise to help their customers grow" explains Francesco. "For us it was totally opposite! we advised our customers to produce innovative and compliant labels and helped in optimizing their cost. In addition to this we are constantly looking for innovations in materials by trying to understand in detail their strengths and weaknesses, analyzing and verifying their characteristics and then offering the most suitable ones to our customers". Unlike many other competitors, Italgrafica doesn't consider this choice as "expensive": it is a profitable investment if you can count on a solid organizational structure and internal procedures.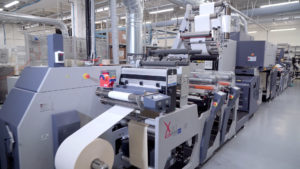 In recent times to enhance its value proposition to the market, Italgrafica has installed several OMET machines, all customized for particular solutions the company has led into (i.e. multilayer labels, foils and special finishes). "When we purchased the first machine – says Francesco Niorettini – we chose OMET because we needed to print a particular format (not for the width but for the print pitch) that other competitors were not capable to offer. OMET, unlike the others, could install cylinders up to 24 inches. Immediately after the first machine we understood that OMET is a performance driven company with the ability to quickly respond to our needs. It's this trust that we have built with OMET, that we consider it to be a partner rather than a supplier. I can pick up the phone and speak with several people within the company, who are always willing to find solutions to our needs with precision and speed. OMET is structured to develop new and customized projects like the ones we deal with. Although it has grown significantly in recent years, it has not lost its flexibility, which indeed is one of its strengths".
Hybrid technology was the latest addition to Italgrafica and Niorettini believes it is strategic for the future of the market. "We installed the first hybrid OMET XJet in 2018 – Niorettini says -. We have gained experience and understood that it is the right machine for the type of market we are in. On this press (and on the next one that we are going to soon install) we will plan high quantity print runs, which we traditionally used to print on flexo machines. Although printing is more expensive, the extra cost is offset by saving time in controlling the variables, especially in jobs where the number of variables are high. Considering time is the most expensive resource we have, saving time on job changes makes up for the higher cost of printing, as compared to flexo".
"Even though, today there are large print runs – continues Francesco Niorettini – but a significant portion of our production is made by orders with limited print runs, often involving numerous variables. Thanks to OMET customizable platform, we have configured the OMET hybrid machines so that the result is excellent even in these cases"
Will hybrid technology grow in the future? "Definitely yes" – replies Francesco Niorettini – because of the peculiarities of the Italian market, characterized by different print runs which is not common in markets abroad. Not only the quantities, it's also the frequency of orders that makes us believe that hybrid technology is here to grow as in our country orders can be placed every fortnight, as comparted to markets aboard where its often quarterly.
"Printers need to be increasingly flexible and quick if they want to face the market of the future, which will be more personalized and dynamic, – concludes Francesco Niorettini. We are constantly reducing our process inventory and manage production with kanban logistic systems where variable data is highly requested. These factors must be considered in the upstream and downstream production phases. Think of the labels with nutritional tables that undergo changes whenever a new legislation comes into force or for export, where the rules change frequently. The information on the labels changes constantly: we will either start to make only labels with brand and QR code, or we will have to be able to respond effectively to customer requests. We are investing in this second aspect, because we know that a label is never just a label, it's the brand's business card".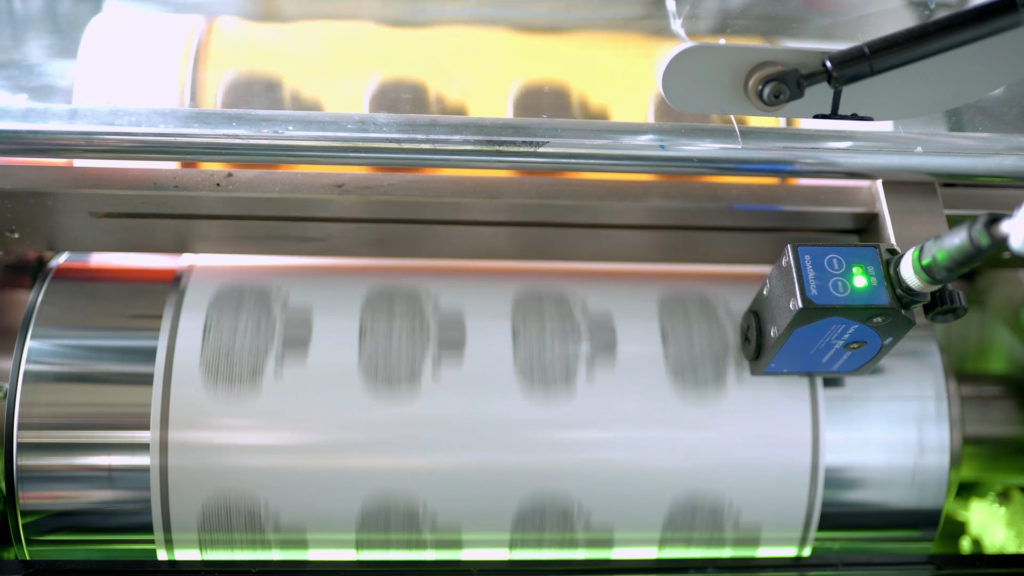 ---
Italgrafica: solo un approfondito know-how e le competenze tecnologiche creano vantaggio competitivo
"Per affrontare con decisione un mercato competitivo e in continua evoluzione è assolutamente necessario essere sempre più flessibili, rapidi e innovativi". Questa la visione di Francesco Niorettini, Direttore Generale Italgrafica Sistemi, azienda leader nel settore delle etichette industriali, divenuta nel tempo un punto di riferimento internazionale grazie alle specifiche competenze tecnologiche, l'attenzione alla qualità, all'ambiente e alle esigenze di ogni cliente. Italgrafica negli ultimi anni ha installato 3 OMET Flexy-S 330 e 1 XFLEX X6 completamente customizzate, più una ibrida XJet, con una seconda ibrida flexo+digitale in consegna nel 2020.
Italgrafica sistemi ha avviato la produzione nel 1992, partendo dall'esperienza maturata da Francesco Niorettini nel settore della stampa serigrafica. "Siamo partiti da zero – spiega il Direttore Generale – iniziando un percorso che oggi ci ha portato ad un fatturato di gruppo di circa 12 milioni di euro. Inizialmente ci siamo concentrati sul settore industriale, con etichettature di tipo tecnico da applicare sulle apparecchiature. Questo ci ha permesso di sviluppare nel tempo un know how approfondito sugli adesivi e su altre caratteristiche dei prodotti".
Verso il 2004-2005 Italgrafica ha iniziato a produrre anche in altri settori: alimentare, beverage e cosmetica. "Abbiamo intuito che sul mercato erano ricercate caratteristiche tecniche non soddisfatte, soprattutto nel campo degli adesivi, laddove noi eravamo molto specializzati. Per citare un esempio: un cliente del settore alimentare aveva l'esigenza di applicare etichette rimovibili con facilità dai vasetti di vetro, perché gli utilizzatori finali volevano riutilizzare i contenitori. Per questo abbiamo sviluppato un tipo di adesivo specifico e, visto l'ottimo risultato, oggi offriamo questo adesivo anche ad altri clienti".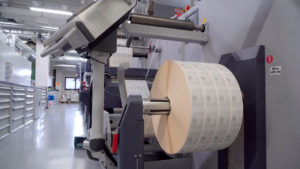 Le competenze tecniche nell'ambito degli adesivi e dei materiali, associate ad una estrema flessibilità, si sono dimostrati elementi in grado di sviluppare un vantaggio competitivo insostituibile e molto differenziante rispetto alla concorrenza. "Il punto di partenza per noi è sempre il cliente, le sue esigenze e sul suo prodotto – continua Francesco Niorettini – in seguito nasce la proposta di una soluzione. Ad un produttore nel settore automotive, per esempio, possiamo offrire materiali molto tecnici, che comportano, tra l'altro dei costi di produzione importanti, mentre per i produttori alimentari, offriamo soluzioni più economiche ma totalmente adeguate alle esigenze del comparto. La nostra caratteristica è proprio quella di seguire il cliente agendo come consulenti per lo sviluppo di un'offerta personalizzata".
Dopo il declino del 2008-2009 nel settore delle etichette durevoli (matricole o etichette per prodotti elettrodomestici, caldaie, macchine industriali), molte aziende hanno delocalizzato nell'Est Europa. Italgrafica, invece, ha agito in controtendenza, mantenendo l'attività in Italia e puntando sull'innovazione, dando attenzione ai materiali, alle finiture, ai dettagli. "In quegli anni ci siamo distinti facendo qualcosa in più rispetto ai competitor, che solitamente si muovono quando i clienti sollecitano – precisa Francesco Niorettini -. Per noi invece è stato l'opposto, abbiamo consigliato i clienti per produrre etichette innovative e conformi alle normative, ottimizzando i costi. Cerchiamo costantemente la novità, provando a capire nel dettaglio pregi e difetti di tutti i materiali offerti dal mercato, analizzando e verificando le loro caratteristiche". A differenza di molti altri in Italgrafica non riteniamo che questa scelta sia "costosa", ma che sia un investimento che premia, a patto, però, di avere una struttura organizzativa e delle procedure interne molto solide.
Italgrafica negli ultimi anni ha installato diverse macchine OMET tutte con personalizzazioni mirate a performance particolari grazie alle quali si è resa unica sul mercato (doppie etichette, lamine, finiture). "Quando abbiamo preso la prima macchina – racconta Francesco Niorettini – abbiamo scelto OMET perché avevamo necessità di stampare un formato (non come larghezza ma come passo di stampa) che altri competitor non erano in grado di offrire. La OMET, a differenza degli altri, poteva installare cilindri fino a 24 pollici. Già dopo la prima macchina abbiamo capito che OMET era un'azienda performante, seria, che rispondeva alle nostre esigenze. Ancora oggi è affidabile, tanto da essere considerata un partner più che un fornitore. So che posso prendere il telefono e comunicare con diverse persone all'interno dell'azienda, e queste si adoperano per trovare soluzione alle nostre esigenze con precisione e velocità. OMET è strutturata per sviluppare progetti nuovi e personalizzati come quelli di cui ci occupiamo noi. Nonostante in questi anni sia cresciuta notevolmente, non ha perso la flessibilità, anzi ha trasformato questo aspetto in un punto di forza".
La tecnologia ibrida è stata l'ultima arrivata in casa Italgrafica e Niorettini ritiene sia strategica per il futuro del mercato. "Abbiamo installato la prima ibrida OMET XJet nel 2018 – dice -. Abbiamo fatto esperienza e abbiamo capito che è la macchina giusta per la tipologia di mercato che stiamo affrontando. Noi la vediamo come una macchina produttiva 4.0 avanzata, non solo perché ha il digitale o perché consente tirature piccole. Su questa linea (e sulla prossima che installeremo) facciamo tirature elevate, che normalmente stampiamo sulle flexo. Anche se la stampa è più costosa, lo svantaggio viene sopperito quando la stampa che dobbiamo fare ha tante variabili: risparmiamo tempo e il tempo è la risorsa più costosa che abbiamo. Il risparmio di tempo sui cambi lavoro sopperisce abbondantemente al maggior costo di stampa rispetto alla flexo".
"Anche oggi esistono grandi tirature – continua Francesco Niorettini – ma posso affermare che una quota significativa delle nostre produzioni deriva anche da ordini con tirature non particolarmente elevate che spesso comportano anche numerose variabili. Abbiamo configurato la macchina ibrida in modo che il risultato sia eccellente anche in questi casi, ottenendo grandi risultati".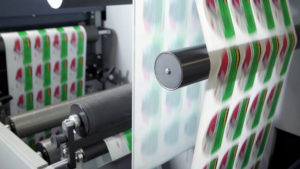 La tecnologia ibrida crescerà in futuro? "Sicuramente sì – risponde Francesco Niorettini – anche per le peculiarità del mercato italiano in cui ci sono tirature differenti rispetto all'estero. Non solo per le quantità ma anche per la frequenza degli ordini che nel nostro paese possono essere quindicinali, mentre all'estero sono spesso trimestrali".
"Bisogna essere sempre più flessibili e rapidi se si vuole affrontare il mercato del futuro – conclude Francesco Niorettini -, perché questo sarà sempre più dettagliato e mutevole. Si fa sempre meno magazzino, si gestisce la produzione sempre più con sistemi logistici kan ban, i dati variabili sono sempre più richiesti. Questi fattori vanno considerati nella fase progettuale a monte e in quella produttiva a valle. Si pensi alle etichette con le tabelle nutrizionali che subiscono variazioni ogni qualvolta entra in vigore una nuova normativa oppure alle esportazioni dove le regole cambiano di frequente. Le informazioni sulle etichette cambiano continuamente e o inizieremo a fare solo etichette con marchio e QR code, oppure dovremo avere la capacità di rispondere efficacemente alle richieste dei clienti. Noi stiamo investendo su questo secondo aspetto, perché sappiamo che un'etichetta non è mai solo un'etichetta, ma il biglietto da vista del brand".