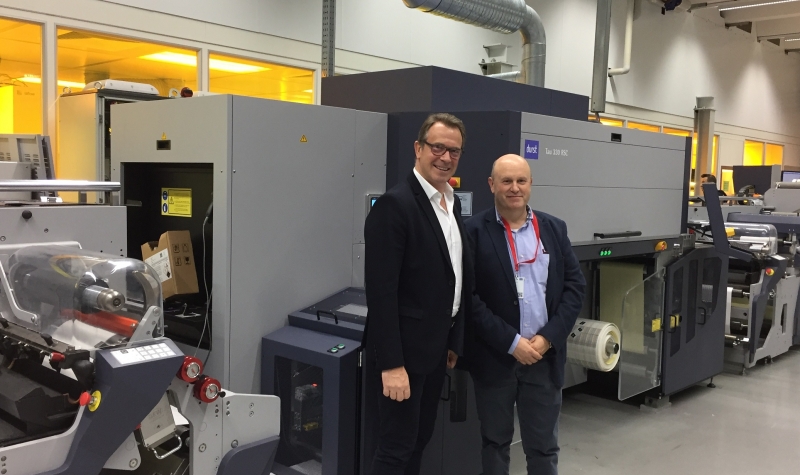 Italgrafica Sistemi announced as world's first customer for OMET XJet powered by Durst
March 19, 2018
Brixen, Italy – 15/03/2018 – Durst, manufacturer of advanced digital production technologies, has confirmed that Italgrafica Sistemi, of Italy, will be the world's customer for the new OMET XJet. Powered by Durst, the integrated hybrid solution for a wide range of high-performance labels and packaging printing will be installed at its headquarters in Castelgomberto, in the province of Vicenza, in the early summer.
Together with OMET, manufacturer of printing and converting machines, the two companies are providing a complete hybrid print and finishing line to Italgrafica Sistemi that will offer an unlimited flexibility and a wide range of final applications with a consistent cost reduction. It chose the OMET XJet because of the ability for in-line multi-process configurations that finalizes products in a single pass.
Italgrafica Sistemi is an €11m-turnover company with 50 employees who work two shifts. With 18 printing lines already running at Italgrafica Sistemi, the new OMET XJet is expected to replace two of the flexo lines as demands continue to increase for short-run, personalised technology in a single pass. It will open up new opportunities for cold foiling, printing on reverse and adhesives, as well as varnish and diecutting .
Francesco Niorettini, General Manager of converter Italgrafica Sistemi, said the total cost of ownership and benefits to his customers were crucial in the decision-making. "This investment opens up a new world of opportunity," he said. "It allows us to give far more choice to the market and produce so many more different types of labels for any kind of job. By including the Durst Tau, we will be able to broaden our portfolio by combining all the technologies together.
"What is also really important is to ensure that we retain the same high level and definitions produced with flexo and offset – and the Durst / OMET hybrid will enable this. Other factors in our investment decision included the 50 percent increase in speed, the low service and consumable costs, as well as the fact that both Durst and OMET have good reputations in the marketplace."
Mr Niorettini added: "We'll be saving huge amounts of money and time. We expect a 20% saving in overall production costs and will benefit from faster start-up times, which will enable us to offer a wider product range. As one example for, say, a four-colour job we expect to increase the productivity of the machine by 40 percent with faster set-ups. In addition, we will be saving around 70 percent in material waste by using digital."
Helmuth Munter, Segment Manager Labels & Package Printing at Durst, said: "Italgrafica Sistemi is one of the increasing numbers of forward-thinking companies that are seeing the huge benefits of using the best technologies in a complete 'all-in-one' printing process. This ability to combine digital inkjet printing with conventional pre- and post press printing and finishing world, offers our future customers a highly cost effective solution.
"In addition, the feedback we received from our recent Durst Digital Days has also convinced us of how customers perceive future market opportunities to increasingly involve UV inkjet digital in flexible configurations or as a complementary technology. It's the future."
The jewel in the crown of the Durst and OMET partnership, the new OMET XJet, is the new hybrid printing platform integrating Durst's Tau RSC 330 digital inkjet system with OMET X6 flexo stations and converting units. Durst inkjet technology together with OMET X6's finishing and converting units assure reliability and excellent results at every run, with the advantage of obtaining the final product in one single passage.
The OMET XJet hybrid broadens the opportunities for label printers thanks to its flexible configuration. Italgrafica Sistemi's configuration provided through distribution partner LIRMAprint will feature an unwinder, two flexo units, the Tau 330 RCS, another two flexo units, a diecutting mono twin system, and a rewinder. The Vision automatic registration system is also included and the system has an option to print on adhesive, laminate and other applications to create coupons and special labels, including peel-back versions. It can be seen as three presses in one or used as a hybrid solution, flexo stand-alone or digital stand-alone according to the length of the run or the level of personalization required.
Thanks to Durst Group for authorization to publish this article
---
Durst conferma che Italgrafica Sistemi è il primo cliente al mondo ad acquistare la OMET XJet
Bressanone – 15/3/2018 – Durst, azienda produttrice di tecnologie avanzate per la produzione digitale, ha confermato che l'azienda italiana Italgrafica Sistemi sarà il primo cliente al mondo per la nuova OMET XJet. Questa soluzione ibrida integrata, basata su tecnologia Durst, destinata a un'ampia gamma di applicazioni ad alte prestazioni per la stampa di etichette e di packaging, sarà installata all'inizio dell'estate nella sede di Italgrafica Sistemi a Castelgomberto (Vicenza).
Insieme a OMET, produttore di macchine per la stampa e la conversione, le due aziende stanno fornendo a Italgrafica Sistemi una soluzione ibrida completa per stampa e finitura, in grado di offrire una flessibilità illimitata e un'ampia gamma di applicazioni finali con una sensibile riduzione dei costi. Italgrafica Sistemi ha scelto OMET XJet per via della sua compatibilità con configurazioni multiprocesso in linea in grado di finalizzare i prodotti in un solo passaggio.
Italgrafica Sistemi, un'azienda con un giro d'affari di 11 milioni di euro, ha 50 dipendenti che lavorano su due turni. A Italgrafica Sistemi, dove sono già in funzione 18 linee di stampa, si prevede che la nuova OMET XJet (fornita tramite LIRMAprint, partner di Durst e OMET per la distribuzione) andrà a sostituire due delle linee flexo, visto l'aumento della domanda di tecnologie personalizzate per l'esecuzione di tirature limitate in un singolo passaggio. L'introduzione di questa soluzione aprirà le porte a nuove opportunità per l'applicazione di foil a freddo, la stampa sul retro e su adesivi, nonché per la verniciatura e la fustellatura.
Secondo Francesco Niorettini, direttore generale di Italgrafica Sistemi, il costo totale di esercizio e i vantaggi per i clienti hanno svolto un ruolo cruciale nel processo decisionale. "Questo investimento apre le porte a un nuovo universo di opportunità", ha dichiarato. "Ci consente di offrire più scelta al mercato e di produrre molte più tipologie diversificate di etichette per qualsiasi tipo di ordine. Grazie all'inclusione del sistema Durst Tau, saremo in grado di ampliare il nostro portafoglio combinando fra loro tutte le tecnologie."
"Un altro aspetto che riveste una grande importanza è quello di assicurare il mantenimento dello stesso livello elevato e delle definizioni prodotte con la stampa flexo e offset, e la soluzione ibrida di Durst e OMET ci permette di conseguire tale risultato. Gli altri fattori che ci hanno convinti a investire sono stati l'aumento del 50% della velocità, il contenimento dei costi per l'assistenza e i materiali di consumo e il fatto che sia Durst sia OMET godono di un'ottima reputazione sul mercato."
Niorettini ha poi aggiunto: "I risparmi di tempo e denaro saranno enormi. Prevediamo un risparmio del 20% sui costi di produzione complessivi e trarremo beneficio dalla velocizzazione dei tempi di avviamento macchina, cosa che ci consentirà di proporre un'offerta più ampia di prodotti. Prendiamo, ad esempio, un lavoro in quadricromia: prevediamo di aumentare la produttività della macchina del 40% grazie a tempi di avviamento più rapidi. Inoltre, attraverso l'utilizzo del digitale, risparmieremo circa il 70% per quanto riguarda gli scarti di materiale."
Helmuth Munter, responsabile del segmento stampa di etichette e packaging presso Durst, ha dichiarato: "Italgrafica Sistemi fa parte del crescente numero di imprese innovatrici in grado di comprendere gli enormi vantaggi derivanti dall'impiego delle migliori tecnologie in un processo di stampa completo. La capacità di unire la stampa inkjet digitale alla realtà della stampa e finitura pre-press e post-press di tipo tradizionale offre ai nostri futuri clienti una soluzione estremamente efficiente in termini di rapporto qualità/prezzo."
"Ma non è tutto: i riscontri che abbiamo ricevuto in occasione delle recenti giornate dedicate al digitale 'Durst Digital Days' ci hanno inoltre convinto di come i clienti percepiscano le opportunità di mercato futuro: un crescente coinvolgimento del digitale inkjet a raggi UV nelle configurazioni flessibili oppure come tecnologia complementare. È questa la strada da percorrere in futuro."
La nuova OMET XJet, il fiore all'occhiello frutto della collaborazione fra Durst e OMET, è la nuova piattaforma di stampa ibrida che integra il sistema inkjet digitale Tau RSC 330 di Durst con le postazioni flexo e le unità di conversione della soluzione OMET X6. La sinergia fra la tecnologia inkjet di Durst e le unità di finitura e conversione della OMET X6 assicurano massima affidabilità e risultati di eccellenza in ogni tiratura, con il vantaggio di ottenere il prodotto finale in un singolo passaggio.
Grazie alla sua configurazione flessibile, la soluzione ibrida OMET XJet amplia le opportunità per gli stampatori di etichette. La configurazione di Italgraficam Sistemi, fornita attraverso il partner per la distribuzione LIRMAprint, sarà dotata di un modulo svolgitore, di due unità flexo, del sistema Tau 330 RCS, di altre due unità flexo, di un sistema mono e doppio per la fustellatura e di un modulo riavvolgitore. Il sistema di messa a registro automatica Vision, anch'esso incluso in dotazione, prevede la possibilità di stampare su supporti adesivi, laminati e altre applicazioni al fine di creare buoni ed etichette speciali, come ad esempio le versioni rimovibili e riapplicabili. La OMET XJet può essere considerata una stampante tre-in-uno oppure essere utilizzata come una soluzione ibrida, un'unità indipendente flexo o digitale, a seconda della lunghezza della tiratura o del livello di personalizzazione richiesto.
Grazie a Durst Group per l'autorizzazione alla pubblicazione