Iran Print-Pack 2016, OMET breaks into Middle-East market
January 19, 2017
Technology and knowledge. Thanks to these key points, OMET was able to collect huge interest in the Iranian market, one of the areas with the highest potential in the global packaging printing sector. At the International Iran Print-Pack 2016 (Teheran 25-28 December), OMET was well represented by the agent Naem – Global PCkaging brand who managed to set the basis for a few installations in 2017 and strengthen its collaboration with local institutions for a series of education courses on current business topics.
OMET is one of the first Italian companies to enter Iran: with a population of 70 million inhabitants and an ever-growing industry, the entire economy of this country is in continuous evolution, as well as the packaging printing business, which has acquired a prime relevance inside the communication system. The 23rd edition of the International Iran Print-Pack confirmed its relevance in the entire sector, with 520 exhibitors and high turnout of visitors coming mainly from Middle-East and Muslim countries.
"In the next 5 years this will be one of the most promising markets for OMET – stated Naim Yavuz, OMET's agent for Iran and Turkey -. We want to give our contribution to the growth and the spread of global standards in this area, by helping the local institutions with the promotion of technical and educational training concerning label printing technologies and processes". The first lessons will be about anilox technology and die-cutting process, with focus on the "problem solving".
OMET sponsors also 4 scholarships dedicated to the students of the first academic course focused on label printing, organized by IPIEU (Iran Print Industry Exporters Union) in collaboration with Color Research and Development Center (of the Iranian Ministry of Science, Research and Technology), the Iranian Chamber of Commerce and Ministry of Culture.
Technologies used in labelling, resins, digital printing, color management and environmental sustainability are some of the topics discussed during the lessons, integrated with the tour of a few companies operating in this sector. These courses are supported by educational seminars about international business trends, organized by Iranian Chamber of Commerce in collaboration with Tarsus Group, coordinator of Labelexpo.
In the above picture Mr. Naim Yavuz (Naem Global Packaging) between Mr.Babek Abidini (Iran Printing Association President) and Mr. Ali Asghar Kiaee
In the hereunder picture Mr. Naim Yavuz and Miss Solmaz Amini (Naem Global Packaging Iran office manager)
---
Iran Print-Pack 2016, OMET fa breccia in Medio Oriente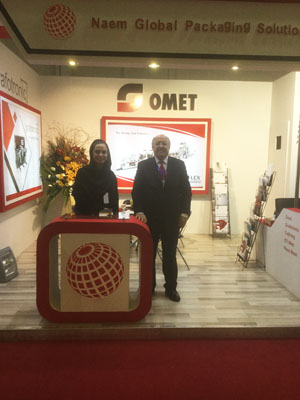 Tecnologia e conoscenza. Ecco le chiavi con cui OMET è entrata in Iran, uno dei mercati con le potenzialità più alte del Medio Oriente per il settore stampa e imballaggio. All'International Iran Print-Pack 2016 (Teheran 25-28 dicembre), il marchio OMET ha riscosso molto interesse. La presenza all'evento, tramite l'agente Naem – Global PCkaging, ha permesso di porre le basi per l'installazione di altre 4-5 macchine nel corso del 2017 e di consolidare la collaborazione con le istituzioni locali per una serie di corsi di formazione su temi d'attualità nel settore.
OMET è una delle prime aziende italiane ad entrare in Iran: con i suoi 70 milioni di abitanti, il Paese ha un'industria in continua crescita, con sistemi di comunicazione sempre più avanzati tra i quali hanno un peso rilevante la stampa, il packaging e prodotti e servizi correlati. Giunto alla sua 23esima edizione, l'International Iran Print-Pack si è confermato come l'evento più importante del settore con 520 espositori e un elevato afflusso di visitatori provenienti soprattutto da paesi medio-orientali e musulmani.
"Nei prossimi cinque anni questo mercato sarà uno dei più promettenti per la OMET – dice Naim Yavuz, agente OMET per l'Iran e la Turchia -. Vogliamo contribuire a dare slancio alla crescita e alla diffusione degli standard globali tramite la conoscenza, promuovendo corsi di formazione sulle tecnologie di stampa delle etichette insieme alle istituzioni locali". I primi corsi riguarderanno la tecnologia anilox e la fustellatura, con attenzione particolare al problem solving.
OMET è anche sponsor di 4 borse di studio per gli studenti del primo corso accademico focalizzato sulla stampa di etichette, organizzato da IPIEU (Iran Print Industry Exporters Union) in collaborazione con il Color Research and Development Center (del Ministero Iraniano per la tecnologia, la scienza e la ricerca), la Camera di Commercio dell'Iran e il Ministero della cultura locale. Tra i temi trattati, tecnologie applicate al settore etichette, resine, stampa digitale, gestione dei colori, sostenibilità ambientale della produzione e visita ad alcune aziende del settore.
Questi corsi si affiancano a seminari di formazione sui trend internazionali del settore che la Camera di Commercio dell'Iran organizza in collaborazione con Tarsus Group, organizzatore di Labelexpo.
Nella foto in alto alla pagina Mr. Naim Yavuz (Naem Global Packaging) in mezzo a Mr.Babek Abidini (Iran Printing Association President) e Mr. Ali Asghar Kiaee.
Nella foto a centro pagina Mr. Naim Yavuz e Miss Solmaz Amini (Naem Global Packaging Iran office manager)