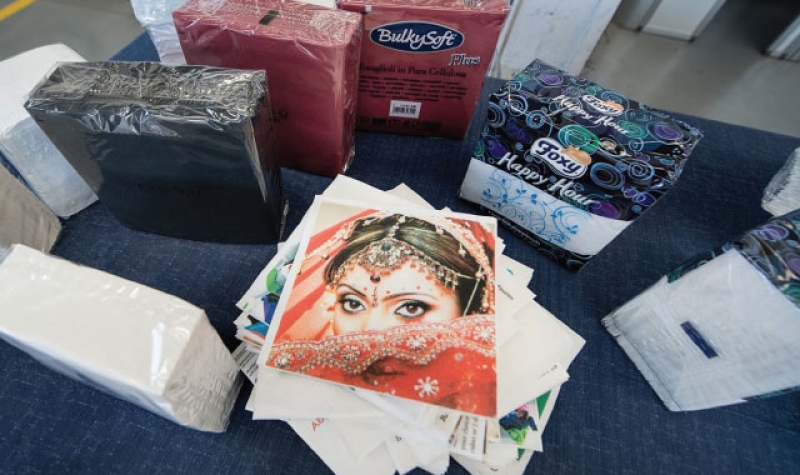 Interview with Selami Aral
November 8, 2016
We get to know better OMET collaborator for the Turkish market, who has represented the Italian company for the past twenty years.

In the photo Mr Sergio Villa (Area Manager OMET) and Mr Selami Aral (OMET Agent in Turkey)
Who is Selami Aral. Tell us about you, your studies, your competences and your professional career.
Selami Aral has been OMET's contact in the Turkish folded tissue products market since 1997.
His family name Aral means Mediterranean in Turkish and has been adopted because of paternal ancestors who commanded the conquest of the so-called Twelwe Islands in the Aegean and governed the Ottoman province of Algeria. As his paternal family resettled in Istanbul coming from the then Italian administered Island of Rhodes, they kept business ties with Italian companies, and in this context, Selami Aral has been frequently visiting Italy since 1957, always with great admiration. His maternal grandfather was also in the service of the state as one of the first ambassadors of the new Republic of Turkey.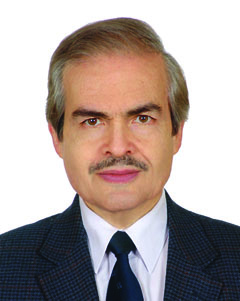 Born in 1951 in Istanbul, Selami Aral was awarded scholarships from German cultural and academic exchange services and graduated from the mechanical engineering faculty of Stuttgart University as Diplomingenieur two years ahead of the average schedule. At the same time, he continued classical piano studies which he had started in the Istanbul Conservatory.
By 1975, Selami Aral's professional Career began as an R&D manager of a major heating and cooking appliances company. Following a short military training, he changed over to Ipek Kagit which was the only Turkish tissue paper producer at the time. During his 20 years of activity in that company, Selami Aral led several rebuild and expansion projects and introduced many environmental innovations.
He also specialized in risk management, fire protection and prevention of industrial hazards.
By 1984, Selami Aral was active in establishing a sister company for diaper and femcare production which has later become a P&G subsidiary in Turkey. Since 1995, he is a member of the Environment & Energy Commission of the International Chamber of Commerce ICC in Paris. By 1996, he has initiated the establishment of Turkish Customer Satisfaction Index under the Turkish Society of Quality. He also co-founded the local Society of DAAD Alumnae.
During his professional career, Selami Aral has attended special managerial trainings in Italy, France and the UK. After that, he successfully introduced Total Quality Management at Ipek Kagit and provided organizational excellence trainings for the managers of 50 national and 20 European companies. Having directly or indirectly benefited from his support, seven of these companies were able to receive national and European quality awards.
Perhaps the biggest contribution of Selami Aral to the tissue paper industry has been the initiation of temporary wet-strength bathroom tissue in 1993. Following a test-marketing in the USA, the first such product had been successfully introduced in Turkey by 1996, and ever since, temporary wet-strength has become an important product feature worldwide. By the year 2010, in recognition of his contributions to the industry, Selami Aral has been honoured with the distinguished Technology and Passion Award in Italy.

When the collaboration with OMET began ? And how it has grown in the years
The first contact of Selami Aral with OMET started as a satisfied customer in 1996. With his order, the first two TV 840 folders were introduced in Turkey. Later, when he changed the side of the table and became a business partner of OMET, TV-series folders have started becoming an industry standard, and ever since, nearly 30 table napkin folders of OMET are being used by Turkish converters with great satisfaction.

During your collaboration with OMET, how tissue market developed in Turkey and what kind of results you reached?
During the last 40 years, Selami Aral has witnessed the rise of the Turkish per capita consumption of tissue paper products from 0.5 kg to 6.5 kg. Especially, the local capacity increase has been quite significant during the last five years, encouraged and supported by the pace of cultural and industrial development, as well as the booming tourism. Still however, consumption figures are considered being far below the European average, and that especially rises the appetite for new entries and takeovers.
Meanwhile, OMET keeps staying strong and resilient in the challenging converting machinery market. Selami Aral sees the continuously developing innovative solutions of OMET and her dedication to quality as the key factors behind that success. But he also believes that there is another, equally important reason for ongoing customer royalty in the Turkish market: It has been the ability of OMET to work as a well-coordinated team which looks after and cares for the customers in a most serious and dependable way. Ever since, OMET has been demonstrating them a continuity of her close support and thus kept staying as their first choice.

Which are the main points and special things of the synergy with OMET who allowed you to reach this targets?
Selami Aral says that he has had the priviledge to cooperate with always the same contacts and decisionmakers at OMET over many years. In time, this friendly cooperation has evolved into a very efficient teamwork where project partners intuitively feel what is needed by whom and in which urgency. That kind of internal synergy is naturally reflected to the customers and affect project results positively.

What's your forecast about tissue market in future in Turkey?
On the upper end of the market, Selami Aral is expecting the entry of one more big, local player within a year. For the upcoming period, he is also anticipating more foreign capital participation and consolidation in the sector.
Overall, he believes that the Turkish tissue paper industry has entered a sustainable growth path so that a per capita consumption figure of 10 kg could be realistic within the next three years.
---

Intervista a Selami Aral
Conosciamo meglio il collaboratore della OMET per il mercato turco che da ormai vent'anni è la presenza sul territorio dell'azienda italiana.
Chi è Selami Aral? Ci racconti di Lei, dei Suoi studi, delle Sue competenze e della Sua carriera professionale.
Selami Aral è referente OMET per il mercato turco della carta tissue dal 1997.
Il suo cognome, Aral, in turco significa "Mediterraneo" e trae la sua origine dagli antenati paterni che condussero la conquista delle cosiddette "dodici isole" dell'Egeo e governarono la provincia ottomana dell'Algeria.
La sua famiglia paterna teneva contatti commerciali con aziende italiane, poiché prima di ristabilirsi a Istanbul viveva sull'isola di Rodi, allora amministrata dallo Stato italiano.
In questo contesto, Selami Aral ha compiuto numerosi viaggi in Italia dal 1957, nutrendo sempre una grande stima verso il Bel Paese. Il nonno materno fu anche a servizio dello Stato italiano come uno dei primi ambasciatori della nuova Repubblica di Turchia.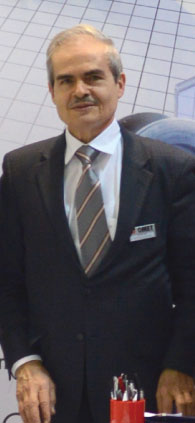 Nato nel 1951 a Istanbul, Selami Aral è stato premiato con una borsa di studio dal Servizio Tedesco per lo Scambio Accademico e culturale e si è laureato presso la facoltà di ingegneria meccanica dell'Università di Stoccarda conseguendo il titolo di ingegnere con due anni in anticipo rispetto a quanto previsto dal sistema universitario. Contemporaneamente ha continuato a coltivare lo studio del pianoforte classico, iniziato al conservatorio di Istanbul.
La carriera professionale di Selami Aral è iniziata nel 1975 come Manager R&S presso un'importante azienda di apparecchi per la cottura e il riscaldamento. Dopo un breve periodo di addestramento militare è poi passato all'Ipek Kagit, al tempo l'unica azienda produttrice di carta tissue in Turchia. Durante i 20 anni di attività presso quest'azienda, Selami Aral ha condotto numerosi progetti di riqualificazione ed espansione, introducendo numerose innovazioni ambientali. Si è inoltre specializzato in gestione del rischio, protezione antincendio e prevenzione dei rischi industriali.
A partire dal 1984, Selami Aral ha partecipato attivamente alla fondazione di una consociata per la produzione di pannolini e prodotti per l'igiene femminile, poi diventata sussidiaria della P&G in Turchia. Dal 1995 è membro della Commissione Ambiente & Energia della Camera di Commercio internazionale (ICC) di Parigi. Nel 1996 ha introdotto in Turchia, con la Turkish Society of Quality, l'indice di soddisfazione del cliente. Ha inoltre partecipato alla fondazione dell'organizzazione DAAD Alumni locale.
Durante la sua carriera professionale, Selami Aral ha preso parte a training manageriali specifici in Italia, in Francia e nel Regno Unito. Successivamente ha introdotto con successo il modello di gestione totale della qualità) all'Ipek Kagit e ha offerto corsi di formazione per l'eccellenza organizzativa rivolti ai manager di 50 imprese nazionali e di 20 imprese europee. Avendo beneficiato direttamente o indirettamente del suo supporto, sette di queste imprese sono riuscite ad ottenere riconoscimenti per la qualità a livello nazionale ed europeo.
Probabilmente il contributo più importante apportato da Selami Aral all'industria della carta tissue è stata l'introduzione, nel 1993, di una carta tissue resistente temporaneamente all'umidità. Dopo un test di marketing condotto negli Stati Uniti, nel 1996 in Turchia è stato lanciato con successo il primo prodotto di questo tipo; da allora, la resistenza temporanea all'umidità è diventata un'importante caratteristica di prodotto in tutto il mondo. Nel 2010, come riconoscimento per i suoi importanti contributi all'industria, Selami Aral è stato insignito in Italia del prestigioso premio Tecnologia e Passione.

Quando è iniziata la collaborazione con OMET? E come è cresciuta negli anni?
Selami Aral è entrato in contatto con OMET per la prima volta nel 1996 in qualità di cliente soddisfatto. Con il suo ordine sono state introdotte in Turchia le prime due piegatrici di carta TV 840. Successivamente, quando Selami Aral, dall'essere cliente, è diventato partner commerciale della OMET, le macchine piegatrici della serie TV hanno iniziato a diventare uno standard industriale. Da allora, quasi 30 piegatrici per tovaglioli della OMET vengono utilizzate con grande soddisfazione dalle aziende turche specializzate nella trasformazione.

Durante la Sua collaborazione con OMET, come si è sviluppato il mercato turco della carta tissue e che tipo di risultati sono stati raggiunti?
Negli ultimi 40 anni Selami Aral è stato testimone della crescita, da 0,5 a 6,5 kg, del consumo pro capite di prodotti di carta tissue in Turchia. Nello specifico, l'aumento della capacità a livello locale è stato significativo negli ultimi cinque anni, incoraggiato e sostenuto dal ritmo dello sviluppo culturale e industriale, nonché dalla forte espansione del settore turistico. Tuttavia, i dati relativi ai consumi sono considerati ben al di sotto della media europea. Questo fattore, in particolare, attira nuovi ingressi nel mercato e nuove acquisizioni.
Nel frattempo, OMET rimane forte e resiliente alle sfide del mercato delle macchine per la trasformazione della carta. Selami Aral vede il continuo sviluppo di soluzioni innovative da parte della OMET e la sua dedizione alla qualità come fattori chiave per il successo. Ma crede anche che ci sia un'altra ragione altrettanto importante alla base della continua fedeltà della clientela nel mercato turco: ovvero la capacità della OMET di lavorare in un team ben coordinato con particolare attenzione e cura al cliente, con la massima serietà e affidabilità. Da sempre OMET si è dimostrata un'azienda continuamente attenta e vicina al cliente, caratteristica che le ha permesso di essere la prima scelta.

Quali sono gli elementi principali e i fattori della sinergia con OMET che, in particolare, Le hanno permesso di raggiungere questi obbiettivi?
Selami Aral afferma di aver avuto il privilegio di cooperare nel corso degli anni,sempre con gli stessi referenti e gli stessi decisori della OMET. Nel tempo, questa cooperazione amichevole si è trasformata in un lavoro di squadra altamente efficiente, dove i partner di progetto sono in grado di intuire chi ha una determinata necessità e con quale urgenza. Questa sinergia interna si riflette naturalmente sul rapporto con il cliente e ha effetti positivi sui risultati del progetto.

Cosa prevede per il futuro del mercato della carta tissue in Turchia?
Per quanto concerne il segmento superiore del mercato, Selami Aral prevede l'ingresso di un altro, grande operatore locale entro l'anno. Per il periodo a venire anticipa una maggiore partecipazione di capitale estero e un maggiore consolidamento nel settore. Nel complesso è del parere che l'industria della carta tissue in Turchia abbia intrapreso un percorso di sviluppo sostenibile, a fronte del quale è realistico prevedere che entro i prossimi tre anni il dato relativo al consumo pro capite raggiungerà il valore di 10 kg.