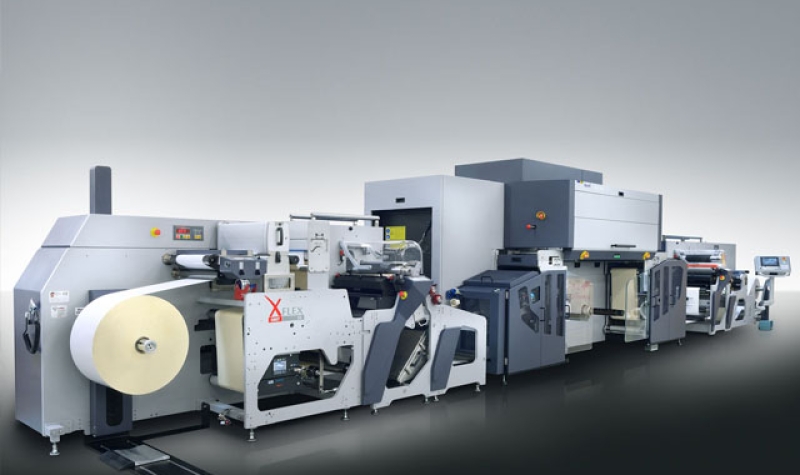 Interpack 2017, OMET and Durst together for the future of digital
May 2, 2017
Industry 4.0 and waste reduction. These two subjects will be the key points of Interpack 2017, one of the most important trade fairs in the packaging sector, taking place in Düsseldorf from 4th to 10th May 2017. OMET will be present at the Durst booth (D73 – Hall 13) for the European debut of the in-line combination of Durst Tau 330 and OMET XFlex X6, an integrated hybrid solution for high-performance labels and packaging printing, which guarantees flexibility, wide range of applications and cost saving.
This year Interpack has achieved the highest number of exhibitor demands in more than 55 years of history. The Messe Düsseldorf exhibition center – 262.400 sqm and 19 halls – will be the stage for more than 4.000 exhibitors coming from 60 different countries, representing all the market segments of the packaging industry: food, beverages, pharmaceutical, cosmetics, non-food and industrial.
Durst, world-leading manufacturer of advanced digital production technologies, and OMET, world-leading manufacturer of printing and converting machines, will show for the first time in Europe the Durst Tau 330/OMET XFlex X6: a hybrid label printing solution featuring the high-speed Tau digital inkjet system 13" wide, which can boast more than 100 installations all over the world.
Thanks to the integration with OMET conventional flexo stations, this hybrid solution can offer an unlimited flexibility and a wide range of final application with a consistent cost reduction. OMET XFlex X6's finishing and converting units like Cold Foil, lamination, varnishing, die-cutting, slitting and rewinding assure great reliability and excellent results in the production of labels and specialty package.
Durst/OMET Hybrid solution made its first appearance in LabelExpo Americas 2016 and now it is ready for its debut in Europe. OMET and Durst will be pleased to welcome you at Durst booth D73 | Hall 13. OMET technical and commercial staff will be available to provide further information about OMET product range.
Interpack will represent the entire value chain of the packaging industry, from the suppliers (who will have a dedicated event: "Components" by Interpack), to the distributors. Thanks to the collaboration with the German engineering federation (VDMA – Verband Deutscher Maschinen), there will be a technological show dedicated to the Industry 4.0, concerning especially the development of new applications for packaging customization, security, traceability, anti-counterfeiting and preservation properties. Furthermore, Interpack gives voice to sustainability with the Innovationparc dedicated to innovative packaging solutions designed to reduce food waste, which follows the path of the important international congress "SAVE FOOD", organized in collaboration with UNEP and FAO.
---
Interpack 2017, OMET e Durst insieme per il futuro del digitale
Industria 4.0 e lotta agli sprechi. Ecco su cosa punta Interpack 2017, fiera di riferimento per il settore del packaging che si terrà a Düsseldorf, in Germania, dal 4 al 10 Maggio 2017. OMET sarà presente presso lo stand della Durst (D73 – Hall 13) per il debutto in Europa della OMET XFlex X6 con Durst Tau 330 in linea, una soluzione ibrida per la stampa di packaging ed etichette che offre prestazioni eccezionali in termini di flessibilità, gamma di applicazioni finali e risparmio.
Quest'anno Interpack ha registrato il più alto numero di richieste espositive in oltre 55 anni di storia. Il centro fieristico di Düsseldorf – 262.400 metri quadrati e 19 hall – ospiterà circa 4.000 espositori provenienti da 60 Paesi diversi e appartenenti a tutti i segmenti dell'industria del packaging: alimentare, bevande, farmaceutica, cosmetica, non-food e industriale.
Durst, produttore leader mondiale di sistemi di stampa digitali, e OMET, leader mondiale nella produzione di macchine per la stampa ed il converting, presenteranno per la prima volta in Europa la Durst Tau 330/OMET XFlex X6: una linea ibrida per la stampa di etichette e packaging speciale che monta il Durst Tau 330, una macchina da stampa inkjet UV ad alta velocità in fascia 33 cm (13") con più di 100 installazioni nel mondo.
Il gruppo stampa inkjet Durst e grazie all'integrazione in linea con le unità flexo OMET, offre un'illimitata flessibilità e una vasta gamma di applicazioni finali con un notevole risparmio di costi. La macchina OMET XFlex X6 assicura elevata flessibilità e affidabilità con moduli di converting e nobilitazione ad alte prestazioni come Cold Foil, laminazione, verniciatura, fustellatura, taglio e ribobinatura, garantendo risultati eccelsi nella produzione di etichette e packaging speciale.
Questa soluzione ibrida è stata mostrata per la prima volta a LabelExpo Americas 2016 ed è ora pronta al debutto in Europa. OMET e Durst vi aspettano presso lo stand Durst D73 | Hall 13. Il personale tecnico e commerciale OMET potrà fornire di persona ulteriori informazioni sulle soluzioni OMET per la stampa di etichette e packaging.
Ad Interpack sarà rappresentata l'intera catena del valore del packaging, dai fornitori (a cui è dedicato l'evento speciale "Components" by Interpack), alle fasi finali dell'imballaggio. Un salone tecnologico in collaborazione con la Federazione tedesca di ingegneria (VDMA – Verband Deutscher Maschinen) sarà dedicato all'industria 4.0, e in particolare alle nuove applicazioni in materia di personalizzazione del packaging, sicurezza, tracciabilità, protezione contro falsificazioni, contaminazione e deterioramento dei prodotti. Interpack continua a dare ampio spazio all'eco-sostenibilità, con l'Innovationparc dedicato alle soluzioni di packaging progettate per ridurre gli sprechi e le perdite di cibo, a cui si affianca l'importante congresso internazionale "Save Food", organizzato in collaborazione con UNEP e FAO.