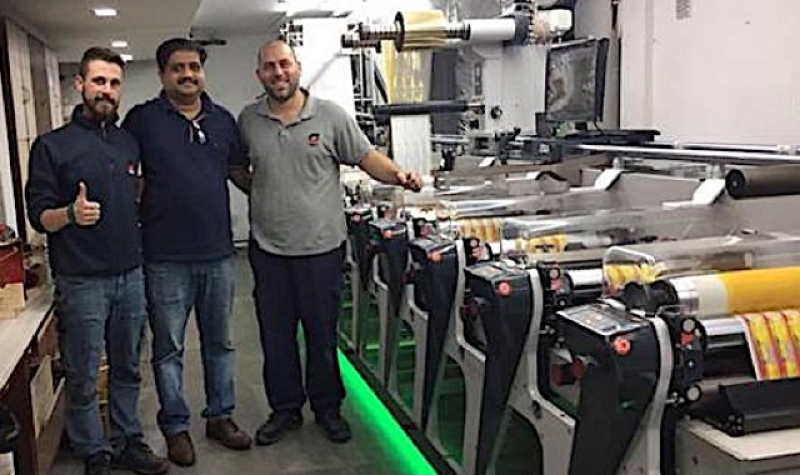 Insight Graphics installs India's first OMET iFlex label press
April 21, 2017
The company saw the press showcased for the first time at Labelexpo India in November 2016
An OMET iFlex has been sold to Kolkata-based Insight Graphics Pvt. Ltd., which saw the press showcased for the first time in India at Labelexpo India in November 2016. The iFlex, a 10-color all UV press with iVision registration control, quick change diecutting system, complex matrix rewinder, hot air dryer, delam/relam system, web tumbar, cold foil station and two diecutting station, has been installed at Insight Graphics' factory in Kolkata.
The iFlex label press is easy to use and quick to set up. The press is designed to simplify the printer's work in reaching high quality. It includes laser-assisted pre-register and register setting devices that speed up the machine setup and reboot after job change. According to OMET, iFlex has the shortest web path in narrow web printing for enhanced savings in the start-up phase (waste measured is below the transition paper between two prints).
Insight Graphics, led by Ashish Shah, was established in 1999 and has made its presence felt in the east Indian printing and label industry. "We have installed a 10-color OMET iFlex 370 press, which is one of the best, " says Shah. "It is the very first one to be installed in India. Machine performance and operation are satisfactory. We are confident that this machine will ensure consistent quality, which will ensure meeting current as well as future demands of our clients. I am thankful to the OMET team and their Indian partner Weldon, who ensured smooth execution of this project. I am satisfied with the machine, as well as excited to offer the best solution to our clients that will ensure steady flow of business".
The sale of this OMET iFlex has been handled by OMET's exclusive agent in India, Weldon Celloplast Limited New Delhi. Pawandeep Sahni, director of Weldon Celloplast says, "Insight is an important customer, being the first one in East India. We look forward to a strong and continued relationship with Insight Graphics".
Article from "www.labelandnarroweb.com", Breaking News, 17 April 2017.
---
Insight Graphics installa una OMET iFlex per la stampa di etichette: è la prima in India
La linea di stampa era stata esposta per la prima volta alla Labelexpo India nel mese di novembre 2016
La Insight Graphics Pvt. Ltd. di Calcutta ha acquistato una iFlex dopo averla vista in dimostrazione alla Labelexpo India del novembre scorso. La macchina, recentemente installata presso la sede di Calcutta, è configurata con 10 colori UV, sistema iVision per il controllo di registro, doppia fustella a cambio facilitato ECDC, sfridatore Rock'n'Roll, Cold Foil, stampa su adesivo con sistema di ribaltamento materiale e stazione di verniciatura.
La iFlex, dedicata alla stampa di etichette, è una macchina estremamente semplice da usare e veloce da preparare. E' stata progettata per semplificare il lavoro dello stampatore raggiungendo comunque un livello qualitativo molto elevato. E' dotata dell'innovativo dispositivo di pre-registro iLight con puntatore laser, che abbinato al sistema iVision è in grado di accelerare il setup della macchina e la ripartenza dopo il cambio di lavoro, garantendo un consistente risparmio di tempo e materiale.
Tutte le unità di stampa della iFlex hanno trasmissione Direct Drive sul cilindro di controstampa, offrendo benefici in termini di qualità di stampa e di gestione degli sprechi. La macchina gestisce una vasta gamma di formati, da 5,5″ a 18" il che permette di limitare i costi nell'acquisto di attrezzature. Resistente e silenziosa, è destinata a cicli di lavoro intensivi dove dà garanzia di prestazioni e risultati.
La Insight Graphics, guidata da Ashish Shah, è stata fondata nel 1999 e da subito ha fatto sentire la sua presenza nella zona orientale dell'India nel settore stampa ed etichette.
"La OMET iFlex 10-colori 370 che abbiamo installato è una delle migliori sul mercato", afferma Shah. "E' la prima in India. Siamo soddisfatti delle prestazioni della macchina e del suo funzionamento. Siamo certi che garantirà una qualità costante e ci permetterà di incontrare le esigenze attuali e future dei nostri clienti. Sono grato a OMET e al loro partner indiano Weldon, che ci hanno portato a realizzare questo progetto. E sono entusiasta di poter offrire le soluzioni migliori ai nostri clienti che assicurano il futuro del nostro business".
La vendita di questa OMET iFlex è stata gestita dall'agente OMET che ha l'esclusiva in India, la Weldon Celloplast Limited di Nuova Delhi. Pawandeep Sahni, direttore della Weldon Celloplast dice: "Insight Graphics è un cliente importante, essendo il primo nell'India orientale. Confidiamo in un rapporto che prosegua in modo forte e continuativo".
Si ringrazia la rivista "Label & Narrow Web" per l'autorizzazione alla pubblicazione (http://www.labelandnarrowweb.com)