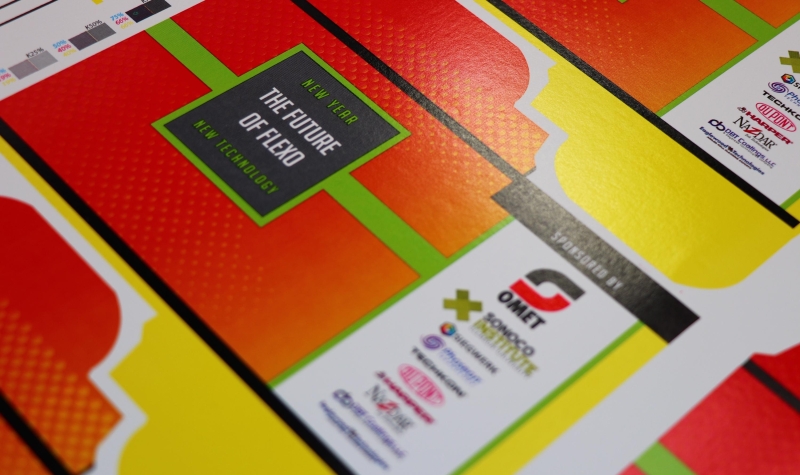 Industry gains new tech insight at Future of Flexo event
February 15, 2019
On February 6-7 an inaugural Future of Flexo event was hosted at Clemson University's Sonoco Institute of Packaging Design and Graphics, presented by OMET Americas.
The event centered around "New Year, New Technology" and was sponsored by industry print suppliers Eaglewood Technologies, Siegwerk, Phoseon Technology, Nazdar Ink Technologies, DuPont, Techkon, DBT Coatings and Harper Corporation. The two-day event was created to showcase new and innovative opportunities for flexo printers/converters to consider for their 2019 budget spending and overall long-term cost savings. This first event included presentations on everything from the latest OMET press options, like this flexo/digital hybrid press created with Durst, to groundbreaking anilox cleaning techniques, digital flexo plate creation methods, UV LED coating and curing applications, and much more.
"The Future of Flexo event by OMET was a great event to showcase not only cutting-edge products from industry suppliers but also highlighted the amazing work going on at the Sonoco Institute," commented Peter Mulheran, Vice President and General Manager of Eaglewood Technologies. "To me, this event illustrated the importance of partnering industry events with future influencers. We look forward to contributing at the next event."
OMET is a long-time partner of the Sonoco Institute having placed one of their Varyflex narrow-web presses in the Institute's Advanced Print Lab for student education, research and industry training opportunities. OMET's Future of Flexo program was designed to support university programs, like Clemson University's Graphic Communications program, involved in training the next wave of leaders in the flexographic printing industry.
"The entire global OMET organization supported and watched this past week via multiple social media outlets, as a dedicated group of industry specialists gathered in Clemson, SC at Clemson University's Sonoco Institute," said Ron Hengst, South Eastern Sales Manager for OMET Americas. "Convertors from label and packaging groups as well as local custom shops and even future start-up convertors joined us in reviewing product development and equipment improvement from our ten event partners."
OMET and the Sonoco Institute will continue to partner on these free open house events. Convertors thinking of where they are going find their next cost savings or quality improvement idea should plan to attend a future event. Sign on to the Sonoco Institute's email list for future updates (Click here).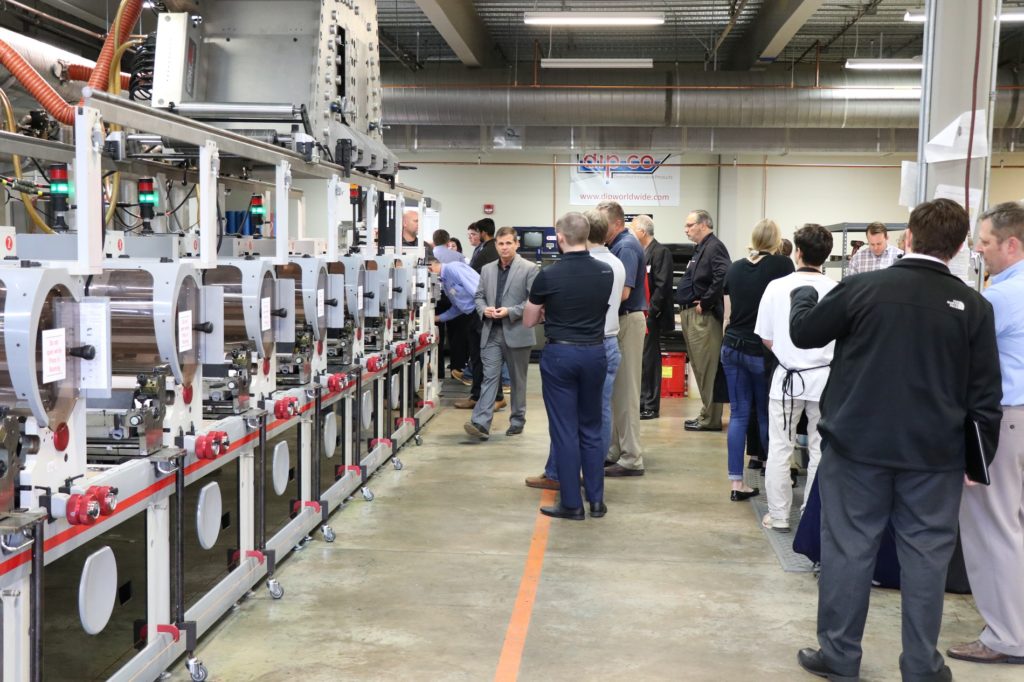 ---
La "Future of Flexo" continua a crescere con la collaborazione della Clemson University
Il Sonoco Institute of Packaging Design and Graphics della Clemson University ha ospitato nei giorni del 6 e 7 febbraio un evento dell'iniziativa Future of Flexo organizzata da OMET Americas.
Si è trattato di un open house a tema "New Year, New Technology", sponsorizzato da Eaglewood Technologies, Siegwerk, Phoseon Technology, Nazdar Ink Technologies, DuPont, Techkon, DBT Coatings e Harper Corporation.
E' stata una due giorni organizzata per mostrare agli stampatori e converters del settore flexo novità ed opportunità per investire sia nel breve termine, in vista del budget 2019, sia per aumentare l'efficienza nel lungo termine. Sono state presentate le ultime proposte OMET per le macchine da stampa, come la macchina ibrida flexo/digitale sviluppata con Durst, le innovative tecniche di pulizia degli anilox, i metodi di creazione digitale lastre flessografiche, i sistemi di finitura e asciugatura UV LED e molto altro ancora.
"L'evento Future of Flexo di OMET è stato una grande occasione sia per mostrare prodotti all'avanguardia, sia per mettere in evidenza lo straordinario lavoro che si svolge presso il Sonoco Institute" ha commentato Peter Mulheran, vicepresidente e General Manager di Eaglewood Technologies. "A mio avviso, questo evento ha dimostrato l'importanza di creare partnership tra operatori attuali e futuri del settore. Non vediamo l'ora di contribuire al prossimo evento. "
OMET è da tempo partner del Sonoco Institute, dove viene utilizzata una linea OMET Varyflex a nastro stretto a scopo di formazione per gli studenti e di ricerca per i progetti condotti nell'Advanced Print Lab dell'Istituto. L'iniziativa "Future of Flexo" è stata avviata da OMET proprio per dare un supporto a programmi universitari che formeranno la prossima generazione di leader nel settore della stampa flessografica, come il Graphic Communications Program della Clemson University.
"Il Gruppo OMET ha sostenuto e pubblicizzato l'open house attraverso diversi canali social e ospitando un gruppo di specialisti del settore a Clemson, SC presso il Sonoco Institute della Clemson University", ha dichiarato Ron Hengst, South Eastern Sales Manager per OMET Americas. "Gli operatori del settore etichette e packaging, così come negozi locali e future start-up del settore hanno partecipato agli interventi sullo sviluppo del prodotto e il miglioramento delle attrezzature proposto dai dieci partner dell'evento".
OMET e il Sonoco Institute continueranno a collaborare per questi eventi gratuiti. Tutti gli operatori del settore interessati ad abbassare i costi e migliorare la qualità potranno trovare spunti interessanti per le loro strategie in uno dei prossimi appuntamenti.
Per essere aggiornato sugli eventi futuri, iscriviti alla mailing list del Sonoco Institute (Clicca qui).