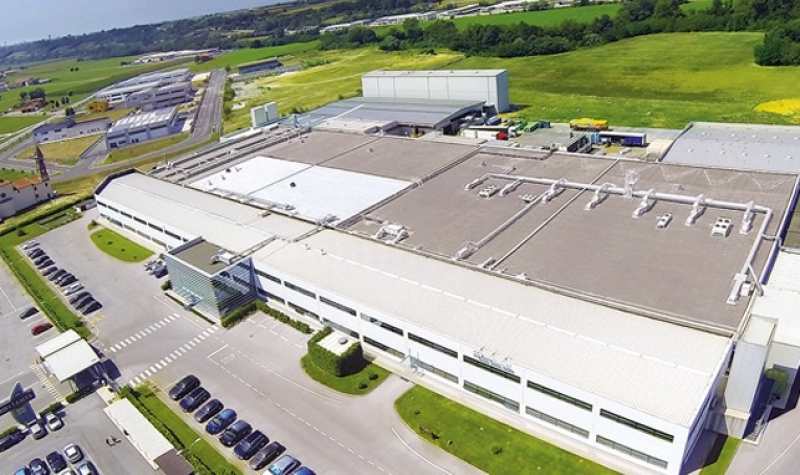 Industry 4.0, Eurostampa unveils the complete integration between printing machines and ERP
July 5, 2019
EUROSTAMPA stands out as a pioneer of Industry 4.0, having developed an integrated system between OMET machines and their ERP for improving production management. The software, developed by the electronic R&D departments of OMET and EUROSTAMPA, make all the process parameters flow directly into the company's ERP, with a completely customized interface.
The Transparent Factory Cloud software, installed on each OMET printing line, displays in real time the working conditions and the process parameters of the machine. These data flows directly to the company server that creates CSV files to be downloaded and processed at any time.
Eurostampa, located in Bene Vagienna (Cuneo), is an industrial giant of prestigious labels, OMET's customer for a long time. The company has asked OMET to develop a software able to make all data of their production lines flowing directly into their ERP. This direct transmission would bring big advantages in terms of speed and effectiveness of production management.
Developing this new solution for Eurostampa was an interesting challenge and a big opportunity for OMET. Beyond putting in direct connection the machine and the ERP, our R&D Electronic Department customized the reading interface and some parameters according to the customer's needs instead of following the standard protocols. Any OMET customer could have the possibility to customize the monitoring of the processes, having access to readily available information and thus managing the production more efficiently.
To achieve this goal, the PLC software and the operator panel were customized, and the router was improved with some scripts that allow the ERP to poll the machine and check the information needed (i.e. with cyclic calls every 30 seconds). Everything works with http and text answers.
This "customized" innovation, replicable on any OMET machine, demonstrates once again OMET's attention to customers' needs and willingness to develop together with them innovative technologies aimed at increasing their competitiveness.
Andrea Bergadano, Eurostampa Project Manager, express his full satisfaction with the work carried out with OMET: "Eurostampa S.p.A. continues to invest in new technologies, whether they concern printing or support production. Industry 4.0 gave us the opportunity to invest simultaneously in both directions. The purchase of latest-generation OMET machines and their integration with our ERP system was the result of the respect and collaboration between the two companies. Working in close synergy, we reached our goal: to read and represent the printing process in real time, improving programming and production forecasts".
"The purchasing department can better organize the supply of raw materials – adds Bergadano – improving their availability and timing. Furthermore, the possibility of passing start-up data directly to the machine simplifies and speed up the information transfer".
---
Industria 4.0, per Eurostampa integrazione completa tra macchine da stampa e gestionale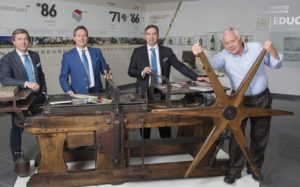 EUROSTAMPA è pioniera nel campo dell'Industria 4.0, con un sistema integrato di gestione dei dati produttivi tra le macchine OMET e l'ERP aziendale. I reparti di ricerca e sviluppo elettronica OMET ed EUROSTAMPA hanno messo a punto il sistema che fa confluire tutti i parametri di processo direttamente al gestionale dell'azienda, creando un'interfaccia completamente personalizzata.
Su ogni linea da stampa OMET le condizioni di lavoro e i parametri di processo sono monitorati in tempo reale tramite il software Transparent Factory Cloud. Questi vengono trasmessi al server aziendale con creazione di dati CSV scaricabili e lavorabili in ogni momento.
Eurostampa, storico cliente OMET e colosso industriale nel segmento delle etichette di pregio con sede a Bene Vagienna, ha commissionato ad OMET lo sviluppo di un applicativo aggiuntivo che permette ai dati raccolti su tutte le linee di produzione di fluire direttamente nell' ERP di EUROSTAMPA. Questo tipo di trasmissione diretta dei dati porta notevoli vantaggi in termini di velocità ed efficacia nella gestione dei dati di produzione.
Studiare e sviluppare questa nuova soluzione per il cliente è stata una sfida interessante per OMET, che apre enormi potenzialità per il futuro. Oltre a connettere direttamente la macchina al sistema gestionale, i tecnici della R&D Elettronica OMET hanno lavorato sull'impostazione di alcuni parametri e sull'interfaccia di lettura, customizzandole secondo le esigenze del cliente anziché secondo i protocolli standard di sistema. Ogni cliente OMET potrà avere così la possibilità di personalizzare la lettura dei processi, rendendo più immediata la fruizione delle informazioni e la gestione delle linee di produzione.
Per ottenere questo obiettivo, sono stati personalizzati i software del PLC e del pannello operatore, inserendo nel router degli script che consentono al sistema gestionale dell'azienda di comunicare in polling (cioè con chiamate cicliche ogni 30 secondi) per catturare quanto serve. Il tutto avviene con linguaggio http e con risposte in modalità testo.
Con questa innovazione "customizzata" ma replicabile su qualsiasi macchina secondo le richieste dei clienti, OMET dimostra ancora una volta l'attenzione verso le loro esigenze e la disponibilità a sviluppare insieme a loro tecnologie innovative votate ad incrementare la competitività.
Il Project manager di Eurostampa, Andrea Bergadano, ha espresso la sua piena soddisfazione per il lavoro svolto in team con OMET: "L'industria Grafica Eurostampa S.p.A. continua ad investire ciclicamente in nuove tecnologie, sia esse di stampa sia esse di supporto alla produzione. L'industria 4.0" è stata l'occasione per investire contemporaneamente in entrambe le direzioni. L'acquisto di nuove macchine OMET di ultima generazione e l'integrazione delle stesse con il proprio sistema ERP è stato il risultato di un connubio di stima e collaborazione tra le due realtà. Lavorando in stretta sinergia siamo arrivati al risultato sperato, cioè quello di leggere e rappresentare in tempo reale lo stato della macchina da stampa migliorando gli aspetti di programmazione e stime di produzione".
"Chi si occupa degli approvvigionamenti dei materiali per la produzione può così organizzare al meglio il lavoro – aggiunge Bergadano – e rendere disponibile il materiale nei tempi corretti evitando di generare cumuli di materiale in attesa del loro utilizzo. Inoltre, la possibilità di trasmettere alla macchina i dati di messa in produzione del lavoro, ha semplificato e velocizzato il passaggio informazioni".