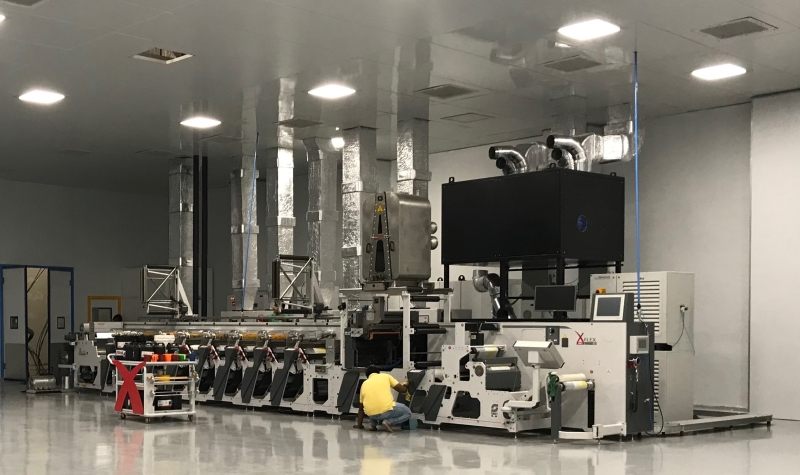 India, an OMET XFlex X6 at Packtime Innovations in Pune
September 3, 2018
New Delhi headquartered Packtime Innovations Pvt. Ltd invested in an OMET Xflex X6 narrow web combination printing and converting flexo press. The equipment has been installed at their unit located in Pune, Maharashtra.
The XFlex X6 flexo press is a pay-back investment for any company looking for high productivity, efficiency and astonishing printing results. It is able to integrate several printing and converting technologies in-line and process all kind of substrates, from 12-micron film to light cartons, producing many types of applications to satisfy the requests of different target markets. It has operator friendly features like fully removable inking cassettes and light ink pans, automatic set-up and pre-registration, easy link to intranet and ERP. Flexo Direct-Drive technology and gearless concept eliminates even the smallest imperfection and allow the press to reach the purest quality with no backlash and perfect register stability, even at the highest production speeds. The modular design allows to combined and implement in-line, with no limitations, different printing technologies, as well as special finishing applications and converting units, to always get to the final product in one single passage. It can control both machine and cross side of each single printing unit in real time and get the machine ready to print in less than 1 minute, generating minimal waste.
The machine installed at Packtime is a 530 mm 8 colour press with all UV and hot air drying options; one Rotogravure station, 2 corona treaters, web cleaner and camera system.
Commenting on the equipment Anand Singh, Vice President-Technical at Packtime Innovations said: "OMET machines are robust, operator friendly, ergonomically designed and adaptive to various inline processes. Overall the machine is supported by highly skilled, knowledgeable, humble and polite OMET team: without them, such engineering marvels can't be innovated".
The sale and installation has been handled by OMET's exclusive agents Weldon Celloplast Limited. Kanwardeep Sahni, Director of Weldon says "Packtime is a very prestigious customer and will be creating innovative labels and packaging with the OMET XFlex X6".
---
INDIA, installata una OMET X6 presso la sede di Pune della Packtime Innovations
Packtime Innovations, azienda indiana con sede a Nuova Delhi, ha acquistato una OMET XFlex X6, macchina a fascia stretta per stampa e converting in linea. La linea è stata installata nelle scorse settimane presso la sede di Pune, nella regione del Maharashtra.
La OMET X6 è un investimento redditizio per qualsiasi azienda che cerca produttività, efficienza ed eccellente qualità di stampa. Può integrare diverse tecnologie di stampa e converting in linea, e lavorare con qualsiasi tipo di materiale, dal film da 12 micron al cartoncino, con diverse applicazioni. In questo modo può soddisfare le richieste dei diversi mercati di destinazione. E' progettata in modo da risultare user friendly per gli operatori, grazie a vaschette per l'inchiostro completamente removibili e minime quantità di inchiostro utilizzate, set-up e pre-registro automatici, collegamento a Intranet ed ERP. La tecnologia Flexo Direct-Drive e la trasmissione diretta (gearless) eliminano anche le più piccole imperfezioni del processo di stampa, consentendo alla macchina di raggiungere la qualità più alta senza nessuna ripercussione e mantenendo una perfetta stabilità del registro, anche alla massima velocità di produzione. Il design modulare consente di combinare e implementare in linea, senza limitazioni, diverse tecnologie di stampa e applicazioni speciali per la finitura e la conversione, per ottenere il prodotto finale in un unico passaggio. L'operatore può controllare sia la macchina che ogni singola unità di stampa in tempo reale, nonché preparare la macchina per la stampa in meno di 1 minuto, riducendo al minimo gli sprechi.
La macchina installata da Packtime è una linea di stampa a colori 830 mm con tutte le opzioni di asciugatura ad aria calda e UV. E' dotata di una stazione rotocalco, 2 trattamenti corona, sistema di pulizia del nastro e telecamere.
Anand Singh, Vice Presidente di Packtime Innovations, ha dichiarato che "le macchine OMET sono robuste, facili da usare, ergonomiche e adattabili a diversi processi in linea. Dietro la macchina c'è un team OMET altamente qualificato, competente, disponibile e gentile, senza il quale meraviglie ingegneristiche come queste non potrebbero essere innovate".
La vendita e l'installazione della linea sono state gestite dagli agenti esclusivi OMET che fanno capo alla Weldon Celloplast Limited. Kanwardeep Sahni, direttore di Weldon, afferma che "Packtime è un cliente molto prestigioso e creerà etichette e imballaggi innovativi grazie alla OMET X6".