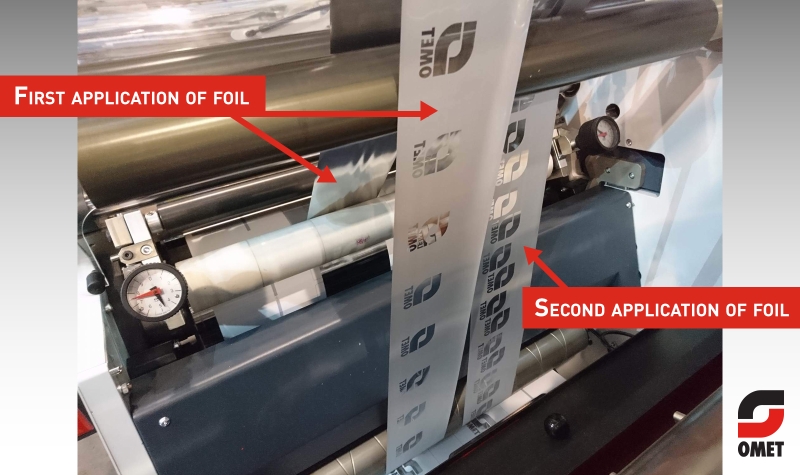 Increase profitability with the new OMET Cold Foil Saver
October 26, 2020
With a laser focus mission to increase profitability for printers, OMET Research team, has taken numerous amount of challenges in the areas of waste reduction, time and energy savings. It is such deep focus that has led OMET Research to come up with the new innovative Cold Foil Saver which allows printers to use the same foil "twice" for the same print, enabling them to increase cold foil savings by up to 50% and increase profitability.
Launched at the 2019 LabelExpo Brussels, the new revolutionary OMET Cold Foil Saver is a cost-effective solution which is made available in all OMET flexo printing machines starting from iFLEX up to X6. The same solution is also available as a new attachment which can be ordered and installed by all existing OMET customers. This new OMET Cold Foil Saver allows printers to use the same foil "twice" for the same print, with no compromise on the printing speed and delivers the same high quality cold foil transfer. Once again OMET has delivered a no compromise, cost effective solution, keeping its high-quality standards maintained.
Up to 50% raw materials savings can be achieved with the new cold foil saver, thanks to a special paper path specifically designed to perform a double pass of the cold foil in perfect register. "The reduction of waste and the resulting cost savings, guarantee greater productivity and increased profitability for customers. OMET Customers will now be able to achieve the same quality by limiting raw material consumption by up to 50% and hence also produce less waste when compared to existing solutions" said Marco Calcagni, Sales Director of OMET
This development also displays OMET's continued commitment to sustainability, which has been one of the main guidelines of OMET RESEARCH, aimed at ensuring greater productivity and profitability to customers by either creating energy saving or waste reducing solutions. OMET's R&D department is continuously working with leading industry partners in the areas of eco-sustainable materials and technologies, recycling, waste reduction, water-based inks and energy saving with UV-Led drying to ensure that the future of packaging is both sustainable and profitable.
---
Stop agli sprechi con il nuovo OMET Cold Foil Saver
La riduzione degli scarti, con i conseguenti risparmi di tempi e costi di produzione, è uno dei fronti su cui la ricerca tecnologica OMET è sempre stata in prima linea. Il nuovo gruppo Cold Foil Saver, sviluppato e collaudato con ottimi risultati, permette di utilizzare la stessa lamina di foil per due volte sulla stessa stampa, realizzando un doppio passaggio perfettamente a registro senza l'intervento dell'operatore.
OMET Cold Foil Saver è una soluzione rivoluzionaria con efficacia comprovata, applicabile su tutte le linee di macchine OMET dalla iFlex alla X6. Economica e facile da utilizzare, consente la medesima velocità di stampa del sistema Cold Foil standard di cui costituisce un'opzione aggiuntiva, e consente di mantenere l'elevato standard qualitativo di stampa tipico della tecnologia OMET.
Grazie a uno speciale passaggio carta studiato appositamente per effettuare un doppio passaggio a registro della lamina, il Cold Foil Saver permette un risparmio di materiale che arriva al 50%. La riduzione degli sprechi e il risparmio di costi che ne consegue sono garanzia di una maggior produttività e redditività per i clienti, che potranno ottenere lo stesso risultato qualitativo limitando l'uso di materiale e producendo meno scarti da dover smaltire.
Il Cold Foil Saver è un sistema innovativo ed ecologico presentato per la prima volta in Labelexpo Europe 2019, su una linea iFlex.
L'attenzione alla sostenibilità è da sempre una delle linee guida delle innovazioni tecnologiche OMET, studiate per garantire maggior produttività e redditività ai clienti anche tramite il risparmio energetico e la riduzione degli sprechi. I fronti aperti sono diversi: materiali e tecnologie ecosostenibili, riciclo, riduzione degli scarti, inchiostri ad acqua e risparmio energetico grazie all'asciugamento UV-Led.