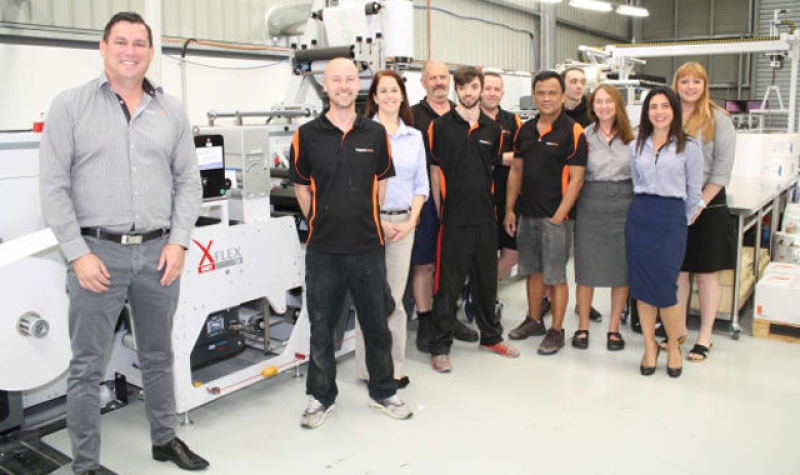 Impact boosts throughput for wraparound labels with new press
July 5, 2017
With the recent installation of a new flexo label press and rewinding system that will markedly increase throughput on the shop floor, Brisbane-based Impact Labels is set to expand its penetration of the medium- to long-run label market.
In 2005, Byron Hudghton harnessed his then 15 years' experience in label printing to his entrepreneurial spirit and founded Impact Labels. Fast forward 11 years and the company has built a strong reputation for supplying high quality labels and tags to the food, beverage and chemicals industries, both locally and in several export markets.
Impact Labels specialises in medium- to long-run label printing, MD Byron Hudghton tells PKN, and has been successful, he believes, because of its owner-operator business model."As a label printer by trade, I know how to get optimum throughput from the presses," Hudghton says.
And getting more throughput was largely what motivated the purchase of the company's new OMET XFlex X6 label press, which was supplied by Currie Group and installed in March.
"This is the first time we've done business with Currie Group, and I have to say we've been impressed with their service. In fact, one of the main reasons we chose to go with this press is because Currie Group has a network of support engineers on the ground in each state," he says.
"Another purchasing driver was our customers' requirement to run cheaper and ever faster – both of which the OMET XFlex X6 delivers. It's a step up in throughput and in quality," Hudghton adds.
The press is up and running and has already printed two million metres of film for wraparound labels, a label category experiencing growth in demand as beverage companies especially are making the switch from self adhesive labels to wraparound film.
"These can be printed at half the cost, the 38-micron PP material is thinner than self-adhesive label material, so more fits on a roll (meaning less downtime for the manufacturer) and it processes faster on the labelling machines, enabling higher production speeds. A win all round," he says.
The company has also bought an ABG (AB Graphic Int) rewinder from Currie Group, and has plans to purchase another in the near future.
Top of the class
For printers like Impact Labels, aiming to be competitive on an extended product portfolio, the OMET XFlex X6 is the ideal press, delivering consistent results at speed.
According to Mark Daws, GM Labels & Packaging Division at Currie Group the press is "top class".
"It's a payback investment for any company looking for high productivity, efficiency and astonishing printing results," Daws says.
The XFlex X6 is capable of producing complex and creative label designs on a variety of substrates and offering a whole range of additional units for special applications and high end finishing.
Features and benefits include a short web path, perfect registration at high speed, and quick start-ups thanks to the machine's general ease of use and ergonomic design.
Speeds of up to 200/min can be achieved on print widths of 330mm, 420mm and 530mm.
Thanks to Packaging news.com
In the picture The Impact Labels team (MD Byron Hudghton on left) with the new OMET XFlex X6 press
---
Impact Labels spinge sulle etichette wraparound con una nuova macchina da stampa OMET XFlex X6
Una nuova macchina da stampa OMET e un nuovo ribobinatore, per aumentare la produttività e spingere le vendite: così la Impact Labels di Brisbane vuole ampliare la sua quota di mercato nelle medie e grandi tirature.
Impact Labels è stata fondata nel 2005 da Byron Hudghton, che così ha voluto concretizzare il suo spirito imprenditoriale e la sua esperienza di 15 anni nel settore della stampa di etichette. Undici anni dopo, Impact è un marchio forte che fornisce etichette di alta qualità per il settore food & beverage e quello chimico, sia a livello locale che estero.
"Impact Labels è specializzata nella stampa di etichette su medie e grandi tirature – spiega l'amministratore delegato Byron Hudghton alla rivista Packaging news.com – e ha avuto successo grazie al modello di business basato sulla figura di proprietario-operaio. Da stampatore di etichette di mestiere, so come ottenere il risultato ottimale dalle macchine".
Aumentare la produttività è stato l'obiettivo trainante per l'acquisto della nuova OMET XFlex X6. La macchina è stata fornita tramite Currie Group, agente OMET in Oceania, e installata lo scorso mese di marzo.
"E' il primo accordo che concludiamo con Currie – racconta Hudghton -. Devo dire che siamo stati colpiti dal loro servizio. Una delle ragioni principali che ci hanno spinto a sceglierli è la presenza di una rete di ingegneri disponibili ad intervenire in loco in ogni regione. Un'altra è stata la richiesta dei nostri clienti di lavorare in modo più economico e più veloce: due cose che la OMET XFlex X6 ci consentirà di fare. Si tratta di un passo avanti nella produttività e nella qualità".
La macchina ha già stampato due milioni di metri di film per etichette wraparound, categoria che in questo momento è molto richiesta, in particolare da aziende del settore beverage che stanno sostituendo le etichette autoadesive con quelle di questo tipo.
"Le etichette wraparound possono essere stampate con costi dimezzati – continua Hudghton – il materiale PP da 38 micron è più sottile di quello per etichette autoadesive e la bobina ne può caricare di più, riducendo il tempo di inattività per il produttore. Inoltre si lavora più velocemente. Insomma, ci sono vantaggi da ogni punto di vista".
Impact Labels ha anche acquistato un ribobinatore ABG (AB Graphic Int) da Currie Group e ha in programma di acquistarne un altro nel prossimo futuro.
 La migliore della classe
Per stampatori come Impact Labels, che vogliono essere competitivi su un ampio portfolio prodotti, la OMET XFlex X6 è la macchina ideale, che garantisce risultati costanti ad alta velocità.
Secondo Mark Daws, General manager della Labels & Packaging Division del gruppo Currie, la macchina è di livello "top class". "E' un ottimo investimento per qualsiasi azienda che cerca alta produttività, efficienza e risultati di stampa sorprendenti", afferma Daws.
La XFlex X6 è in grado di stampare etichette e imballaggi dalle grafiche complesse su una grande varietà di materiali e può combinare in linea unità per applicazioni speciali e finiture di pregio.
Caratteristiche e vantaggi della macchina includono un percorso carta breve, il registro perfetto alle massime velocità e risparmi di tempo notevoli in fase di avviamento grazie alla facilità di uso della macchina e alla sua ergonomia. Può raggiungere velocità di 200m/min su fascia 340mm, 430mm e 530mm.
Si ringrazia Packagingnews.com per l'autorizzazione alla pubblicazione
http://www.packagingnews.com.au/printing/impact-boosts-throughput-for-wraparound-labels-with-new-press#wdm46vjdWzZb47Ps.99
Nella foto: il team Impact Labels (Amministratore delegato Byron Hudghton a sinistra) con la nuova macchina da stampa OMET XFlex X6