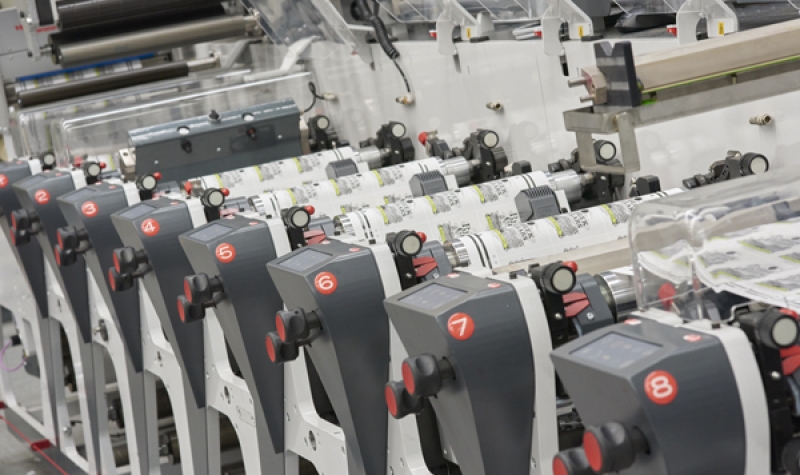 iFLEX label press by OMET nominated at FlexoTech Awards 2015 for Innovation
September 20, 2015
iFlex label press by OMET has been nominated for the Innovation Award at the FlexoTech Awards 2015. The Award Ceremony will take place on October 22nd, at the Hilton London Metropole, London, UK.
The iFlex, officially launched last May at OMET's headquarters, is a 370mm-wide 'entry-level' PS label press full of handy, yet effective innovations helping the printer reaching the best result within the shortest time and with the least amount of waste.
To this end, the press introduces, for the first time in flexo, the laser-assisted plate cylinder adjustment iLight and iVision register control. iLight is an uncommon pre-register system characterized by the presence of one laser pointer per print unit. The laser pointers guide the operator to the quick manual alignment of all plates, thus speeding up the job changeovers and reducing waste. Dual laser pointers are positioned on the die station – one perpendicular to the die for accurate longitudinal register, and one aligned on the web for cut-to-print accuracy.
iVision is a camera-assisted register system (one camera per print unit). The scanned images reach the iVision display and the register is quickly manually set before the printed job reaches the end of the line.
iFlex is equipped with Direct Drive technology which means one gear on the plate cylinder per print unit! This solution is meant  to eliminate gear backlash, reduce maintenance and improve print stability. Last but not least, iFlex has a fully re-designed converting section introducing QCDC (Quick Change Die-Cutting) and Rock'n'Roll matrix rewinder unit.
iFlex is the press that every label converter was dreaming of, capable as it is to support any printing company whose need is to produce all types of PS labels with the smallest amount of waste and the greatest efficiency.