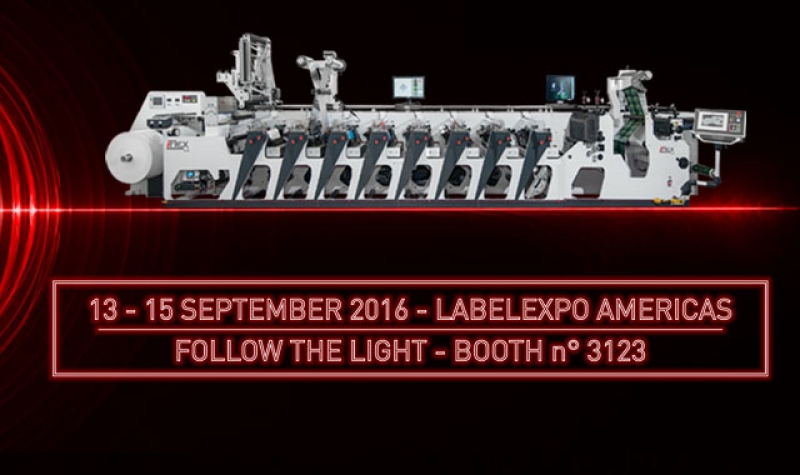 iFLEX and XFlex X6 ready for the American market
July 11, 2016
Visit OMET's Booth at Labelexpo Americas, Rosemont (IL), from 13th to 15th September (Booth n° 3123)
OMET Americas recently unveiled its new headquarters in Elk Grove Village, IL, within a few miles of Chicago, in a crowded open house which was held on June 29th and 30th, during which it was possible to attend exclusive printing demonstrations by the iFLEX label printing press.
For all those who could not attend OMET Americas Open House, there is another great opportunity to admire the new iFLEX: after its great success at DRUPA, iFLEX will be on display in OMET's booth at Labelexpo Americas. A unique machine for its kind, iFLEX is full of technological innovations that make it a high performing press, extremely simple to use for any operator. A revolutionary machine, which was nominated for Label Global Awards 2016, whose award ceremony will be held at the Rosemont Theatre in Rosemont, IL, on September 13th.
The XFlex X6 needs no introduction: it is OMET's best-selling machine for labels and flexible packaging printing, universally considered a reference point in the narrow-web market, thanks to the renowned technological innovation and printing precision on any type of substrate. As always, the live printing demonstrations in OMET's booth will convince the visitor of the technical superiority of this machine compared to the others at the fair.
View the printing press in exposition at Labelexpo Americas 2016:

iFLEX e XFlex X6 pronte per il mercato americano
Visita lo stand OMET a Labelexpo Americas, Rosemont (IL), dal 13 al 15 Settembre (stand 3123)
OMET Americas ha recentemente presentato la sua nuova sede di Elk Grove Village, a poche miglia di Chicago, in un affollato open house che si è svolto il 29 e 30 giugno, durante il quale è stato possibile assistere alle dimostrazioni di stampa della macchina da stampa per etichette iFLEX.
Per tutti quelli che non hanno potuto intervenire all'open house di OMET Americas, si prospetta un'altra grande opportunità per ammirare la nuova iFLEX in dimostrazione: dopo il grande successo riscosso a DRUPA, sarà infatti sullo stand OMET a Labelexpo Americas. iFLEX è la macchina per etichette unica nel suo genere, piena di innovazioni tecnologiche che la rendono altamente performante ed estremamente semplice da utilizzare per qualsiasi operatore. Una macchina rivoluzionaria, che ha ricevuto la nomination per i Label Global Awards 2016, la cui premiazione avverrà al Rosemont Theatre di Chicago il 13 Settembre.
La XFlex X6 non ha bisogno di presentazioni: è la macchina OMET per la stampa di etichette e flexible packaging considerata universalmente punto di riferimento nel mercato del narrow-web, grazie alla rinomata innovazione tecnologica e alla precisione di stampa su qualsiasi tipo di materiale. Come sempre le dimostrazioni di stampa live sullo stand OMET sapranno convincere il visitatore della superiorità tecnica di questa macchina rispetto alle altre presenti in fiera.
Guarda le macchine OMET in esposizione a Labelexpo Americas: