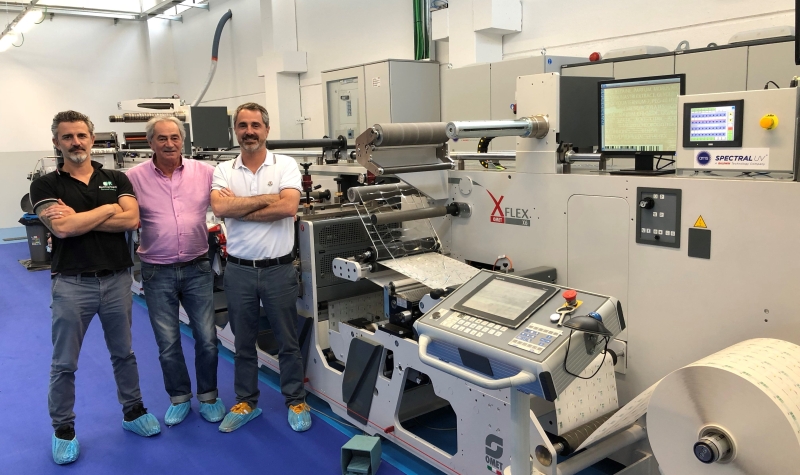 Idea Srl successfully tested the first Full-LED printing machine in Italy for label market
March 26, 2018
The acceptance test of the new 10-color OMET X6 430 with UV LED system, commissioned by the Italian company Idea Srl a few months ago, was successfully completed at OMET's production site of Molteno with a great collaboration and a perfect synergy between OMET, AMS Spectral UV and Flint.
The machine is dedicated to the production of premium labels, thus its very complex configuration includes a set of additional units for final product enhancement and a UV LED curing system provided by AMS Spectral UV.
During the acceptance test, different printing technologies had been tested on several materials, both PS adhesive and unsupported film, with excellent results. Mario, Massimiliano and Cristian Bacchieri, main representatives of Idea Srl, could not hold back the excitement for the impressive result achieved, fruit of the great teamwork done by all the players involved in the development of the machine.
The Bacchieri's family is a brilliant example of how being pioneers can be risky at first, but at the same time very successful thanks to that very trailblazing mindset. This is what characterizes high-level entrepreneurs and helps companies standing out of the crowd and obtaining a leading role even abroad.
---
Idea Srl collauda con successo la prima linea di stampa full led venduta in Italia per il mercato delle etichette adesive
Si è concluso con notevole successo il collaudo della linea OMET X6 430 a 10 colori UV-Led che l'azienda Idea Srl di Vicofertile (Parma) ha commissionato alla OMET qualche mese fa.
E' una linea di elevata complessità, destinata a realizzare etichette di pregio, configurata con una serie di accessori atti alla nobilitazione del prodotto e dotata di un impianto di asciugamento a lampade Led della AMS Spectral UV.
Il collaudo, avvenuto negli stabilimenti OMET a Molteno nelle scorse settimane, ha visto protagoniste, in perfetta sinergia, OMET, AMS Spectral UV e Flint Inks.
Al termine del collaudo, nel quale sono state testate diverse tecnologie di stampa su svariati materiali sia adesivi che film plastici mono-supportati, i rappresentanti di Idea Mario, Massimiliano e Cristian Bacchieri non hanno potuto esimersi dal riconoscere l'eccellente risultato ottenuto, frutto del lavoro di squadra di tutti i players coinvolti nello sviluppo della linea.
La famiglia Bacchieri è un brillante esempio di come l'essere pionieri nelle scelte a volte comporti dei rischi, ma è proprio questo spirito pionieristico che caratterizza gli imprenditori di successo e porta le aziende, e forse in particolare quelle italiane, a primeggiare anche oltre confine e a distinguersi sul mercato.