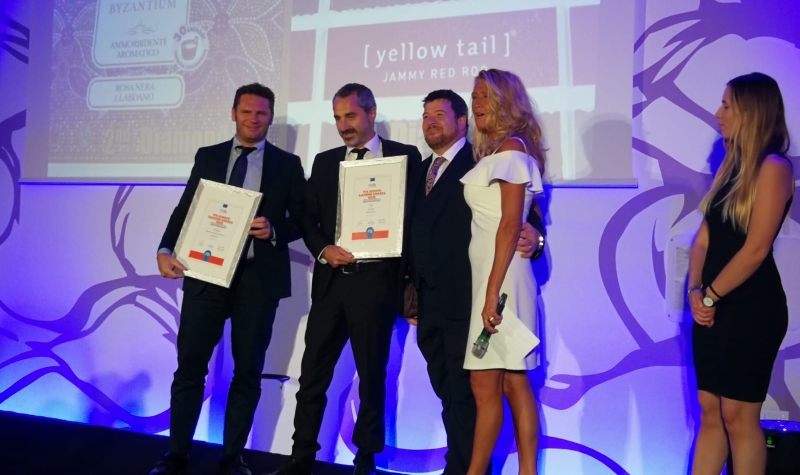 Idea Srl awarded at the FTA Europe Diamond Awards
May 31, 2018
Prestigious award for Idea Srl, long-standing OMET customer. The Emilian label printer managed by the Bacchieri family received the FTA Europe Diamond Awards on May 30 in Milan. The event, held during the Print4All exhibition, gathered the most important members of the European flexographic community to celebrate the best print excellence of the continent.
Last November, Idea won the first prize at Bestinflexo, the flexographic printing quality competition promoted by Atif, the Italian technical association for flexography. By winning this prize, Idea became the Italian candidate for the FTA Europe Diamond Awards, where the company was awarded with the second prize in the "Creative use of flexography" category.
The ceremony took place at the Hotel Barcelò in Milan. The FTA Europe jury chose the best flexo jobs printed by the national winners over the last two years.
It is the second edition of the event, which is getting great interest: this year, 14 categories of jobs have been awarded, 4 more than 2016's edition; among the winners, there were 7 Italian companies.
Idea is specialized in exclusive high quality solutions for the self-adhesive label market. Always at the forefront of innovation, Idea successfully tested a few weeks ago the first Full-LED printing machine sold in Italy for the label market, designed to create premium labels.
---
Idea Srl premiata agli Fta Europe Diamond Awards
Prestigioso riconoscimento per Idea Srl, storico cliente OMET. L'azienda di Vicofertile gestita dalla famiglia Bacchieri è stata premiata il 30 maggio a Milano agli Fta Europe Diamond Awards, evento che riunisce i più importanti esponenti della comunità flessografica europea per celebrare il meglio della qualità di stampa del settore e che quest'anno si è tenuto durante la fiera Print4All.
Idea aveva vinto nel 2017 il Bestinflexo, premio alla qualità di stampa flessografica promosso da Atif, associazione tecnica italiana per la flessografia. Quel riconoscimento ha aperto la strada alla candidatura per gli Fta Europe Diamond Awards, dove ieri sera Idea è stata insignita del secondo premio nella categoria "Creative use of flexography".
La cerimonia di premiazione si è svolta a Milano all'Hotel Barcelò. La giuria Fta Europe ha scelto i lavori migliori tra i vincitori dei premi nazionali alla qualità di stampa flessografica degli ultimi due anni. Fta Europe Diamond Awards, alla sua seconda edizione, riscuote sempre maggio interesse: sono state premiate 14 categorie di lavori (4 in più rispetto al 2016); tra i premiati, ben sette aziende italiane.
Idea produce materiali autoadesivi ed è specializzata in soluzioni esclusive e personalizzate di elevata qualità. Sempre all'avanguardia dal punto di vista dell'innovazione, Idea ha collaudato poche settimane fa la prima linea di stampa OMET full led venduta in Italia per il mercato delle etichette adesive e destinata a realizzare etichette di pregio.