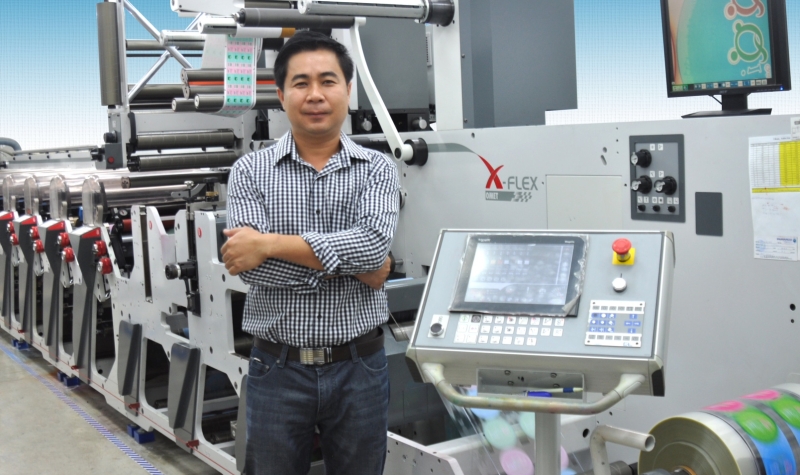 I Brain Advance and Technology chose OMET's X-Flex for all the right reasons
May 16, 2013
Printed per courtesy of "Thai Printer" magazine.
Started out as a little business venture among friends in 2003, I Brain Advance and Technology Company Limited has grown from a print brokerage for self-adhesive labels and barcodes to a printing power house that is driven by a strong and effective management system and continuous investment in modern technology.
The company's Managing Director; Mr. Komet Sangchan places a very strong emphasis on providing service excellence to its customers. Where in the past, the company had enjoyed a 100 per cent export clientele, the downturn of the global economy has led Mr. Sangchan to search for alternative markets and in doing so has led him to diversify into various printing and fulfillment processes. The company also maintains a fast and on time delivery schedule while strictly adhering to its ISO:9002 processes for which it has already been accredited. I Brain Advance and Technology continues to grow at a steady rate of 10-30 per cent annually.
The recent acquisition of the OMET XFlex X6 has been seen as a very sound investment for I Brain Advance and Technology. Mr. Komet Sangchan has nothing but praise for the XFlex X6, 8 colour flexography press. In his very own words, "After having had the press in operation for a year, it has never given me any disappointment!" This press was chosen over 3 other major brands.  The OMET XFlex X6 has a small footprint and has the capacity to handle a diverse number of print jobs; it is easy to operate thanks to its electronic control system and very good register control system, which drastically reduces press set-up times. The accuracy of its registration system helps reduce errors, defects and in turn gives higher production outputs and increased cost savings. This particular XFlex X6 is a hybrid narrow web press, capable of printing both UV and water based inks. Its short web path ensures lower wastage of substrates during job change overs and the press is in its own element when it comes to printing on the various paper and polymer substrates.
Coming from a letter-press background, the transition to flexography was smooth, thanks to the strong support provided by Ferrostaal Thailand. Regular service and maintenance by Ferrostaal's service team along with the sharing of technical know-how and consultancy services have contributed to the company's success with flexography.
I Brain Advance and Technology is in constant alert for ways to better serve their customers through improvements in the production process which starts right from the designing stages and plate-making.   The company hopes to be able to further improve their services where much of this is in how urgent job demands are managed and delivered.