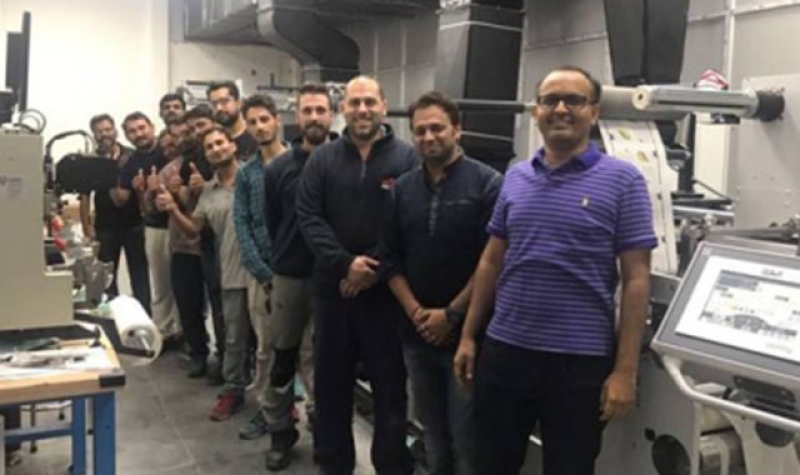 Huhtamaki gets Omet iFlex at new Indian plant
April 27, 2017
Photo: Amar Chhajed with his team beside OMET iFlex installed in the new Sikkim factory. 
Weldon Celloplast, the distributor of Omet presses in India, has completed the installation of second Omet iFlex in the country at the new plant of Huhtamaki PPL-Webtech Labels in Sikkim.
Webtech Labels, headquartered in Mumbai, is a division of Huhtamaki PPL. The company has printing plants in all geographical zones of India. Huhtamaki Group is a global specialist in packaging for food and drink with a network of 74 manufacturing units and additional 24 sales only offices in altogether 34 countries. The company's net sales in 2016 was 2.9 billion EUR (3.1 billion USD).
The purchase of the press was announced on the first day at Labelexpo India 2016.
Amar Chhajed, managing director of Webtech Labels, said: 'We are satisfied with the installation and support provided by Omet and Weldon teams in India. The extraordinary effort from Omet to meet our timelines is highly appreciated. We are looking forward to running the machine at its optimum capacity and are sure it will live up to the confidence and trust we have placed in it.'
Pawandeep Sahni, director at Weldon Celloplast, added: 'Webtech is a prestigious customer. A lot of evaluation has gone into selection of the iFlex by the company. It is only when the company was convinced that the equipment is value for money that it acquired the iFlex.It is the only machine to have all the impression rollers direct drive with benefits on the print quality and in waste savings. The machine handles a wide range of sizes, from 5.5-18in for small spending in printing plates production.' Other press features include laser-assisted pre-register and register setting devices that speed up the machine set-up and rebooting after job change.
Thanks to "Labels & Labeling" magazine for the authorization to publish this article (http://www.labelsandlabeling.com/)
---
India, una OMET iFlex installata nella nuova sede di Huhtamaki PPL
Photo: Amar Chhajed con il suo team davanti alla OMET iFlex installata nella nuova sede in Sikkim. 
La Weldon Celloplast, distributore indiano della OMET ha completato l'installazione della seconda iFlex in India, presso la nuova sede della Huhtamaki PPL-Webtech Labels situata nel Sikkim, tra le montagne dell'Himalaya.
Webtech Labels, con sede a Mumbai, è una delle divisioni della Huhtamaki PPL che ha sedi in tutte le zone geografiche dell'India. Il Gruppo Huhtamaki è specialista mondiale nel settore del packaging alimentare e per le bevande con 74 unità produttive e 24 uffici commerciali dislocati in 34 Paesi. Il fatturato netto dell'azienda nel 2016 è stato di 2,9 miliardi di euro (3,1 miliardi di dollari).
L'acquisto della macchina da stampa OMET era stato annunciato durante la prima giornata della Labelexpo India 2016.
Amar Chhajed, amministratore delegato di Webtech Labels, ha dichiarato: "Siamo soddisfatti dell'installazione e del supporto fornito dai team OMET e Weldon. Abbiamo molto apprezzato lo straordinario sforzo del Gruppo OMET per soddisfare le nostre richieste in termini di tempi di installazione. Non vediamo l'ora di far girare la macchina alla sua capacità ottimale, e siamo certi che fiducia è ben riposta".
Pawandeep Sahni, direttore di Weldon Celloplast, ha aggiunto: "Webtech è un cliente prestigioso. Hanno fatto una valutazione approfondita prima di scegliere la iFlex, e solo quando la società è stata certa che la macchina sarebbe valsa l'investimento ha effettuato l'acquisto. È l'unica macchina ad avere tutte le unità di stampa con trasmissione Direct Drive sul cilindro di controstampa, il che garantisce benefici sulla qualità di stampa e sulla riduzione degli sprechi. La macchina gestisce una vasta gamma di formati, da 5,5″ a 18" il che permette di limitare i costi nell'acquisto di attrezzature. Altre funzioni di stampa includono dispositivi di pre-registro con puntatore laser che accelerano l'impostazione della macchina e il riavvio dopo i cambi lavoro".
Si ringrazia la rivista "Labels & Labeling" per l'autorizzazione alla pubblicazione (http://www.labelsandlabeling.com/)