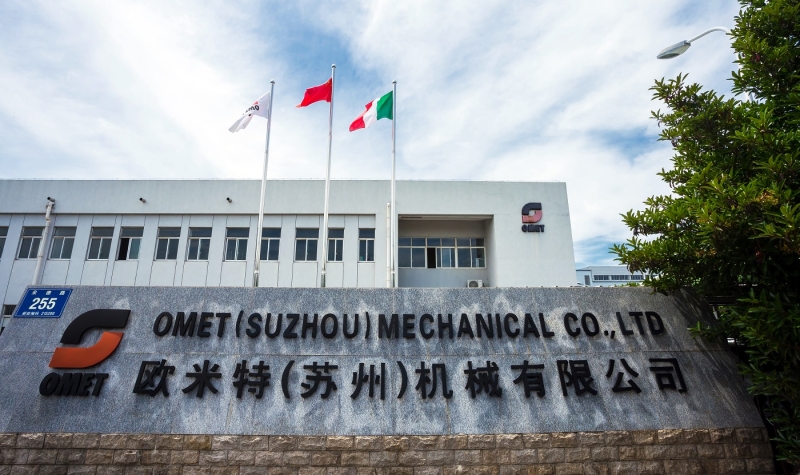 Holding Strong During Covid Times and Beyond – A sneak peak into 2020 of OMET China
October 5, 2020
Fabio Valle (OMET Suzhou General Manager), speaks of a year of change, which has seen the market upset due to the pandemic, to which OMET Suzhou is responding with a long-term strategy, which focuses on investments, quality and high levels of service to help its customers resume their business in the shortest possible time.
2019 was a great year for OMET CHINA and all eyes were set on 2020 with great expectations. Little did we know that this year will be hit with one of the most severe pandemics we have seen in recent times. But that has not stopped OMET China to deliver on its promise of satisfaction and support to its customer and this is a sneak peak of our journey in 2020 so far!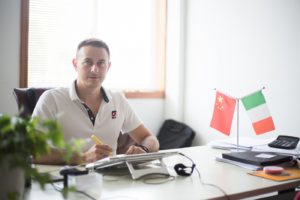 As we all know China was the first country to suffer the breakout of the Coronavirus COVID-19 Pandemic. It first started with a very strong lockdown in February and March where people were not allowed to even step out of their house, let aside coming to work. Companies were not allowed to open the gate of the facility till necessary government approvals were not acquired. Seeing the situation and proactively reacting to it, OMET China, which is located in the city of Suzhou, promoted the smart working and got working with the local authority to readjust the working conditions, following the rules of social distancing and safe working environment. OMET got the permission to reopen its facility on 14th February 2020 making it one of the first companies in the region to be able to do so.
When opened, reaching the customers, especially those located in different part of the country was still a challenge. But still this has not stopped OMET employees in China to stand strong on their commitment to support their customers via video conferencing and online support solutions, which OMET has been installing on all its machines since many years.
2020 is a year which has led many companies to go back to the drawing board and relook at their strategy of growth from hereon. The first half of the year has been severely impacted by the virus which has resulted in many companies deciding to either postpone or cancel all together their expansion plans as many companies are still focusing on bringing back to the business to pre-Covid levels. This is a test of time for many companies to showcase their ability to face challenges and overcome them, so that they can have sustainable business and growth from hereon.
This has also been the case at OMET China. Being a wholly owned foreign enterprise, WOFE, we had always focussed quality, performance and stability of our machinery as compared to other local competitors because of which OMET China boast about many successful installations and loyal customers in the region. But now with the current situation, we have seen a shift in behaviour of printers while buying machines. Customers are becoming very accurate while defining their machine specifications making sure they are not loading the machine with features which are not needed in current times and hence increasing cost. Faster lead times are being demanded as customers want to be in production quickly and hence also reduce their time to recover the money from the investment. OMET has been proactive enough to adapt to these requirements, thanks to customer focused leadership of the company. The company has already decided to have an inventory for some of its fast selling models to be made locally available. Hence customers can now get machines which are specific to their requirements at a much faster pace, than what was committed earlier. This should also result in having a stronger end to the year, which has suffered heavily due to the situation caused due to the pandemic.
Apart from being able to supply machines with shorter lead times, OMET China also offered free checkup to key customers in the region to ensure they do not suffer from further unexpected breakdowns as in some cases the machines were restarting after months of stoppage. OMET has taken all the necessary steps to make sure that the production of our customers is back in full swing enabling them to recover faster and come out of the damage caused due to the pandemic. These efforts have been highly appreciated by all our customers.
For the long term growth of the business OMET CHINA has identified Technology, Process Improvement, Supply Chain Improvement and delivering projects as per agreement as key pillars to drive the business. iFLEX and X4 are still one of the highest selling models for OMET in the region and have been able to grow continuously even though local competitors have tried to lure customers with aggressive payment terms and unsustainable offers. This has been possible only because of the sheer focus that we have on our customers supplying them with top quality and reliable machines. Confirming that we are on the right path of delivering value to our customers some of OMET loyal customers commented as below.
Mr.Zhang, Promoter of Meikei who owns 6 OMET Machines ranging from Flexy, IFlex and X4
"We are driving our company to be listed, and are very satisfied by the service and customer care OMET. I consider OMET as specialist in FLEXO machine and we are looking forward to more advanced technology for our machine that we consider for OMET is the best in the market"
Mr. Li Promoter of YangFeng Plastic Packaging who owns one X2 and one X5 machine from OMET
"I am particularly satisfied with OMET cooperation and from their support. I had visited OMET in Italy before establishing our partnership and was very impressed with the technology and after sales support provided by the company"
---
Tener duro ai tempi del Covid e della pandemia – Un'istantanea del 2020 da OMET China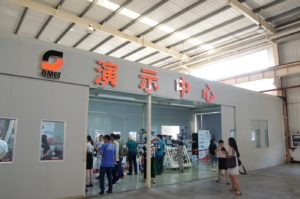 Fabio Valle (Direttore Generale OMET Suzhou), parla di un anno di cambiamento, che ha visto stravolgere il mercato a causa della pandemia, al quale OMET Suzhou sta rispondendo con una strategia di lungo periodo, che punta su investimenti, qualità ed elevati livelli di servizio per aiutare i propri clienti a riprendere la propria attività nel più breve tempo possibile.
Uscendo da un ottimo anno com'era stato il 2019, le aspettative per il 2020 erano abbastanza positive. Ovviamente tutto è cambiato drasticamente dall'inizio di gennaio, con l'inizio della pandemia.
Come sappiamo, la Cina è stata il primo Paese colpito dalla pandemia e ha subito un blocco molto forte: da febbraio a marzo è stato il periodo peggiore dell'anno, le persone non potevano venire al lavoro, l'azienda ha dovuto attendere l'approvazione del Governo prima di aprire i cancelli. OMET Suzhou è stata una delle prime aziende in grado di riaprire dopo la pandemia, abbiamo avuto il via libera dal governo già il 14 febbraio. In fretta sono stati preparati tutti i documenti necessari e allestiti gli uffici per garantire il distanziamento sociale e un ambiente sicuro per i colleghi; abbiamo promosso lo smart working e ripreso l'attività.
Le difficoltà di movimento tra le città e le diverse province cinesi hanno rappresentato un ulteriore ostacolo nel raggiungere i clienti.
Ho tempo di elencare solo la metà delle difficoltà che abbiamo affrontato come OMET qui in Cina: siamo una Wofe (Wholly Owned Foreign Enterprise), importiamo prodotti high-tech Made in Italy che rappresentano per i clienti un investimento medio-alto. Garantiamo il massimo della stabilità e della qualità delle prestazioni, orientandoci in base a dove si sta muovendo il mercato cinese, ma… Non in questi giorni. Il mercato oggi, da inizio 2020, ferito dalla pandemia, è diventato instabile, molti progetti vengono ritardati e il cliente deve cambiare il strategia nel breve termine.
Il 2020 è un periodo di transizione per il mercato: ci sono aziende che hanno progetti e investiranno in una macchina nuova, ma l'investimento per molte di loro sarà diviso in due (una parte ora e una parte alla fine del periodo di transizione), e aziende che soffrono per mancanza di progetti, e che dovranno riprendere l'attività prima di passare a nuovi investimenti.
L'obiettivo di OMET è seguire le due direzioni, supportando le esigenze del cliente.
Questo diverso contesto rappresenta una sfida al cambiamento e al modo in cui affrontarlo, di sicuro chi sarà in grado di adattarsi più velocemente avrà il più grande vantaggio in futuro in termini di quota di mercato. Qui in Cina vediamo che il cliente diventa più preciso nel decidere il proprio investimento: le performance non sono l'unico requisito, ora vogliono bilanciare il costo dell'investimento e la reale necessità del loro progetto, i tempi di installazione spesso sono un fattore critico e possono influenzare la decisione finale. I clienti molte volte intraprendono lunghe trattative per avviare un progetto ma quando concludono hanno poco tempo per essere produttivi.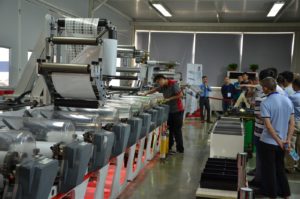 Come strategia per il quarto trimestre è stato deciso di avere alcune macchine pronte per essere vendute qui nella sede di OMET Suzhou, se tutto andrà come previsto la decisione avrà successo entro la fine di quest'anno.
Fondamentalmente il 2020 vede OMET pienamente consapevole del cambiamento. In termini di servizio e assistenza, appena è stato possibile viaggiare di nuovo abbiamo iniziato a pianificare visite ai clienti chiave per fornire un controllo gratuito della macchina ed essere sicuri che i clienti non subiscano ulteriori imprevisti come fermi di produzione. La chiave è supportare la produzione del nostro cliente e fargli recuperare al meglio la chiusura forzata per la pandemia, fornendo un servizio in anticipo. E' stato molto apprezzato dai clienti con IFlex e X4, i prodotti più comuni su questo mercato, che affrontano una sfida pesante da parte di produttori locali in crescita che utilizzano politiche di pagamento molto aggressive. Questa è una sorta di "guerra dei prezzi", dove non vogliamo competere. Stiamo uscendo da questo periodo incerto con una chiara strategia di lungo termine, il nostro piano guarda ben oltre il 2020, stiamo lavorando su tecnologia, processi, miglioramento della supply chain monitorando i clienti per soddisfare le loro aspettative.
Mr. Zhang, Proprietario di Meikei, 6 macchine OMET (Flexy, IFlex, X4)
"Stiamo spingendo la nostra azienda ad essere quotata, siamo soddisfatti del servizio e dell'assistenza clienti che OMET sta offrendo. Il business continua a crescere senza intoppi nonostante la pandemia, soprattutto dal terzo trimestre. Considero OMET uno specialista in macchine FLEXO e lo vedo dalla tecnologia avanzata della nostra macchina, che considero sicuramente la migliore disponibile sul mercato. "
Mr. Li, Proprietario di YangFeng Plastic Packaging, una X2 e una X5
"Sono particolarmente soddisfatto della partnership con OMET e del loro supporto, confermo che l'attività sta superando le aspettative considerando la situazione generale: l'etichetta locale dell'acqua, l'etichetta dei liquori e l'etichetta dei pesticidi sono ancora molto richieste. Ho visitato direttamente OMET Italia e sono rimasto molto colpito dalla positiva considerazione della nostra crescente collaborazione. "