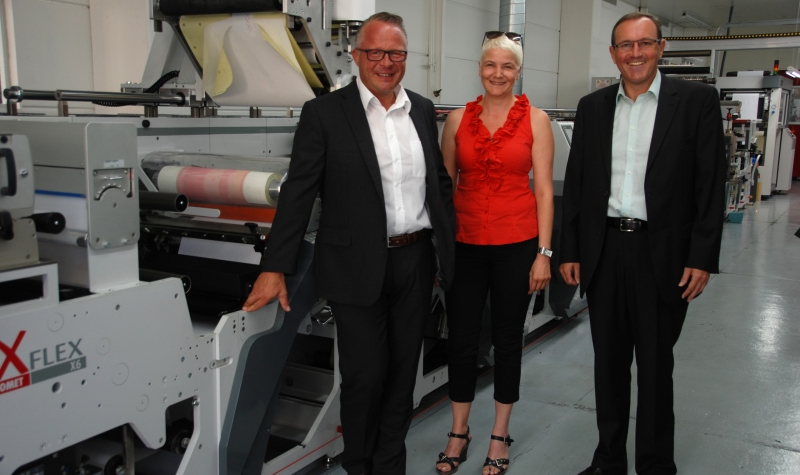 Helf Etiketten (Austria) invests in OMET Offset printing solution
February 15, 2018
With the installation of the OMET X6, Helf Etiketten has become the "Specialist" in offset printing inside the Bizerba Group, German leader in labelling and weighing technologies.
The investments made in 2016 allowed Helf Etiketten to achieve ambitious goals. The Austrian company, with headquarter in Wiener Neudorf, which operates in the label sector, aimed at widening the productive capability to satisfy the growing demand on the regional market and developping specific know-how to standardize the production.
Joachim Zeiler, company CEO, explaines: "After being acquired by Bizerba Group in 2015, Helf Etiketten had a remarkable growth followed by relevant investment in equipment and facility".
Entering the offset printing market
The installation of the OMET X6 had a great impact. The configuration of the machine, installed in august 2016, includes five offset printing units and three flexo printing units. Offset is the basic technology. Hannes Fink, Operations Director, aims: "Even if offset technology was a new entry for the company, start-up was simple and fast. Afetr less then one month from the delivery, we were ready to sell the products to the market"
In origin, Helf Etiketten worked in publishing and flexographic printing. Then, in 2007, the company invested in digital printing and started using the first HP Indigo system. The purchase of UV flexo machine, 530 mm wide, enabled the company to end the publishing business that was not profitable.
New printing process: a conscious decision
The purchase of a new hybrid offset+flexo solution with the OMET X6 was the result of an accurate evaluation. Hannes Fink explains: "Austria and South Germany are more oriented towords offset printing and the growth in the local market was one ofour main goals. We tought that offset technology was the right choice to be more competitive. We evaluated the top-rated press suppliers. The first requisite was the width: Helf Etiketten works on 530 mm width both on conventional process and on digital printing; as a consequence many suppliers were cut off from the competition; in the meanwhile one of the possible supplier went bankrupt".
A convincing solution
The deciding factor was the presence of Chomos Gmbh as commercial parter in the German market. "The offer was very persuasive thanks to performance, printing quality and automation technology, together with customer service before, during and after sales" explained Hannes Fink.
Beatrix Hochleitner of Chromos Gmbh, thanks to her long experience, knows well the importance of the planning when a printer has to start with a new process. For this reason, Chromos office in Augsburg organised for Helf several press demostration with OMET X6 operators in Lecco (OMET Headquarter).
An expert and reliable partner
Joachim Zeiler affirms: "The collaboration with Chromos was excellent. The foundations of a contract are made by technical and economic aspects. The advice and support provided by Chromos in all phases have been crucial. They were always ready to reply to questions; there was a specialised staff ready in every moment and all the agreement were respected. Nowadays it's rare to find reliable partners like them".
"Even OMET pays close attention to the quality. The press configuration is suitable with Helf specifics in terms of costs and benefits. Furthermore, the press is equipped with Plug-In®-Label system developed by Bizerba for smart control of prices and goods labeling".
The quality makes orders grow
The majority of Helf clients are from Food and Retail market where printing quality and product standardization are extremely relevany, especially when printing long run jobs. Joachim Zeiler explains: "The decision of printing with offset technology was taken also to increase the orders and we have already achieved some results in this sense".
In terms of quality, offset printing mainly satisfies clients that seek for sophisticated products with complex details and fine balance between colors. Letterpress printing couldn't reach such results, whereas OMET X6 offset is able to satisfy orders where high quality is required. At the same time, even flexo printing jobs increased, given that they can be carried out more efficiently. Few months after the installation, the press was working in two shift and the output was over every prediction.
High paper application thanks to IML label
An essential advantage for Helf Etiketten is the wide know-how of Bizerba Group in IML label industry, a constantly growing segment. For this kind of products, Wiener Neudorf production site can take advantages of special adhesive material produced in Bizerba labelling plant in Bochum.
New press quickly under control.
Joachim Zeiler continues: "The introduction of new printing process was easy thanks to the support provided by OMET and Chromos. "The operators acquired self-confidence in managing the sophisticated press system very quickly".
Currently the machine works at the average speed of 100m/min but Hannes Fink sees further optimizations by using the OMET X6 at its maximum speed of 200m/min. Helf expects to increase the press output by moving the die-cutting process off-line. GEW UV system has already been prepared to guarantee operations even at high speed. Low migration inks can be used at 100% on the press of Helf Etiketten.
Strengthen position in Austrian market
Founded in 1948 in Wiener Neudorf, near Vienna, Helf Etiketten Gmbh has 66 employees and a 12-million-euro turnover (2016). Nine orders out of ten comes from Austria, the rest from Germany and Switzerland. In 2015, Bizerba Group took over the majority of the company. The well-known group, leader supplier in weighing technology and labelling systems, with headquarter in Balingen, counts on many plants with more than 100 million turnover in labelling sector. The Helf Etiketten acquisition reinforced his position in the Austrian market.
Thanks to Klemenz Ehrlitzer and Chromos Gmbh for allowing the pubblication.
---
Helf Etiketten (Austria) investe nella stampa Offset con OMET
Con l'installazione della OMET XFlex X6, Helf Etiketten GmbH è diventata la "specialista" nella stampa offset standardizzata all'interno del gruppo Bizerba, leader tedesco nel settore nella fornitura di tecnologie per la pesatura e l'etichettatura.
Di particolare importanza è stata l'installazione della nuova macchina da stampa OMET X6. La configurazione della linea di produzione, avviata nell'agosto 2016, comprende cinque unità di stampa offset e tre di stampa flexo. La tecnologia di base è la stampa offset. "Sebbene la tecnologia offset fosse una novità per l'azienda, la messa in servizio è stata rapida e semplice: a meno di un mese dalla consegna eravamo già pronti con i prodotti da immettere sul mercato, racconta Hannes Fink, Operations Director.
Tradizionalmente, la società era attiva nell'editoria e nella stampa flessografica. Presto ha investito nella stampa digitale e ha iniziato a utilizzare il primo sistema HP Indigo nel 2007. L'acquisto di una macchina da stampa flexo UV fascia 530 mm ha permesso all'azienda di rinunciare alla stampa tipografica di libri che non risultava redditizia.
Nuovo processo di stampa: una decisione consapevole
La decisione di introdurre una nuova soluzione di stampa ibrida offset+flexo con la OMET X6 è stata frutto di un'attenta valutazione. "L'Austria e il Sud della Germania sono più orientate verso l'offset, e la crescita nel mercato locale era uno dei nostri obiettivi", afferma Hannes Fink. "Abbiamo pensato che una offset fosse la scelta giusta per essere più competitivi. Nella scelta della macchina abbiamo valutato tutti i fornitori più accreditati. Il primo requisito è stato la larghezza di stampa: Helf Etiketten lavora su fascia da 530 mm, sia nei processi convenzionali che nella stampa digitale; così molti fornitori sono stati eliminati dalla rosa delle possibilità; un'azienda tra quelle rimaste in gara è poi fallita".
Il pacchetto complessivo convince
Il fattore decisivo nella scelta della OMET X6 è stata l'intermediazione di Chromos GmbH come partner commerciale per il mercato tedesco. "Il pacchetto offerto, tra prestazioni, qualità di stampa e grado di automazione, insieme al servizio di assistenza prima, durante e dopo l'installazione, sono stati molto convincenti", spiega Hannes Fink.
Beatrix Hochleitner di Chromos GmbH, grazie alla lunga esperienza nel settore, sa bene quanto sia importante la fase di pianificazione quando si tratta di avviare un nuovo processo per uno stampatore. Per questo l'Ufficio Chromos di Augsburg ha organizzato per la Helf diverse dimostrazioni della macchina presso le sedi OMET di Lecco e una serie di appuntamenti con operatori che lavorano da anni su OMET X6. Le loro testimonianze sono state molto utili nel processo decisionale.
Un partner competente e di grande affidabilità
"La collaborazione con Chromos è stata ottima", afferma Joachim Zeiler. "La base di un contratto sono ovviamente gli aspetti tecnici ed economici. Nel caso di Chromos, i consigli e soprattutto il supporto in loco durante tutte le fasi sono stati esemplari. Sono sempre stati pronti a rispondere alle domande, in qualsiasi momento era disponibile uno staff specializzato e competente, e tutti gli accordi sono stati rispettati. Al giorno d'oggi è raro trovare partner affidabili come loro".
"Anche OMET, produttore della macchina selezionata, è molto attenta alla qualità. La configurazione della macchina consegnata è congruente con le specifiche richieste da Helf in termini di costi-benefici. Inoltre, la macchina è stata dotata del sistema Plug-In®-Label sviluppato da Bizerba per il controllo intelligente dell'etichettatura dei prezzi e delle merci".
La qualità fa incrementare gli ordini
Una parte significativa dei clienti di Helf proviene dal mercato Food e Retail: per loro, la qualità di stampa e la standardizzazione delle etichette, specialmente su tirature di grandi dimensioni, sono di grande importanza. "La decisione di stampare con tecnologia offset è stata presa anche per aumentare gli ordini", spiega Joachim Zeiler. "e abbiamo già registrato alcuni successi in questo senso."
In termini di qualità, la stampa offset soddisfa principalmente le esigenze dei clienti che desiderano realizzare motivi sofisticati con dettagli di immagine complessi, grande profondità, trasparenze delicate e fini gradazioni di colore. La copertura di questo segmento era incompleta con la stampa tipografica o flexo HD. Sulla nuova OMET X6 la corrispondenza dei colori è estremamente fluida ed Helf potrà soddisfare ordini che richiedono elevata qualità. Allo stesso tempo, anche i lavori di stampa flexo sono aumentati, poiché possono essere svolti in modo più efficiente. Dopo pochi mesi dall'installazione, la nuova linea di stampa funzionava con due turni e l'output dei metri quadri stampati era già ben al di sopra delle previsioni.
Elevato utilizzo di carta grazie alle etichette IML
Un grande vantaggio per la Helf Etiketten è l'ampio know-how del Gruppo Bizerba nel settore delle etichette IML. In questo segmento di prodotto, la crescita più forte si è verificata nel recente passato. Oltre due terzi delle etichette prodotte sono di carta, di cui la metà sono In-Mould Label. Per questo prodotto, la sede di Wiener Neudorf può beneficiare del materiale adesivo termico speciale prodotto presso l'impianto di etichettatura Bizerba di Bochum.
La nuova macchina rapidamente sotto controllo
"L'introduzione del nuovo processo di stampa è stato semplificato dal supporto fornito da OMET e Chromos, che ha superato la formazione concordata nel contratto", afferma Joachim Zeiler. "Gli operatori hanno acquisito dimestichezza e sicurezza nel gestire il sofisticato sistema della macchina dopo un breve periodo."
Hannes Fink vede spazio per ulteriori ottimizzazioni con l'utilizzo della OMET XFlex X6 alla massima velocità di produzione (200 m/min). In media, attualmente si raggiungono i 100 m/min. Il collo di bottiglia principale è la punzonatura in linea. Spostando il processo di punzonatura su un sistema off-line, la Helf prevede di aumentare significativamente l'output della macchina. Il sistema UV di GEW è già progettato in modo tale che sia garantito il funzionamento anche a velocità più elevate. I colori a bassa migrazione possono essere utilizzati al 100% sulla macchina OMET di Helf Etiketten.
Posizione rafforzata nel mercato austriaco
Fondata nel 1948 a Wiener Neudorf, vicino a Vienna, Helf Etiketten Gmbh ha oggi 66 impiegati e un fatturato di oltre 12 milioni di euro nel 2016. Nove ordini su dieci provengono dall'Austria, il resto da Germania e Svizzera. Nel 2015, il Gruppo Bizerba ha assunto la maggioranza della società. Il noto gruppo, leader nella fornitura di tecnologie per la pesatura, etichettatura e pesoprezzatura, ha sede a Balingen e ha sedi in tutto il mondo con oltre 100 milioni di fatturato nel settore etichette in tutto il mondo. L'acquisizione di Helf Etiketten GmbH ha in particolare rafforzato la sua posizione nel mercato austriaco.
Si ringraziano Klemenz Ehrlitzer e Chromos GmbH per l'autorizzazione alla pubblicazione.