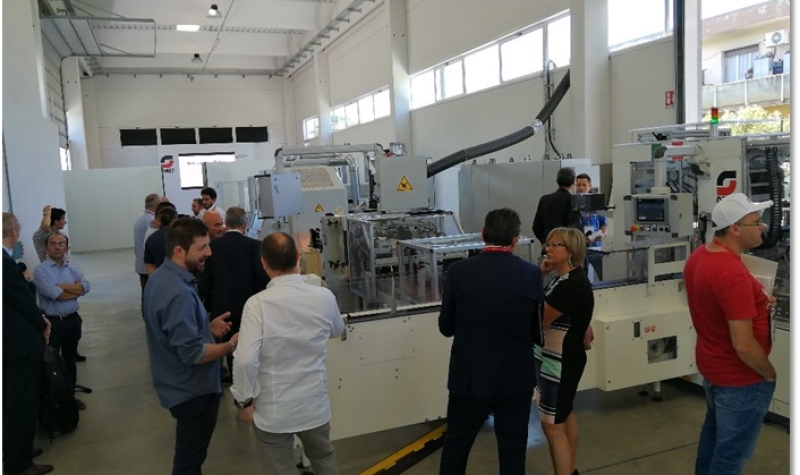 Great success for OMET at It's Tissue event in Lucca
July 16, 2018
OMET was one of the protagonists of IT's Tissue 2018, the landmark event for the entire tissue industry, with more than 200 visitors during the exhibition week. This time OMET was not only based in its headquarter on the lake of Como, but it was also showcasing in Lucca, the core of the international tissue industry, in the new showroom of its partner OT Lucca.
Thanks to this new branch located in Lucca, OMET can benefits from specific experience and technology in the design and manufacturing of complete lines for the production of towels and facial tissue, and special units also for the paper roll sector.
"The trend we saw last years in the tissue industry – said Marco Calcagni, OMET sales & marketing director – especially in the production of folded products such as napkins and towels, is that converters require more and more production automation and product customization. OMET is working hard to satisfy this new requirements. The continuous innovation and technology of OMET machines allow our customers to get more production flexibility thanks to the higher level of automation".
The most important innovation recently introduced by OMET is the TV503 with Chameleon digital printing, a real revolution for the napkin industry: a direct-print system that enables the images to be uploaded using simple pdf, jpg or other common formats, processed and printed directly on the napkin, through a simple computer installed on the machine. Launched at It's Tissue 2015, it has been made more efficient and today already boasts several successful installations on the market. During the It's Tissue week, OMET displayed a the TV 503 with Chameleon and wrapping machine in-line, with live demos showing the production of packs filled with napkins different from one another.
Another important innovation introduced during the It's Tissue is the ASV Line: the new easy-to-use and highly modular automatic interfolding line for high-speed production of interfolded tissue products: one ASV line was shown at OMET's showroom in Lucca (it is the third machine OMET has in production. This line is the result of advanced technological research and offer completely innovative operating principles: the real heart of this line is the folding unit, thanks to new patents of OT Lucca & OMET allowing the highest production speed on the market and the decrease of maintenance operations over the time.
With a video connection live from the production plant in Lecco, visitors had the possibility to see from remote the TV 840 XP machine and the TV 503 in action. The TV 840 XP is a fully servo driven line that can be equipped with up to 9 flexo printing units featuring quick sleeve change. The live remote demonstration showed the machine running at the maximum production speed: 900 m/min for neutral napkins production.
On the TV 503 showcased live from Lecco a complete reel changeover through OMET No-Stop unwinder, available both on the TV503 and TV840. This entirely new unit allows reducing waste and downtime by changing the reel without stopping the machine. The same line featured the innovative IBT embossing system with Improved Bonding Technology, another revolution promoted by OMET, which enables a stronger bonding of the plies compare to standard embossing systems.
OMET products portfolio includes also the FV Line, the high-performing vacuum folding machine fully automatic and digitalized for maximum production efficiency and the possibility of producing napkins with different sizes and folds, including dinner napkins with 1/8-fold.
All OMET machines are equipped with remote connection for press service and troubleshooting. In addition, it is possible to use a data collection system to store and review production data and then analyze the productivity of the line, according to the principles of the Industry 4.0.
This year, OMET celebrates its 55th anniversary since its foundation in 1963. From the first napkin machine up to today, more than 1,500 converting lines have been installed, with a constant technological development that allowed the machines to enhance the automation, the ease to use and the personalization for converters all over the world. Today, OMET is a group of companies operating in different sectors, with facilities in Italy and abroad, with over 400 employees and an annual turnover of more than 100 million euros.
---
OMET, grande soddisfazione per l'evento It's Tissue a Lucca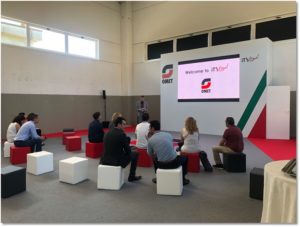 Con oltre 200 visitatori registrati durante la settimana di esposizione, OMET è stata una delle aziende protagoniste dell'ultimo It's Tissue, evento ormai di riferimento per l'industria mondiale del tissue. OMET si è presentata al settore non solo con un open house presso la propria sede produttiva di Lecco, ma allestendo anche una showroom nel cuore della tissue valley italiana a Montecarlo di Lucca, presso il proprio partner OT Lucca.
OT Lucca è una nuova branch OMET che permette all'azienda di applicare la propria esperienza e tecnologia nella progettazione e produzione di line complete per il converting di asciugamani e facial tissue, oltre che di gruppi speciali per il settore dei rotoli in carta.
"Negli ultimi anni il trend nel settore del tissue è stato la sempre maggiore automazione nella produzione – ha detto Marco Calcagni, OMET sales & marketing director – specialmente nella produzione di prodotti piegati come tovaglioli e asciugamani. OMET sta lavorando duramente per cercare di soddisfare le richieste dei converter e introdurre nuove idee per i prodotti finali: le continue innovazioni e la tecnologia delle machine OMET permettono ai nostri clienti di avere una produzione sempre più flessibile e di aumentare il livello di automazione."
L'innovazione più importante portata sul mercato da OMET negli ultimi anni è stata senz'altro la TV503 con il gruppo di stampa digitale Chameleon, una novità rivoluzionaria per l'industria del tovagliolo: un sistema direct-print in cui un computer installato a bordo macchina riceve i file, li elabora e li manda direttamente in stampa sui tovaglioli utilizzando dei semplici pdf, jpg o altri comuni formati. Già presentata a It's Tissue 2015 in anteprima, è stata resa più performante ed oggi vanta già diverse installazioni di successo sul mercato. Una linea completa di confezionatrice è stata mostrata presso la propria showroom a Lucca, con la produzione dal vivo e la distribuzione di pacchetti di tovaglioli tutti diversi l'uno dall'altro, stampati in alta risoluzione.
Tra le novità OMET c'è anche la ASV Line, la nuova linea interfogliatrice automatica di facile utilizzo ed elevata modularità per la produzione ad alta velocità di prodotti tissue interfogliati: una linea in fase di montaggio era esposta nella showroom OMET a Lucca (è la terza macchina prodotta da OMET quest'anno). Frutto di un'avanzata ricerca tecnologica, vanta principi di funzionamento del tutto innovativi: il cuore è la parte di piegatura, grazie a nuovi brevetti OT Lucca/OMET consente la più alta velocità produttiva sul mercato, 250 m/min, e permette di eliminare completamente la manutenzione della macchina nel tempo.
Un collegamento video in diretta con la sede produttiva OMET a Lecco ha permesso ai visitatori di vedere due TV840 XP e una TV 503 in funzione. La TV840 XP è una macchina completamente servo motorizzata che può essere configurata con gruppi stampa fino a 9 colori, con la possibilità di effettuare cambi rapidi delle sleeve per cambiare soggetto di stampa e personalizzare i tovaglioli stampati. Le videocamere hanno mostrato la massima velocità produttiva: 900 m/min per la produzione di tovaglioli neutri non stampati.
Sulla TV503 è stato mostrato un cambio di bobina dal vivo con lo Svolgitore No-Stop OMET: una vera rivoluzione che permette di ridurre gli scarti e i tempi produttivi. La macchina era attrezzata con il sistema di goffratura IBT, Improved Bonding Technology, una rivoluzione anche per la goffratura tradizionale, che permette di ottenere una migliore affrancatura dei veli.
La gamma macchine OMET per tovaglioli include anche la FV Line, con piega aspirata e completa automazione e digitalizzazione della linea per una massima efficienza produttiva con la possibilità di realizzare tovaglioli con dimensioni e pieghe diverse (inclusi tovaglioli dinner con piega 1/8).
Tutte le macchine OMET offrono la possibilità di collegamento da remoto per visionare i dati di produzione in tempo reale o realizzare interventi di assistenza, in linea con i principi dell'Industria 4.0. La connessione video fra Lecco e la showroom di Lucca è stata realizzata utilizzando il software di video assistenza disponibile per tutte le macchine OMET.
OMET è stata fondata nel 1963. Dalla prima macchina per tovaglioli a oggi sono passati 55 anni e oltre 1.500 installazioni, con uno sviluppo tecnologico costante che ha portato le macchine ad essere sempre più automatizzate, semplici da utilizzare e create su misura per i converter di tutto il mondo. OMET è oggi un gruppo di aziende che operano in settori diversi, con sedi in Italia e all'estero, con oltre 400 dipendenti complessivi ed un fatturato annuo che supera i 100 milioni di euro.