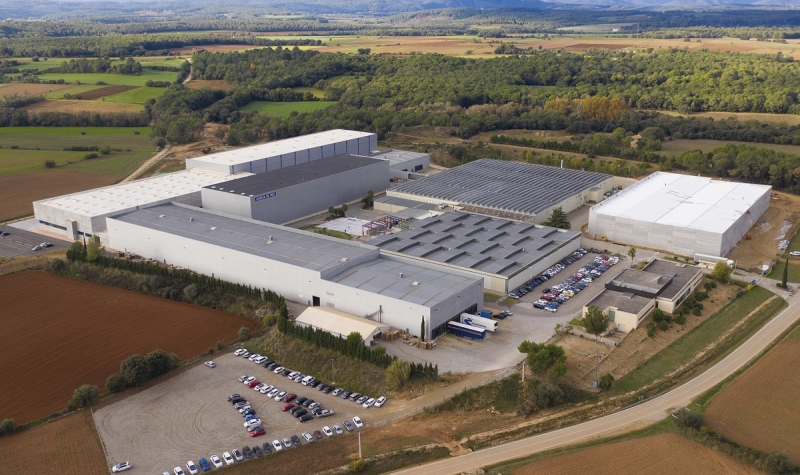 Garcia de Pou: history, innovation and high quality in the HORECA sector
June 5, 2020
Quality, efficiency, effectiveness and competitiveness: this way Garcia de Pou made its way into an increasingly demanding and globalized market. The Spanish tissue manifacturer based in Ordis (Girona), from decades specialized in paper and cardboard products, is a benchmark of excellence for the HORECA chain in Southern Europe. In this interview, the General Manager, Mr. Luis Garcia, tells us their story, their strategy and the historic collaboration with OMET, based on trust, performance, product quality and, above all, constant attention to technological innovation.
1) When was your company born? What are the stages of your growth and your most important results?
Ours is a family company with a long professional path. Born from a craft workshop of paper bags in 1884, has now become a leading company thanks to the work and committment of four generations. Although in the first decades of the last century production was dedicated to traditional printing, the touristic boom of the Seventies allowed our company to consolidate its industrial activity by focusing on the HORECA market (hotel, restaurants, catering).
In 2002 we inaugurated our current plants located in Ordis (Girona) with an area of 17,000 m2 for the factory and 35,000 m2 for the warehouse: here we enjoy a privileged logistical situation to reach the main markets of Southern Europe.
Currently, we offer over 6,800 products to the national and international market, we have more than 600 employees and we generate a turnover of 70 million euros. The international market represents 50% of our sales, we are a reference company both in Spain and in Europe.
To emerge, since the beginning we have taken care of the quality, efficiency, effectiveness, competitiveness and productivity, considering them the key points of our corporate brand. No less important were our constant investments in new technologies which, evidently, have benefited us over the competition. To this end, we recently inaugurated a robotic warehouse with high-tech machinery and a warehouse dedicated to raw materials. All this occurred following an investment of over 11.5 million euros. These machines are equipped with cutting-edge technological systems that allow the correct management and transmission of information both to manage the stock and to prepare orders automatically. Thanks to this investment, our customers' orders are processed much more fluently.
2) How are you organized with the production? What are your main product lines?
As for our production lines, it should be emphasized that we are a 50% industrial and 50% commercial company: we supply both home-made and imported products.
Although we entered the market as paper and cardboard manufacturers, we subsequently opened up to new international suppliers to distribute other products, at the time unknown in Europe, which made us one of the first European companies to import innovative materials and products.
This business strategy means that our customers can find in our catalog, among over 6,800 items, everything they need for their plant, without need to resort to different suppliers. For them it's a convenience; for us, an opportunity.
Our catalog currently offers disposable napkins, placemats and containers of all kinds and materials, kitchen utensils, cleaning and hygiene products, dishes, clothing, some furniture, furnishings, etc. Many of these items can be customized according to the image of customers.
For this purpose we have several brands or lines such as FEEL GREEN, TIMES, DOUBLE POINT, LIKE-LINEN, DRY COTON, ROLL.IT, TOUCH OF CHARM, PAROLE, BIONIC, ECO BAMBOO, ARECA, NATURA, COOL-COTTON, etc.
On the other hand, as far as imported products are concerned, we are inserting new articles made of biodegradable, sustainable, compostable, recycled and recyclable materials. To date, we have a wide range of products made with bagasse fiber, palm leaves, bamboo, wood, bioplastic products derived from corn starch, yucca, cassava or sugar cane. All these eco-sustainable materials are new in Spain and in Europe.
Focusing on new eco-sustainable, biodegradable, compostable, recycled and recyclable materials has allowed us to expand our range of products, especially for disposable containers that are more environmentally sustainable and respectful of the environment: these values are at the basis of our company policy.
3) From a commercial point of view, what's your position in the market? Are you betting more on products or services?
The main purpose of our company is to constantly increase the satisfaction of our customers. To achieve this, we insist on offering excellent service and standardized quality in our articles, always respecting and applying the legal and proper requirements. We therefore aim to offer an efficient service with high quality products.
This is how we became a top company in our sector.
4) In the Spanish market, which trends and what growth prospects do you see in the short term?
Current trends show growth especially for "Take away", "Delivery" and "Food Truck" containers. We note that even eco-sustainable, biodegradable and environmentally friendly containers are enjoy a good diffusion in the future. Our company has focused since the beginning on the use of sustainable and biodegradable materials and has dedicated itself exclusively to the manufacturing of paper and cardboard products, regularly visiting numerous fairs abroad, to be always updated with the news in this sector. Thanks to this, we became a pioneer in Europe for the manufacture of take-away food containers and we were able, for example, to distribute our paper and cardboard products at the Barcelona Olympics in 1992.
To date, our philosophy has not changed: we continue to focus our production exclusively on paper and cardboard as they are sustainable materials.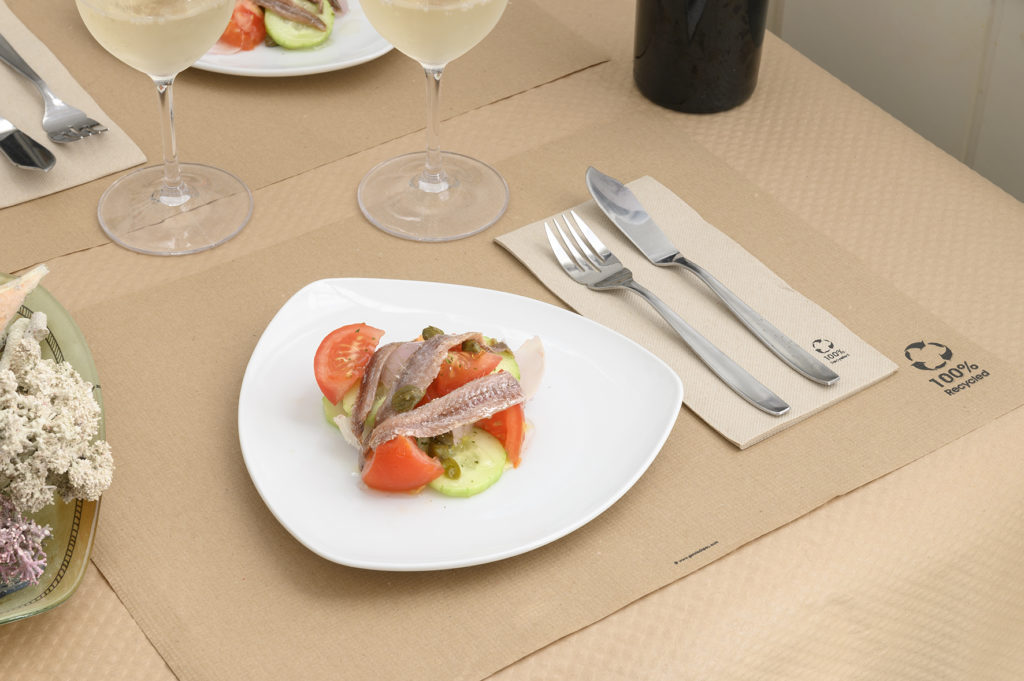 5) Do you export your products? If yes, with what percentages and in which markets?
50% of our sales are destined for the international market, in particular France, Portugal, Italy, Germany, Great Britain, Switzerland, Benelux, Morocco and some Caribbean countries. Our aim is to continue in this direction by opening up to new markets.
6) All over these years you have installed many OMET tissue machines. How many of them do you currently have in production?
All our napkins machines are made by OMET. We purchased the first one 25 years ago and since the first installation we have seen excellent performances and appreciated OMET's corporate policy: excellence and innovation. To date, 10 OMET production lines are working in our facilities.
7) How did your collaboration with OMET start? Are you satisfied with the machine's performances?
When we met OMET we were already making napkins, but we wanted to improve our products in terms of quality and productivity and we knew that for this goal we had to look for a leading manufacturer who knew the sector perfectly. That was how someone suggested us to contact OMET. 25 years have passed and nothing has changed since then. Trust, performances, product quality that we obtain with these machines and, above all, constant technological innovation and new applications has kept our collaboration with OMET intact.
For example, a few years ago OMET started the manufacturing project of a point-to-point paper machine and we decided to start it immediately in our company, becoming one of the main producers of this article in Spain and Europe. We are very satisfied with our choice.
8) What development prospects do you see for your company with OMET machines? What are OMET's technological innovations that most convince you?
We are aware that paper napkins will have a lot of future in the market, being an almost essential product for people. However, technological innovation means that the product must evolve following new materials, textures, designs, etc. OMET is a pioneer in this field. Our company is at the forefront of these innovations and this is largely due to the machines that OMET has provided us since our beginnings.
——–
Garcia de Pou: storia, innovazione e alta qualità nel settore HORECA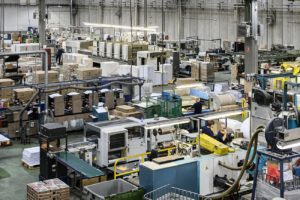 Qualità, efficienza, efficacia e competitività: così Garcia de Pou si è fatta strada in un mercato sempre più esigente e globalizzato. L'azienda spagnola con sede a Ordis (Girona), da decenni specializzata nella fornitura di ogni tipo di prodotti di carta e cartone, si è affermata come punto di riferimento di eccellenza per la catena HORECA nell'Europa meridionale. In questa intervista, il General Manager Luis Garcia ci racconta la loro storia, la loro strategia e la storica collaborazione con OMET, basata su fiducia, performance, qualità del prodotto e, soprattutto, una costante attenzione all'innovazione tecnologica.
1) Quando è nata la vostra azienda? Quali sono le tappe della vostra crescita e i vostri risultati più importanti?
La nostra azienda è una società familiare con un lungo percorso professionale nata da una bottega artigianale di buste di carta nel 1884 e che, grazie al lavoro e all'impegno di quattro generazioni, oggi è diventata un'azienda leader nel settore. Malgrado nei primi decenni del secolo scorso si sia dedicata alla stampa tradizionale, il boom turistico degli anni Settanta ha consentito alla nostra azienda di consolidare la sua attività industriale puntando al mercato del settore alberghiero, della ristorazione e del catering (HORECA).
Nel 2002 abbiamo inaugurato i nostri attuali impianti situati a Ordis (Girona) con una superficie di 17.000 m2 destinata alla fabbrica e di 35.000 m2 al magazzino, il che ci permette di godere di una situazione logistica privilegiata e di raggiungere i principali mercati del Sud Europa.
Attualmente, offriamo al mercato nazionale e internazionale oltre 6.800 prodotti, abbiamo più di 600 dipendenti e generiamo un giro d'affari di 70 milioni di euro. Il mercato internazionale rappresenta il 50% delle nostre vendite, questo ci rende un'azienda di riferimento sia in Spagna che in Europa.
Per emergere abbiamo curato fin dall'inizio la qualità, l'efficienza, l'efficacia, la competitività e la produttività, considerandoli i punti chiave del nostro marchio aziendale. Non meno importanti sono stati i nostri costanti investimenti nelle nuove tecnologie che, evidentemente, ci hanno avvantaggiato rispetto alla concorrenza. A tale scopo, di recente abbiamo inaugurato un magazzino robotizzato con macchinari d'alta tecnologia e un magazzino ad hoc per le materie prime. Tutto ciò è avvenuto in seguito a un investimento di oltre 11,5 milioni di euro. Questi macchinari sono dotati di sistemi tecnologici all'avanguardia che consentono la corretta gestione e trasmissione di informazioni sia per gestire lo stock che per preparare gli ordini in modo automatico. Grazie a quest'investimento gli ordini dei nostri clienti vengono smaltiti in modo molto più agile.
2) Come vi organizzate oggi in termini di produzione? Quali sono le vostre principali linee di prodotti?
Per quanto riguarda le nostre linee di produzione, va sottolineato che siamo un'azienda al 50% industriale e al 50% commerciale, cioè, forniamo sia prodotti di fabbricazione propria che prodotti importati.
Pur essendo entrati nel mercato come fabbricanti di carta e cartone, successivamente ci siamo aperti a nuovi fornitori internazionali per distribuire altri prodotti che a quei tempi non erano conosciuti in Europa, cosa che ci ha fatto diventare una delle prime aziende europee ad importare materiali e prodotti innovativi in questo settore.
Questa strategia aziendale fa sì che i nostri clienti possano trovare nel nostro catalogo, con oltre 6.800 articoli, tutto ciò di cui hanno bisogno per il loro stabilimento, senza la necessità di ricorrere a diversi fornitori. Per loro è una comodità; per noi, un'opportunità.
Il nostro catalogo offre attualmente tovaglioli, tovaglie e contenitori monouso di ogni genere e materiale, utensili da cucina, prodotti per la pulizia e l'igiene, stoviglie, indumenti, alcuni mobili, articoli d'arredamento, ecc. Molti di questi articoli possono essere personalizzati per essere adattati all'immagine dei grandi stabilimenti.
A tal fine disponiamo di diverse marche o linee di articoli come FEEL GREEN, TIMES, DOUBLE POINT, LIKE-LINEN, DRY COTON, ROLL.IT, TOUCH OF CHARM, PAROLE, BIONIC, ECO BAMBOO, ARECA, NATURA, COOL-COTTON, ecc.
D'altra parte, per quanto riguarda i prodotti d'importazione, stiamo inserendo dei nuovi articoli fabbricati a partire da materiali biodegradabili, sostenibili compostabili, riciclati e riciclabili. Ad oggi disponiamo di una vasta gamma di prodotti elaborati con fibra di bagassa, foglie di palma, bambù, legno, prodotti in bioplastica derivati dall'amido di mais, yucca, manioca o canna da zucchero. Tutti questi materiali ecosostenibili sono una novità in Spagna e in Europa.
Puntare su nuovi materiali ecosostenibili, biodegradabili, compostabili, riciclati e riciclabili ci ha permesso di ampliare la nostra gamma di prodotti, soprattutto i recipienti monouso ecologicamente più sostenibili e rispettosi dell'ambiente, alla base della nostra politica aziendale.
3) Da un punto di vista commerciale, che posizione occupate nel mercato? Puntate su prodotti o servizi?
Lo scopo principale della nostra azienda è di aumentare costantemente il grado di soddisfazione dei nostri clienti. Per raggiungere tale obiettivo, insistiamo nel voler offrire un servizio ottimo e una qualità standardizzata nei nostri articoli, rispettando ed applicando sempre i requisiti legali e propri. Miriamo, quindi, ad offrire un servizio efficiente con prodotti d'alta qualità.
È così che siamo diventati un'azienda di punta nel nostro settore.
4) Nel mercato spagnolo che tendenza e prospettive di crescita avete nel breve termine?
Le tendenze attuali mostrano una crescita soprattutto nel caso dei recipienti e dei contenitori "Take away", o dei contenitori per "Delivery" e "Food Truck". Osserviamo che anche i recipienti ecosostenibili, biodegradabili e rispettosi dell'ambiente godranno di una buona diffusione nel futuro. La nostra azienda ha puntato fin dai suoi inizi sull'uso di materiali sostenibili e biodegradabili e si è dedicata esclusivamente alla fabbricazione di prodotti di carta e cartone, visitando numerose fiere all'estero in modo regolare per essere sempre aggiornati rispetto alle novità in questo settore. Grazie a ciò siamo diventati un'azienda pioniera in Europa per la fabbricazione di contenitori per cibo da asporto e siamo riusciti, per esempio, a distribuire i nostri prodotti di carta e cartone alle Olimpiadi di Barcellona nel 1992.
Ad oggi la nostra filosofia non è cambiata, continuiamo a puntare esclusivamente su carta e cartone come materiali sostenibili nelle nostre linee di produzione.
5) Esportate i vostri prodotti e con quali percentuali? In quali mercati?
Il 50% delle nostre vendite è destinato al mercato internazionale, in particolare Francia, Portogallo, Italia, Germania, Gran Bretagna, Svizzera, Benelux, Marocco e alcuni Paesi dei Caraibi. Il nostro scopo è di proseguire in questa direzione aprendo nuovi mercati.
6) In tutti questi anni avete installato molte macchine per tovaglioli OMET. Quanti ne avete attualmente in produzione?
In effetti, tutte le nostre macchine per fabbricare i tovaglioli sono OMET. Abbiamo acquistato la prima 25 anni fa e fin dal primo acquisto abbiamo potuto constatarne le ottime prestazioni e la politica aziendale di OMET: eccellenza e innovazione. Ad oggi sono attive 10 linee di produzione OMET.
7) Com'è iniziata la vostra collaborazione con OMET? Siete soddisfatti della scelta realizzata rispetto al rendimento della macchina?
Quando abbiamo conosciuto OMET fabbricavamo di già i tovaglioli, ma volevamo migliorare i nostri prodotti in termini di qualità e di produttività e sapevamo che, per poterlo fare, dovevamo cercare un fabbricante di punta che conoscesse il settore alla perfezione. È stato così che ci hanno
suggerito OMET. Sono trascorsi 25 anni e non è cambiato nulla da allora. La fiducia, il rendimento, la qualità del prodotto che otteniamo con queste macchine e, soprattutto, la constante innovazione tecnologica e le nuove applicazioni mantengono intatta la nostra collaborazione con OMET.
Ad esempio, qualche anno fa OMET aveva iniziato il progetto di fabbricazione di una macchina per carta punta-punta e abbiamo deciso di metterlo in moto subito nella nostra azienda, diventando uno dei principali produttori di quest'articolo in Spagna e in Europa. Siamo soddisfattissimi della nostra scelta.
8) Quali prospettive di sviluppo vedete per la vostra azienda con le macchine OMET? Quali sono le innovazioni tecnologiche di OMET che più vi convincono?
Siamo consapevoli del fatto che i tovaglioli di carta sono un prodotto che ha avuto e avrà molto futuro nel mercato, essendo un prodotto quasi essenziale. Tuttavia, l'innovazione tecnologica fa sì che il prodotto si evolva costantemente in seguito alla creazione di nuovi materiali, trame, design, ecc. OMET è un'azienda pioniera in questo campo. La nostra azienda è all'avanguardia per quanto riguarda queste innovazioni e ciò lo dobbiamo, in gran parte, alle macchine che ci ha fornito OMET fin dai nostri inizi.