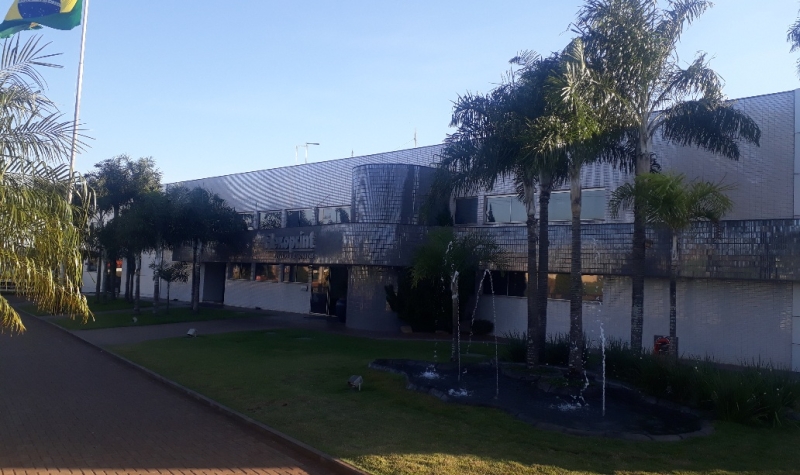 Flexoprint towards excellence with an OMET Varyflex 670
July 22, 2019
Young, modern and dynamic: Flexoprint is one of Brazil's industrial excellences, focusing on quality and flexibility. Three months ago, they have installed an OMET Varyflex 670 mm: "OMET has brought us a precious factor of precision, quality and speed" says Ricardo Ricieri, who along with Neto composes the technical team of decisions on investments and technologies, with the collaboration of the directors Laercio Stange Warmeling and Jaison Schillickmamm.
Estabilished in 1997 in Marialva, Paraná, Flexoprint currently has 335 employees working in three production plants, located two in the South and one in the South-East of Brazil.
"Flexoprint comes from a visionary dream of the founding family" says Ricardo Ricieri. As often happens, this dream started with a small but solid company, driven by the same enthusiasm as today. "Our success is the result of the commitment of both our staff and the company's owners – says Ricieri -. Everyday, they leave their homes to come at work and give something more than the day before. This is the way we have grown, every day a bit more".
Flexoprint currently produces self-adhesive labels, shrink sleeves and in-mould labels for different sectors: foods, drinks, hygiene, cleaning, cosmetics, chemicals, pharmaceuticals, PET, automotive and packaging. The production plants are strategically located near the main highways and airports to optimize transport. The company serves principally the national market and exports to the Mercosur area, Southern America Common Market.
"We constantly invest in new technologies to offer excellent products in terms of quality, flexibility and innovation – says Ricieri -. We are always aiming at maximizing customer satisfaction. We don't want to be simple suppliers, we work together with our clients to build a long-term partnership to create new business".
One of the company's most recent steps about innovation was the purchase of an OMET Varyflex 670 mm. "The collaboration with OMET started at the last Labelexpo fair – states Ricieri – it has grown over the following months thanks to the excellent work of Eduard Pont, OMET sales manager for Latin America, who led us to visit the company's production facilities".
"We are very satisfied with the machine and the OMET's service. We started producing in April, 2019, but this time was enough to appreciate the speed and the effectiveness of OMET's service both in Italy and in America. We have definitely found an excellent partner".
Flexoprint has always invested in technological innovation but also in its staff: paying attention to their collaborators is a precise choice about quality. "We are aware that companies have a great social responsibility: respect for collaborators and their families is one of our fundamental values – explains Ricardo -. We try to maintain a healthy and stimulating work environment, and we constantly invest to have people always qualified and motivated at work".
Flexoprint, thinking about the environmental responsibility and waste management of the production process also recycles these materials into biosynthetic wood, the name adopted was "FLEXOWOOD".
This shows the company's commitment to the entire production chain, thus minimizing environmental impacts.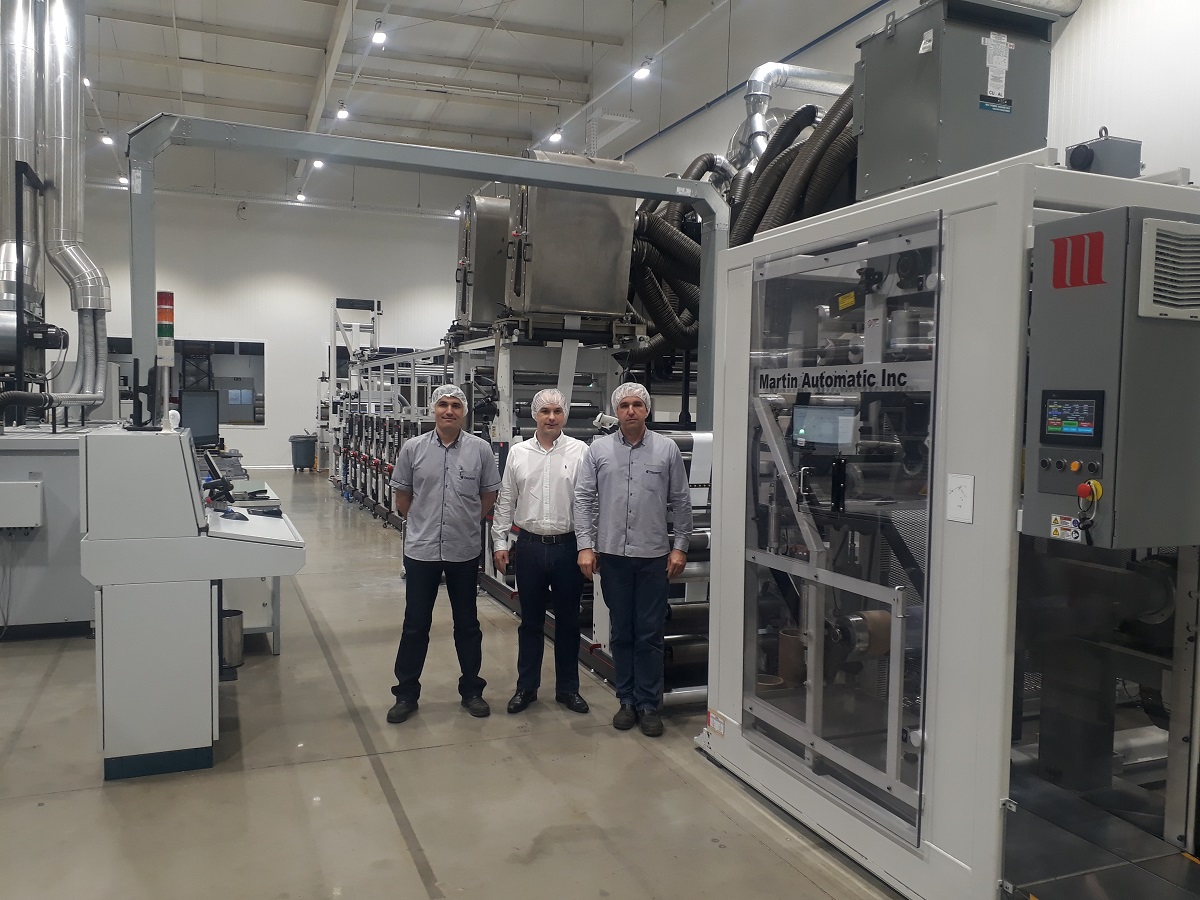 ---
Flexoprint: verso l'eccellenza con una OMET Varyflex 670
Giovane, moderna e dinamica: Flexoprint è una delle eccellenze industriali del Brasile, che punta a far breccia nel mercato internazionale con qualità e flessibilità. Da tre mesi ha installato una OMET Varyflex 670 mm: "OMET ha portato nella nostra azienda un prezioso fattore di precisione, qualità e velocità" afferma Ricardo Ricieri, Direttore di produzione Flexoprint che insieme a Neto compone il team tecnico responsabile degli investimenti in tecnologia, in collaborazione dei registi Laercio Stange Warmeling e Jaison Schillickmamm.
Fondata nel 1997 a Marialva, Paraná, Flexoprint ha attualmente 335 dipendenti che lavorano in tre unità produttive, dislocate due a Sud e una nella regione Sud-Est del Brasile.
"Flexoprint è nata da un sogno visionario della famiglia fondatrice" – racconta Ricardo Ricieri: un sogno che, come spesso accade, è iniziato con una realtà piccola ma solida, guidata dal medesimo entusiasmo che ancora oggi pervade l'azienda. "Il nostro successo è frutto dell'impegno non solo della famiglia ma di tutti i collaboratori – afferma Ricieri -. Ogni giorno lasciano le loro case per venire in azienda e dare qualcosa in più di quanto fatto il giorno prima. Così siamo cresciuti, ogni giorno di più".
Attualmente Flexoprint produce etichette autoadesive, shrink sleeves e in mould labels per i settori del food&beverage, dell'igiene e della pulizia, cosmetica, alimentare, prodotti chimici, farmaceutici e automobilistici. Le tre sedi produttive sono strategicamente dislocate vicino alle autostrade e agli aeroporti principali, in modo da ottimizzare i trasporti. L'azienda serve il mercato nazionale ed esporta nella zona del Mercosur, mercato comune del Sudamerica.
"Investiamo costantemente in nuove tecnologie per offrire al mercato prodotti di eccellenza dal punto di vista della qualità, della flessibilità e dell'innovazione – racconta Ricieri – puntando sempre alla massima soddisfazione dei clienti. Per loro non siamo meri fornitori di prodotti, ma costruiamo una partnership di lungo termine per sviluppare il loro business".
Uno dei passi più recenti dell'azienda sul percorso dell'innovazione è stato l'acquisto di una OMET Varyflex 670 mm. "La collaborazione con OMET è nata durante la fiera Labelexpo – afferma Ricieri – ed è cresciuta grazie all'ottimo rapporto con Eduard Pont, sales manager OMET per l'America Latina, che ci ha condotto in visita alle sedi produttive dell'azienda".
"Siamo molto soddisfatti dell'acquisto della OMET Varyflex e del servizio offerto. Abbiamo iniziato a produrre nel mese di aprile 2019, ma il tempo è stato sufficiente per apprezzare la prontezza e l'efficacia dei servizi OMET sia in Italia, sia in America. Possiamo dire di aver trovato un ottimo partner".
Flexoprint ha sempre investito sia nell'innovazione tecnologica sia sui propri collaboratori: la sua attenzione verso il proprio staff è una scelta precisa nel campo della qualità. "Siamo consapevoli che le aziende hanno una grossa responsabilità sociale: il rispetto per i nostri collaboratori e le loro famiglie è uno dei nostri valori fondamentali – precisa Ricardo -. Cerchiamo di mantenere un ambiente di lavoro sano e stimolante, ed investiamo costantemente per avere uno staff sempre qualificato e motivato".
Flexoprint, pensando alla responsabilità ambientale e allo smaltimento dei rifiuti generati dal processo di produzione, ricicla i materiali di scarto trasformandoli in legno biosintetico con il progetto
"FLEXOWOOD". Questo dimostra l'impegno dell'azienda verso l'intera catena del valore, minimizzando l'impatto ambientale della sua attività.