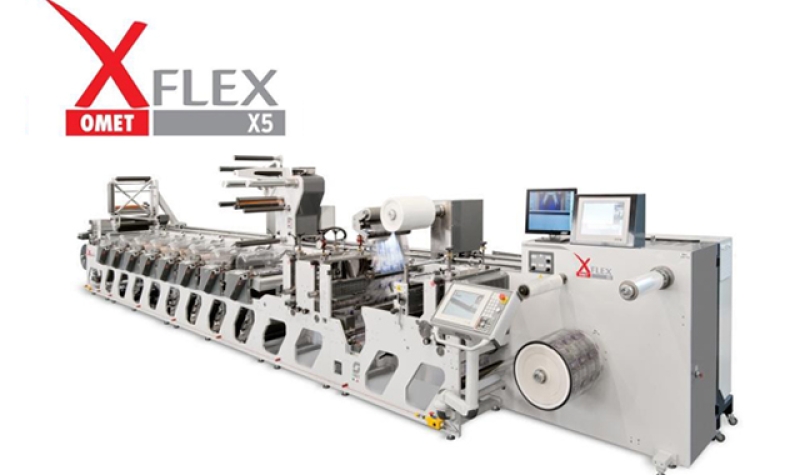 Flexibility and innovation for top printing quality
April 21, 2017
Decentralization by Kollmorgen: efficiency in a compact, modular design
AKD-N decentralized drives and CDDR motors by Kollmorgen are the core of the innovative OMET Xflex X5, a printing solution with the best returns on investment in terms of market result of narrow web printing of labels and flexible packaging. High quality, and on any materials.
More than 50 years of "passion for innovation", curiosity, a desire to learn and explore the world to understand market trends and customer demands, just as it did back in 1963, building its first machines for tissue and labels. OMET is today a group of five companies mainly involved in the design and construction of machines for printing and converting of labels and flexible packaging, and design and construction of machines used to make paper napkins.
OMET Printing Division is the group's company specialized in producing printing machines using combined narrow and medium web technologies, characterized by their operative flexibility, production efficiency on all types of runs, versatility in the use of different materials to be printed and in offering customized configurations to satisfy every customer's need. After decades of experience and innovation in the printing market, OMET machines combine simplicity of use with low rejection rates, rapid work changes efficiency and reliability over time. But what exactly do OMET machines produce? Labels of all types, plastic films, folding cardboards and special applications.
The Lecco-based company has won a leading role on the world market over time, and today boasts more than 1,600 installations all over the world. Customers range from small printers to labellers and major multinationals producing and printing flexible packaging.
How have the paths of OMET and Kollmorgen crossed to mark the start of a highly successful collaboration?
In 2014, OMET visualized the need to design and produce second generation machines. Thus began the search for the most appropriate partner, which became an extremely competitive benchmark, involving various potential suppliers.
At the end of the selection, the Lecco-based company opted for Kollmorgen as its solution provider, not only as being best able to fulfil all requests but also the one able to implement technological innovations: the first development was to be a new machine whose quality of print and flexibility lay somewhere between the mechanical solution of the model X4 and the fully servo-driven X6 series.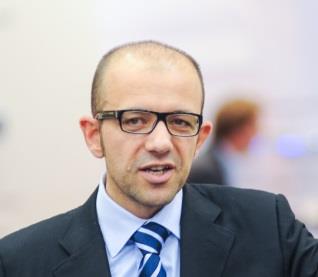 "OMET is a global company and it has chosen a global partner in the form of Kollmorgen", says Fabio Massari, Senior Sales & Key Account Manager of Kollmorgen Italy.Other important targets included the reduction in the size of the electric cabinet and the volume of cables, modular production of the machines, standardization of the field bus, reduction of components, not to mention important matters like energy saving and print precision.
Another challenge to be overcome in the development of the new machinery came in the form of the maintenance of existing automation software and, if absolutely necessary, a minimum impact of changes in respect of time to market and the safeguarding of R&D costs. Essential characteristics those are fundamental to the project's success and meeting the demands of customers are ever more meticulous and challenging.
"In addition to offering OMET the guarantee of being able to fully satisfy all needs, Kollmorgen has also introduced a new Direct Drive motor that can eliminate the Gear Marks effect," – Fabio Massari, Senior Sales & Key Account Manager of Kollmorgen Italy, explains – "and allows for the development of an innovative hybrid/semi-motorized machine. OMET has also considerably improved use of components relative to drives and safety, eliminating most of the electric cabinet and reducing cable length by around 70%".
The Motion Control specialist has responded to the need for efficiency, a compact, modular design and safety, by using AKD-N servo drives, Direct Drive Cartridge DDR motors and KSM safety modules.
Efficient and compact: Direct Drive Cartridge CDDR Servomotors and AKD-N Drives
In order to reduce or eliminate the mechanical kinematics, Direct Drive Cartridge CDDR servomotors have been used, together with AKD-N decentralized drives. The CDDR motors enable a direct control of movement, without using mechanical transmissions, which resulted in reduction of maintenance, need for spare parts, and safeguards the precision level of the entire machine over time. Motor assembly is fast, involving reduced cogging, with a built-in high-resolution sinusoidal encoder and continuous torque up to 510Nm.
The AKD-N decentralized servo drive is Kollmorgen's proposal to design more efficient machines, more simply, which can combine innovative technology and exceptional performance with an extremely compact design. Thanks to the robust structure and protection grade IP67, the AKD-N Kollmorgen decentralized servo drives can be positioned close to the motor, reducing cabling, and thereby reducing the dimensions of the electric cabinet. Plug-in connections, free choice of motor, assembly at the most appropriate point, as well as a wide range of functions: by using decentralized AKD-N servo drives, even complex Motion Control architectures can be developed, based on EtherCAT field buses. The system offers everything needed for the design of new generation machinery, without giving up on simplicity. The hybrid cable with a diameter of just eleven millimeters (patented system) integrates the power supply, safety (STO) and the EtherCAT field bus. The connection to the motor is also simplified with just a single cable for power, brake control and feedback. By Doing so, more than 80% of machine cables are saved.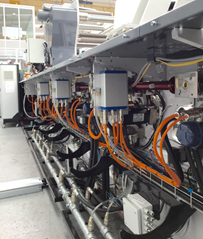 AKD-N decentralized servo drive: advantages
More compact machines
Smaller, lighter compatible electric cabinets
Servo drives near the motor
Thanks to the robust structure, with protection grade IP67, no protective casing is necessary
Simple cleaning and maintenance for hygienic environments
High operative safety, thanks to the robust structure
Machine debugging and testing faster thanks to greatly reduced connections
Greater flexibility in machine design (modular and scalable)
Safety in all stages of manufacture is an essential requirement nowadays. This aspect has been satisfied with the KSM safety modules. The safety of the axes has been interpreted by Kollmorgen with Motion Safety; Kollmorgen integrates the safety logic and monitoring directly into the KSM controller, available in a compact and modular version.
"Use of the technology developed by Kollmorgen has allowed us to achieve the target control performance while at the same time reducing cabling and the cost of automation", explains Nicola Pezzolato, R&D Elect. Department of Omet".
Xflex X5: compact, ergonomic, flexible with all printing materials
The result? XFlex X5, a machine that offers all the main characteristics of OMET flexo printing technology, in a compact, ergonomic solution. Thanks to the servo drive printing units, the user can perform sliding and doubleprint routing operations, which allow the machine to work on all types of materials (differently from other machines on the market), with high quality printing results.
The perfect blend of flexibility and innovation makes XFlex X5 the printing solution offering the best return on investment in terms of market result of the narrow web printing of labels and flexible packaging, thanks to this unique feature:
Short paper pass: the innovative concept of the gearless flexographic printing unit with a UV lamp installed directly on the print cylinder, drastically reduces the level of rejects during the start-up phase.
Rapid ink change system: in less than 30 seconds, the ink cassette can be replaced on a print unit, thanks to the innovative interchangeable cassettes.
Rock'n'Roll matrix stripping unit: the exclusive OMET stripping system allows for the separation of reject adhesive material from die-cut labels, without slowing the machine's production down, even with complex label shapes.
Vision-1: is the fully automatic system that enables the high-speed digital scan of print quality and the automatic correction of the print register without operator intervention, drastically reducing the quantity of rejects during print start times.
The design, which began in 2016, saw the development of Xflex X5 that same year and took three units to the market, installed and functioning in three different countries of the European market. Customers have expressed complete satisfaction with the machine and the targets set by OMET have been achieved in full.
Conclusion
The OMET mission is constantly finding new solutions to improve customer production methods, offer the very best technology to increase process efficiency and build machines using increasingly robust materials to improve their reliability and duration over time. To put it briefly: high quality and innovation that have found Kollmorgen as their ideal high-tech partner. And for the future, the next evolution is already being considered, with a new generation model and offset printing units on the custom Varyflex machines. The next challenge is already here!
Authors:
Fabio Massari, Senior Sales & Key Account Manager, KOLLMORGEN Italy
Elisabetta Redaelli, Marketing Communication, KOLLMORGEN Italy
About KOLLMORGEN
Since the company was first founded in 1916, Kollmorgen's innovative solutions have given rise to great ideas as well as improving global safety and people's lives. The competence acquired in components and movement systems, the excellent quality and consolidated experience in the combination and integration of standard and customized products enable Kollmorgen to supply unparalleled innovative solutions in terms of performance, reliability and ease of use. This guarantees an indisputable competitive advantage for machine builders across the globe and maximum reliability for customers.  www.kollmorgen.com/uk
---
Flessibilità e innovazione per la massima qualità di stampa
Decentralizzazione by Kollmorgen: efficienza, compattezza e modularità
Servoazionamenti decentralizzati AKD-N e motori CDDR by Kollmorgen sono l'anima dell'innovativa XFlex X5 OMET, una soluzione di printing con il miglior rapporto investimento-risultato sul mercato della stampa a banda stretta di etichette e imballaggio flessibile. Su ogni materiale e ad elevata qualità.
Oltre 50 anni di "passione per l'innovazione", di curiosità, voglia di imparare ed esplorare il mondo per cogliere tendenze di mercato ed esigenze dei clienti, proprio come quando si iniziò nel lontano 1963, costruendo di notte le prime macchine per il tissue e le etichette. OMET è oggi un gruppo di 5 aziende che si occupa principalmente di progettazione e costruzione di macchine per la stampa e il converting di etichette e imballaggio flessibile, nella progettazione e costruzione di macchine per la produzione di tovaglioli in carta tissue.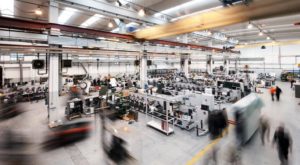 OMET Printing Division è l'azienda del gruppo specializzata nella produzione di macchine da stampa con tecnologie combinate su fascia stretta e media, caratterizzate dalla loro flessibilità operativa, efficienza produttiva su ogni tipologia di tiratura, versatilità nell'utilizzo di diversi materiali da stampare e nell'offrire configurazioni personalizzate per rispondere alle esigenze del cliente. Come risultato di decenni di esperienza e innovazione sul mercato della stampa, le macchine OMET combinano semplicità di utilizzo, bassi livelli di scarto, rapidi cambi lavoro ed efficienza e affidabilità nel tempo. Ma cosa realizzano le macchine OMET? Etichette di ogni genere, film plastico, cartoncini pieghevoli e applicazioni speciali.
L'azienda con sede a Lecco si è ritagliata nel tempo un ruolo di primo piano sul mercato mondiale e vanta oltre 1.600 installazioni distribuite in tutti i continenti. La clientela spazia dalle piccole tipografie agli etichettifici alle grandi aziende multinazionali che producono e stampano flexible packaging.
Come si incrociano le strade di OMET e Kollmorgen che segnano l'inizio a una collaborazione di successo?
Nel 2014 nasce in OMET l'esigenza di progettare e produrre macchine di seconda generazione. Inizia così la ricerca del partner più idoneo che si traduce in un benchmark estremamente competitivo che coinvolge diversi potenziali fornitori.
Altri importanti target erano la riduzione della dimensione del quadro elettrico, del volume dei cablaggi, la produzione modulare delle macchine, standardizzazione del bus di campo, riduzione dei componenti, senza escludere tematiche importanti come il risparmio energetico e la precisione di stampa.Al termine della selezione, l'azienda lecchese opta per Kollmorgen quale provider non solo in grado di soddisfare al meglio tutte le richieste ma anche di apportare innovazioni tecnologiche: la prima realizzazione sarebbe stata una nuova macchina che si interponesse per qualità di stampa e flessibilità tra la soluzione meccanica del modello X4 e quella completamente servo assistita della serie X6.
Un'ulteriore sfida da vincere nello sviluppo del nuovo macchinario era rappresentato dal mantenimento del software di automazione esistente o al limite da un minimo impatto di modifiche nel rispetto delle tempistiche di time to market e salvaguardia dei costi di R&D. Caratteristiche essenziali e fondamentali per il successo del progetto e per rispondere alle richieste di una clientela sempre più scrupolosa e "sfidante".
«Kollmorgen oltre ad offrire a OMET la garanzia di poter soddisfare completamente tutte le esigenze, ha introdotto una nuova motorizzazione Direct Drive idonea ad eliminare l'effetto Gear Marks – spiega Fabio Massari, Senior Sales & Key Account Manager di Kollmorgen Italia – e permetteva la realizzazione di una innovativa macchina ibrida/semi-motorizzata. OMET ha inoltre migliorato notevolmente l'impiego della componentistica relativamente agli azionamenti e alla sicurezza, eliminando la maggior parte del quadro elettrico e diminuendo la lunghezza dei cablaggi di circa il 70%».
Lo specialista di Motion Control ha risposto alle necessità di efficienza, compattezza, modularità e sicurezza con l'impiego di servoamplicatori AKD-N, motori Direct Drive Cartridge DDR emoduli di sicurezza KSM.
Efficienti e compatti: Servomotori Direct Drive Cartridge DDR e Servoamplificatori AKD-N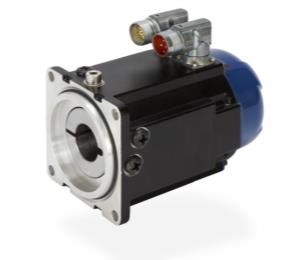 Al fine di ridurre o eliminare la cinematica meccanica sono stati utilizzati Servomotori Direct Drive Cartridge DDR e relativi azionamenti AKD-N. I motori CDDR permettono un controllo diretto del movimento senza impiegare le trasmissioni meccaniche, cosa che ha permesso di ridurre l'incidenza della manutenzione, della necessità di ricambi e salvaguarda nel tempo il livello di precisione dell'intera macchina. Il montaggio dei motori è rapido, permettono un cogging ridotto, presentano un encoder sinusoidale ad alta risoluzione integrato e coppie continuative fino a 510Nm.
Il servoamplificatore decentralizzato AKD-N è la proposta by Kollmorgen per progettare macchine più efficienti e in modo più semplice, in grado di combinare una tecnologia innovativa e prestazioni eccezionali con ingombri estremamente compatti. Grazie alla robusta struttura e al grado di protezione IP67, i servoregolatori decentralizzati AKD-N Kollmorgen possono essere collocati nelle immediate vicinanze del motore riducendo i cablaggi e permettendo così di ridurre le dimensioni del quadro elettrico. Collegamenti a innesto, libera scelta del motore, montaggio nel punto più idoneo, nonché ampia gamma di funzioni: utilizzando i servoregolatori decentralizzati AKD-N è possibile sviluppare semplicemente architetture di Motion Control anche complesse, basate su bus di campo EtherCAT. Il sistema offre tutto ciò che è necessario per la progettazione di macchinari di nuova generazione senza rinunciare alla semplicità. Il cavo ibrido con un diametro di soli undici millimetri (sistema brevettato) integra l'alimentazione, la sicurezza (STO) e il bus di campo EtherCAT. Anche la connessione con il motore è semplificata a un solo cavo per potenza, comando del freno e feedback. In tal modo si risparmia oltre l'80% di cavi nella macchina.
Servoamplificatore AKD-N: vantaggi
Macchine più compatte
Quadri elettrici integrabili più piccoli e più leggeri
Servoamplificatori nelle immediate vicinanze del motore
Grazie alla robusta struttura con grado di protezione IP67 non sono necessari alloggiamenti protettivi
Semplice pulizia e manutenzione per ambienti igienici
Elevata sicurezza operativa grazie alla struttura robusta
Debug e test della macchina più veloce grazie alla estrema riduzione delle connessioni
Maggiore flessibilità nella progettazione delle macchine (modularità e scalabilità)
La sicurezza in ogni fase di lavorazione è necessità sempre più imprescindibile ai giorni nostri. Questo aspetto è stato soddisfatto con i moduli di sicurezza KSM. La sicurezza degli assi è stata interpretata da Kollmorgen con Motion Safety, Kollmorgen integra la logica di sicurezza e il monitoraggio direttamente nel controller KSM, disponibile nella versione "compact" e "modular"
«L'utilizzo della tecnologia sviluppata da Kollmorgen ci ha permesso di raggiungere le performance di controllo prefissate riducendo nel contempo i cablaggi ed il costo di automazione", spiega Nicola Pezzolato, R&D Elect. Department OMET».
XFlex X5: compatta, ergonomica, flessibile con ogni materiale di stampa
Il risultato? XFlex X5, una macchina che offre tutte le principali caratteristiche della tecnologia di stampa flessografica OMET in una soluzione compatta ed ergonomica. Grazie alle unità di stampa servo-motorizzate, è possibile effettuare operazioni di slittamento e di doppio passaggio di stampa, operazioni che permettono alla macchina di poter lavorare ogni tipo di materiale (diversamente da altre macchine sul mercato) con risultati di alta qualità di stampa.
Il perfetto mix di flessibilità e innovazione rende XFlex X5 la soluzione di stampa con il miglior rapporto investimento/risultato sul mercato della stampa a banda stretta di etichette e imballaggio flessibile grazie a queste peculiarità:
Passaggio carta corto: il concetto innovativo del gruppo stampa flessografico gearless (senza ingranaggi) con una lampada UV installata direttamente sul cilindro di stampa, riduce drasticamente il livello di scarti durante la fase di avviamento.
Sistema di cambio rapido dell'inchiostro: in meno di 30 secondi è possibile sostituire la cassetta con l'inchiostro su un gruppo stampa grazie alle innovative cassette intercambiabili.
Sfridatore Rock'n'Roll: l'esclusivo sistema di sfridatura OMET permette di separare il materiale adesivo di scarto dalle etichette fustellate, senza imporre una riduzione di velocità produttiva alla macchina, anche con sagome di etichette complesse.
Vision-1: è il sistema completamente automatico che permette la scansione digitale ad alta velocità della qualità di stampa e la correzione automatica del registro di stampa senza l'intervento dell'operatore, riducendo drasticamente la quantità di scarto durante i tempi di avviamento stampa.
La progettazione, iniziata nel 2016, ha visto la nascita di XFlex X5 nello stesso anno e ha portato sul mercato tre esemplari installati e funzionanti in tre diversi Paesi del mercato europeo. I clienti hanno mostrato completa soddisfazione nei confronti della macchina e gli obiettivi che OMET si era prefissata sono stati raggiunti in toto.
Conclusione
La mission OMET si traduce nel trovare costantemente nuove soluzioni per migliorare i metodi di produzione dei clienti, offrire la migliore tecnologia per accrescere l'efficienza dei processi, costruire macchine utilizzando materiali sempre più robusti per migliorare la loro affidabilità e durata nel tempo. In una parola: elevata qualità e innovazione che hanno trovato in Kollmorgen il proprio partner high-tech. E per il futuro si sta già pensando alla prossima evoluzione con un modello di nuova generazione e a gruppi di stampa offset sulle macchine custom Varyflex. È già iniziata la prossima sfida!
Autori:
Fabio Massari, Senior Sales & Key Account Manager, KOLLMORGEN Italy
Elisabetta Redaelli, Marketing Communication, KOLLMORGEN Italy
INFORMAZIONI SU KOLLMORGEN
Sin dalla fondazione della società nel 1916 le soluzioni innovative di Kollmorgen hanno dato vita a grandi idee, nonché migliorato la sicurezza globale e la vita delle persone. La competenza acquisita in materia di componenti e sistemi di movimento, la qualità eccellente e l'esperienza consolidata nella combinazione e integrazione di prodotti standard e personalizzati permettono a Kollmorgen di fornire soluzioni innovative e senza pari per prestazioni, affidabilità e facilità d'uso. Questo garantisce un indiscutibile vantaggio competitivo per i costruttori di macchine di tutto il mondo e la massima affidabilità per i clienti. http://www.kollmorgen.it