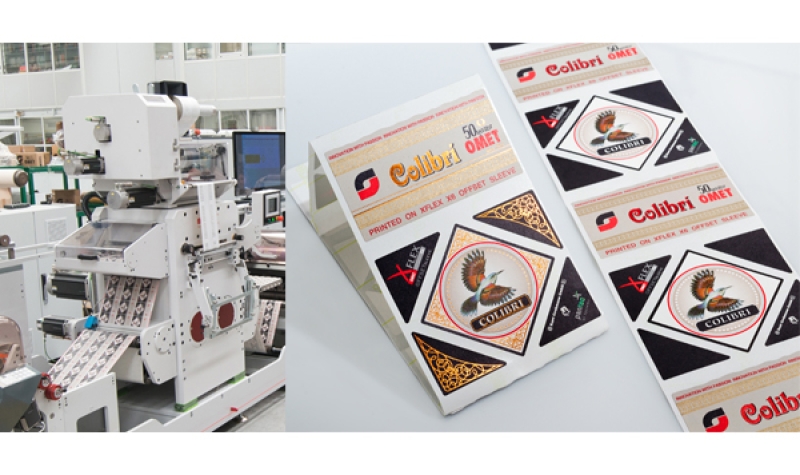 Flat-bed Hot Foil delivers high quality results on OMET's printing presses
June 2, 2014
During OMET's latest 'Open doors' event, the XFlex X6 with flexo/offset combination on display was integrating in-line the flat-bed hot foil group Rhino of the Swiss company Pantec.
Rhino compliments OMET's press design flexibility thanks to its turning foil head and delivers cost-efficient production of complex designs in one pass, with the superior quality of flat-bed technology. The Rhino can be used with low-cost flat-bed foil on rotary presses and flat embossing tools, thus involving savings in material cost. In addition, a special foil saving system reduces the overall material supply.
The Rhino by Pantec has all the necessary functionalities to achieve perfect embossing results: flat-bed hot foil embossing for rough papers and high relief depths thanks to its longer retention time in comparison to the rotating process; adjustable, accurate processing time independent of the production speed, as well as a robust design with a 2-eccentric shaft for the hub, which ensure uniform embossing pressure under extreme conditions. The group does not impact on the speed of changeover, a 'must' in rotary printing presses with all-in-one-pass technology, as the embossing systems change is minimised thanks to a special tool cassette system, as well as the effective set-up of the machine can be performed at set-up speed. The robust mechanics of Rhino enables operation speeds of up to 120 m/min.
The group delivered a high-end performance on the printing of a difficult wine label (see above) both of register and quality and consistency. It is the first time such a quality level is reached on  a flat-bed hot foil unit mounted on a rotary machine. Pantec technicians were astonished by the short time needed to tune the group on the XFlex X6 and start foiling/embossing with optimum results.