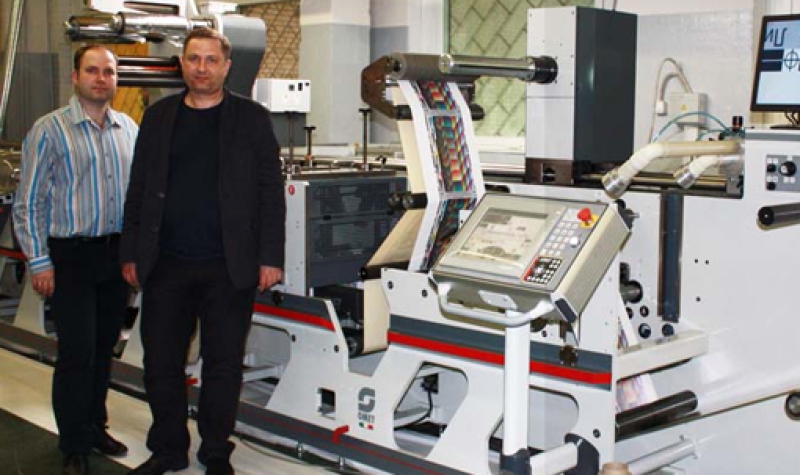 First OMET press in Moscow
July 26, 2012
The first OMET XFlex X4 has been successfully installed at Digital Label in their location in Moscow, Russia, to produce PS and shrink sleeve labels.
Now having all three printing methods – digital , letterpress and flexo – and being one of the Russian leading companies, Digital Label can provide  customers with the most complex and high-quality labels for mid and short job runs. The sale was possible with the support of VIP, representative of OMET in Russia.
Digital Label produces packaging and labels. With the idea of increasing their products portfolio, now including self-adhesive, shrink sleeve and in-mould labels, the company has chosen the flexo printing machine OMET XFlex X4 with a web width of 370 mm. The machine configuration is as follows: corona treatment, 8 UV printing units, de/relamination unit, web turn bar, cold foil/laminating unit sliding to any position along the press, 2 die-cutting slots, one slitting unit and of course the chilled impression cylinders, which are an integral part of OMET XFlex presses.
XFlex X4 orinting press has been designed to work with traditional printing cylinders in combination with two servo-drives for each printing unit. Short web path and innovative electronic register control Vision-1 developed by OMET make of this machine the most efficient production tool. The «Easy Change» system is considered unique in the market and provides the shortest set-up waste and time.
For more info on Digital Label visit: www.diglabel.ru
Специалисты Оmet совместно с инженерами компании ВИП-Системы запустили на производстве компании «Цифровая Этикетка» машину для производства самоклеящейся этикетки Omet XFlex X4. За прошедшие месяцы типография отладила процесс и теперь может решать любые задачи по печати этикетки, поскольку чуть ли не единственная в России имеет три технологии – цифровую, высокую и флексо – для производства этикеток любых типов и тиражей.
ГК «Цифровая Этикетка» занимается производством упаковочно-этикеточной продукции. В целях расширения производства, для изготовления таких типов продукции, как самоклеящиеся этикетки высокого качества, термоусадочные и in-mould (вплавляемые) этикетки, компания приобрела флексографскую печатную машину Omet XFlex X4 с шириной полотна 370 мм. В комплектацию инсталлированной флексомашины входят устройство обработки полотна коронным разрядом, 8 УФ-печатных секций, устройство делам-релам (печать со стороны клеевого слоя), устройство переворота полотна, устройство холодного тиснения фольгой/ламинации, передвигаемое по рельсовой системе, двухпозиционная высечка, устройство продольной резки, печатные валы с водяным охлаждением.
Печатная машина XFlex X4 создана для работы с традиционными формными цилиндрами и оснащена двумя серводвигателями на каждой печатной секции. Короткий путь проводки полотна и инновационная система электронного контроля приводки делает данную модель самой производительной машиной в своем классе. Система «Easy Change» является уникальной на рынке и гарантирует самое короткое время приладки и совмещения среди машин этого класса.
http://www.diglabel.ru/