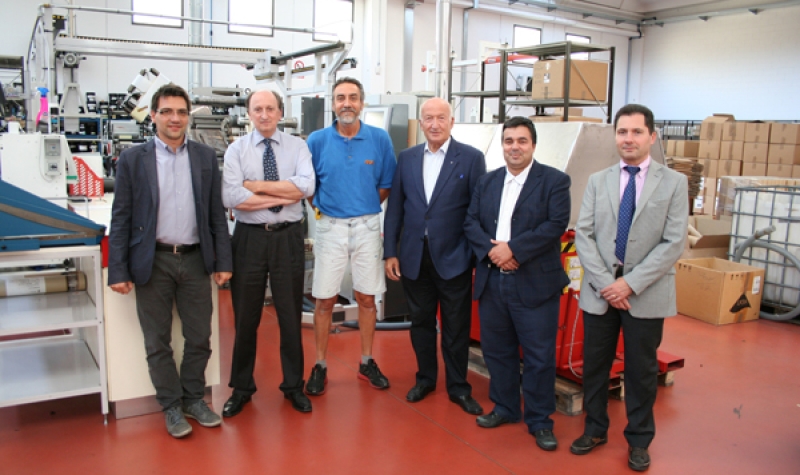 First OMET JetPlus digital press makes mark by Andy Thomas
January 22, 2015
Published per courtesy of Labels & Labeling
Eticont-Cattaneo Paolo Grafiche provides a perfect example of a commercial printer moving into the more profitable business of label converting.
The company started life as a printer of high quality books – a business that continues to this day. Ten years ago, turnover in the books market was falling, and company owner Paolo Cattaneo started looking at new opportunities.
It was a suggestion from a fellow entrepreneur, OMET founder Angelo Bartesaghi, which made him look at labels. When L&L last visited in 2005 it was to see the first Omet press installation in a brand new building dedicated to self-adhesive labels production, managed by Paolo's son Marco. Marco has full management control over the EtiCont Srl division.
EtiCont was already printing business forms and continuous stationary, but today is fully dedicated to self-adhesive label conversion. It is accredited to the ISO 22000 food grade standard.
The first two presses installed at EtiCont were 2-and 8-color OMET Flexy machines. In 2009, with the labels business taking off, a 430mm-wide 8-color OMET XFlex X6 was installed. Last year the decision was taken to add the OMET JetPlus combination flexo-digital press – the first machine to be installed anywhere in the world.
Combination digital press
EtiCont's JetPlus is built on an XFlex X6 press chassis with six flexo stations – four in front of the 4-color UV inkjet unit, and two after. The press line starts with servo unwind, web guiding, web cleaning and corona treater. The converting section includes cold foil, lamination and OMET's Monotwin Cut format-free flexible die cutting station. The press uses GEW lamps throughout with a chill drum after the digital print unit.
'The press gives us maximum flexibility,' says Marco Cattaneo. 'We can print in digital then flexo varnish, or print flexo then customize. Digital is very economical for short runs because there are no plate costs, and the time to start production is very short. So for some enquiries we can offer next day delivery.'
The digital unit is particularly effective on multi-variant label designs where the material and format remain the same.
'Another advantage is where the customer asks for a partial delivery in advance, then if they order is of 100,000 labels we can complete it in flexo,' says Cattaneo. Another job seen by L&L involved 100 different label designs, each with less than 1,000 pieces and incorporating 30 different kinds of barcode.
'The plate cost alone for this job would be €4,000 euro.' Another job showed the use of digital printing followed by in-line cold foil.
Two presses in one
The JetPlus UV inkjet unit was designed by Omet in partnership with Domino, and uses the same 600dpi Kyocera inkjet heads found in Domino's N610i digital press. This allows EtiCont to take advantage of Domino's extensive pre-testing of a wide range of label materials, with color profiles held on the JetFlex controller.
EtiCont thinks of the JetPlus as two separate machines – a digital press and a conventional UV flexo press. 'We are testing hybrid printing and trying to understand what are the advantages of combining digital and flexo print,' says Marco Cattaneo. 'This could be useful when you already have the plates for one kind of label and the customer asks you to change only the text or image. You could then print it in flexo and overprint digital.'
An example is a job for the Gran Bria brand, printed with a yellow flexo background then digitally overprinted in-line on film stock. Jobs have also been printed on metallic paper using a flexo white as a first down before over-printing with digital.
The press is fitted with two camera systems: one for digital, just checking the print to die cut register; and Omet's full Vision-2 inspection and register control system when printing conventional flexo.
When the JetPlus is running as a 'digital' press, changeover times are dictated by how fast the finishing units can be changed. Omet's Monotwin Cut die cutting unit helps here, because the die cutting format can be changed without changing the cylinder – only the flexible dies need to be changed. The unit uses servo drives to synchronize the rotation of two magnetic cylinders, so that each unit cuts alternate impressions. 'This is another piece that helps you change jobs faster and with less costs,' says Marco Cattaneo.
'Digital is a complementary printing method to flexo,' concludes Paolo Cattaneo. 'But you do need it in order to offer the customer a complete service. Now we could not do without digital.'
Has the digital press changed customer behaviour? 'Most customers don't need to know, and are not interested to know, how a job is printed. They look at quality and price.'