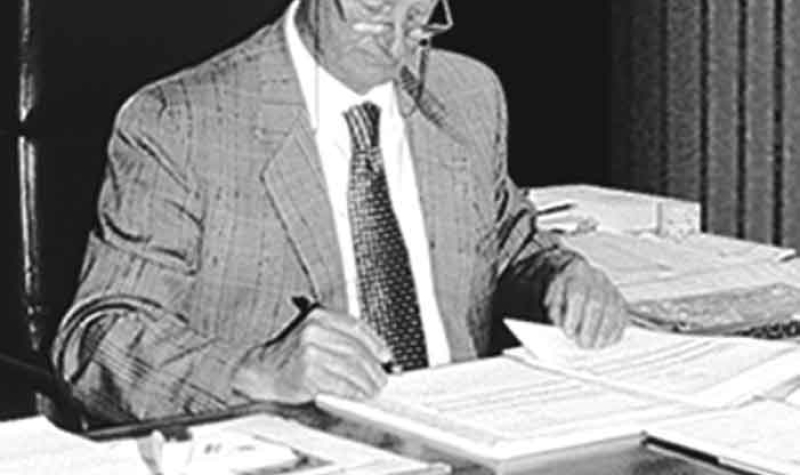 Entrepreneurship and vision: the birth and diffusion of paper napkins in Italy
October 11, 2012
A chat with Gilberto Corti, owner and founder of OKAY, Talamona, Italy
Gilberto Corti welcomes us with joviality in the meeting room of the main plant of OKAY in Talamona, a village at the entrance of Valtellina valley, shortly after the town  of Morbegno. When asked if he wants to tell something of its history as an entrepreneur in the napkins market, he smiles, leans back in his chair and starts with pleasure to remember.
We are in 1963. Prequel. Gilberto Corti has a dream and a great force that drives him to leave his job as an employee to pursue his wish of becoming an entrepreneur. In the first instance, he addresses to the market he most known, the mechanics, but he doesn't want to repeat well-known patterns. In fact, entering the world of traditional mechanics is not sufficiently attractive to an entrepreneur curious and far-sighted like Corti, given the historical concentration of engineering companies in Valtellina. Choose mechanics is still possible but with an innovative approach. In 1963 he and a partner create Metval, a company which deals with metallizing, technique of "cold" metal coating on the surface of non-metallic objects to harden, rebuild and protect. Metallizing is ideal in some sectors such as automotive, which soon becomes the preferred sales channel of Metval.
The recently founded OMET of Angelo Bartesaghi needs to metallize a few components  of its bearing systems, and so the two entrepreneurs come into collision. OMET, Officine Meccaniche e Tranceria is a volcano of ideas and is launching business in several directions: bearing systems (now followed by OMET Systems in Motion, based in Oggiono), labels and tissue (today OMET Srl, Machines Division, based in Lecco city).
Especially the tissue tickles the enlightened mind of Gilberto Corti who prefigures the potential of the market and, in collaboration with Bartesaghi, decides as a pioneer to start the production of disposable napkins, whose market is still immature in Italy, especially at consumer level.
Metval owner founds a new company, OKAY, that turns on the first machine by OMET already in 1968. The machine is far from being a simple device, as it already operates four formats (including 30×30, the cheapest, and 40×40 cm, the highest quality), but is still limited in performance: the machine is small and not very productive. The following machine provided by the Lecco factory is a far more advanced product offering a much higher performance
At that time, not only the market of disposable napkins in Italy is yet to be defined but it also suffers from the lack of raw material. The only ones to produce rolls of tissue in Italy are the Cartiera di Cairate (VA) and Bamar, located in Momo, in the Province of Novara, but their prices are high, and the run lengths managed by OKAY are considered by far too small and consequently unattractive (unlike the production of toilet paper, which even then was already counting on large volumes). The material is much more widespread abroad and low-cost and OKAY decide to start importing directly from France.
One of the key technical problems of the first machines is the setup of the format change. As early as the third machine, ordered to OMET in 1970, a reduction in changeover times (nothing new today, then!) is required. It helps to introduce the management of only two of the four formats available.
OKAY works immediately with small, medium and large customers, including the first large-scale retail chains. OKAY begins to export abroad in the 70s, first to Canton Ticino, Switzerland, and then to Northern Europe to arrive in the '80s to an export share over total sales of 30%.
OKAY now operates a fleet of 22 machines, of which 20 by OMET (plus two new OMET machines coming) and produces a wide variety of napkins, tablecloths, table sets, envelopes for cutlery with napkin in a myriad of sizes and patterns. Each production line is completed by a packaging line where napkins exit already packaged ready for shipment to the customer. A large warehouse collects the finished products and provides just-in-time deliveries. OKAY also manufactures products under its own brands (OKAY and OKAY PIÙ) and holds a number of patents for special products.
Today and 1963 share the same challenges: maintain a proper level of stock, both of finished products and raw materials, refine printing to meet the most demanding needs, especially in the production of table sets, and solve problems when paper suppliers are different, reduce waste and time of startup of the machines through a careful management of the work area and the introduction of gradually more advanced machines from the point of view of the control and automation of processes.
OKAY is always up to date, having obtained the FSC (Forest Stewardship Council, an international non-profit organization) that certifies the origin of the material used for the production of napkins from cultivated forests. FSC certification is the only important certification in the tissue sector and is synonymous with quality. To further contribute to environmental protection OKAY uses only clean energy: all the energy that moves the machinery of OKAY is, in fact, produced by hydroelectric power plants.
The collaboration of OKAY with OMET endures through time also favored by the strategic proximity of OMET to Talamona. This vicinity is a guarantee of timely assistance and access to experimentation and has allowed both companies to grow with mutual profit. We seem to read between the lines an elective affinity between the two companies that made it possible to build a relationship that has passed the half-century.
To learn more about OKAY visit: www.okaypaper.com