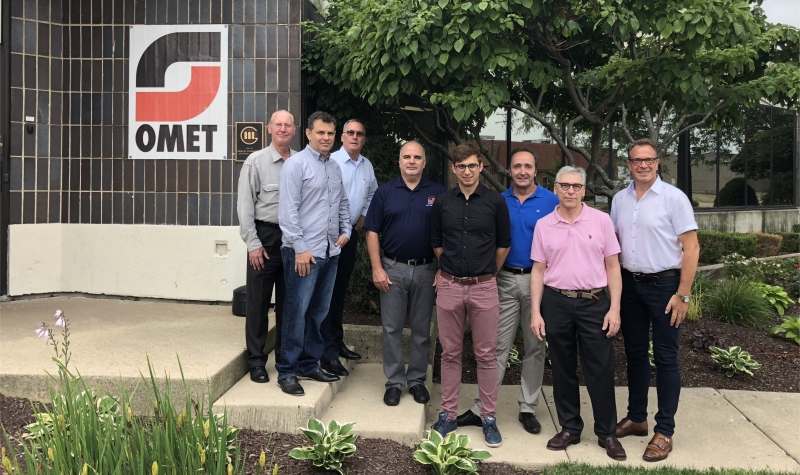 Durst and OMET to strengthen distributor relationship in North America
August 2, 2018
Durst and OMET have formed a strategic partnership in North America that allows OMET exclusive access for sales of the Durst Tau product line, effective from August 1 with full implementation expected by Label Expo Americas 2018, where the new Tau 330 RSC will be showcased as a stand-alone label press system as well as in-line with the new OMET XJet digital-flexo hybrid press.
The new partnership will provide label printers extended engineering capabilities, added services, and combined digital and flexo printing expertise from a single source. Furthermore the combined efforts are a natural fit of two premier brands, extends the reach of both companies in North America, and by utilizing OMET's Chicago, IL office provides a central convenient location for customer demonstrations and faster sample turnaround time. Durst has appointed Richard Thomas, formerly Business Development Manager for North American Label Segment, as the newly titled Director of North American Digital Business Initiative for Labels and Package Printing.
"We are delighted to expand our collaboration with OMET," said Helmuth Munter, Global Segment Manager for Labels & Package Printing at Durst Group. "Bringing together our know-how and market expertise provides increased value for our customers and accelerates the digitization of the label & packaging market."
Claudio Semenza, OMET Americas Sales Director, said: "OMET is excited about the collaboration with Durst. "This partnership allows us to offer a complete system of printing solutions to our customers in North America. The interest in digital printing is growing quickly and OMET Americas now has the right answers for the market."
Marco Calcagni, OMET Sales & Marketing Director, added: "This is a complete Made-in-Italy printing solution that meets the market trends of personalization, just-in-time deliveries, and final product variation, while also maintaining the capabilities of a conventional press. Durst is the right partner for us because they have deep knowledge and the best digital inkjet technology in the international market."
---
Durst e OMET rafforzano la partnership con la distribuzione in Nord America
Durst e OMET hanno stretto una partnership strategica che prevede per OMET l'esclusiva sulle vendite della linea Durst Tau in Nord America. L'accordo è entrato in vigore il primo agosto e vedrà la piena attuazione entro la fiera Label Expo Americas 2018, dove il nuovo Tau 330 RSC sarà presentato al mercato sia come sistema di stampa etichette "stand-alone" sia in linea sulla nuova macchina ibrida digitale-flexo OMET XJet.
La nuova partnership permetterà agli stampatori di avere un unico punto di riferimento per una superiore capacità di engineering, maggiori servizi ed elevate competenze per la stampa combinata digitale/flexo. Unire le forze è stata un'evoluzione naturale per due marchi leader come OMET e Durst, che in questo modo estendono il loro raggio d'azione in Nord America. Utilizzando la sede OMET di Chicago, avranno una base strategica sia per le demo con i clienti sia per garantire tempi di consegna più rapidi. Durst ha nominato Richard Thomas, ex-Business Development Manager per la North American Label Segment, nuovo direttore della North American Digital Business Initiative for Labels and Package Printing.
"Siamo lieti di ampliare la nostra collaborazione con OMET", ha affermato Helmuth Munter, Global Segment Manager per la divisione Labels & Package Printing del gruppo Durst. "Unire il nostro know-how e le nostre competenze di mercato rappresenta un valore aggiunto per i nostri clienti e contribuisce ad accelerare la digitalizzazione del mercato label & packaging".
Claudio Semenza, Sales Director di OMET Americas, ha dichiarato: "OMET è entusiasta della collaborazione con Durst. Questa partnership ci consente di offrire un sistema completo di soluzioni di stampa in Nord America. L'interesse per la stampa digitale sta crescendo rapidamente e OMET Americas ha le risposte giuste per il mercato".
Marco Calcagni, OMET Sales & Marketing Director, ha aggiunto: "Questa è una linea di stampa completamente Made in Italy, che soddisfa le attuali tendenze di mercato verso la personalizzazione, la consegna just-in-time e la nobilitazione del prodotto finale, mantenendo allo stesso tempo le capacità di stampa tradizionali. Durst è il partner giusto perché ha una profonda conoscenza del mercato e la migliore tecnologia inkjet digitale a livello internazionale".