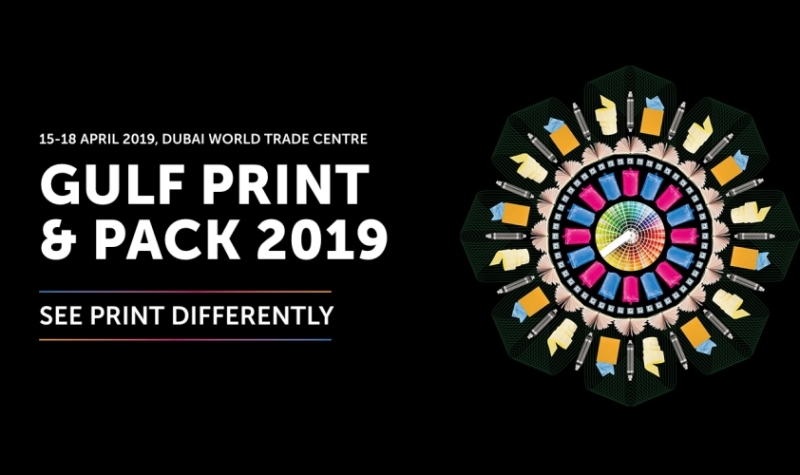 Dubai, OMET is ready for the Gulf Print & Pack 2019
March 11, 2019
From 15 to 19 April 2019 OMET will be at the Gulf Print & Pack, the Middle East's leading trade show for the commercial and package printing sector, to be held at the Za'abeel Halls of the Dubai World Trade Center. At the booth 2G14 – shared with Printech Middle East, the OMET agent for the area.
OMET presents the widest range of machines for the narrow- and mid-web label and packaging printing. From iFLEX, the small high quality label machine, to the XFlex lines (X2, X4, X5, X6), OMET offers several opportunities to invest in modular printing machines to be configured at printer's request, with flexo printing technology combined with offset, gravure, screen printing, and different finishing options and converting in line. The new OMET XJET powered by Durst, result of the combination between the renowned OMET flexo quality and DURST digital inkjet printing technology, is the perfect hybrid solution able to provide the maximum level of productivity independently from the length of the run. OMET Varyflex is dedicated to the world of packaging, labels and complex jobs, with upto 850 mm width. Its extreme flexibility and options make any special configuration easy and possible.
Lisa Milburn, Managing Director of Gulf Print & Pack, said: "The Middle East remains one of the world's key commercial print growth regions, with huge untapped potential for digital technologies. At Gulf Print & Pack 2017, we started to see a trend, with half of our visitors interested in digital printing presses; and this year we expect to see this trend explode".
"With the OMET's innovation and technology we are ready to meet and amaze the Middle East market, where we already count more than 20 installations – explains Paolo Grasso, Head of Sales – OMET Labels Business Unit -. The Gulf Print & Pack is an excellent opportunity to expand our business in a region that, despite the difficult situation witnessed in the past years, has always shown a positive growth, driven by the deployment of packaging. In the near future, there will be many new opportunities, especially in view of the Dubai 2020 Expo".
Gulf Print & Pack is raising its international importance: the 2017 edition attracted around 10,000 visitors from 98 countries and 252 exhibitors; numbers are expected to grow for the coming edition.
http://www.gulfprintpack.com/
---
OMET e Printech ME insieme a Gulf Print & Pack 2019
Dal 15 al 19 aprile 2019 OMET sarà alla Gulf Print & Pack 2019, la fiera di riferimento per il settore del packaging e della stampa commerciale in Medio Oriente e Nord Africa, che si terrà allo Za'abeel Halls del World Trade Centre di Dubai, presso lo stand 2G14 di Printech Middle East.
OMET presenta la più ampia gamma di macchine per la stampa a nastro stretto e medio di etichette e imballaggi flessibili. Dalla iFLEX, la piccola macchina per etichette di alta qualità, alla linea XFlex (X2, X4, X5, X6) OMET offre diverse possibilità di investimento per linee di stampa modulari configurabili su richiesta dello stampatore, con tecnologia di stampa flessografica combinabile con offset, rotocalco, serigrafia, con diverse opzioni di finitura e converting tutte in linea. La nuova OMET XJET powered by Durst, che nasce dalla combinazione tra la rinomata qualità della qualità flessografica OMET e la tecnologia di stampa digitale Inkjet DURST, è una soluzione di stampa ibrida capace di raggiungere il massimo livello di produttività per ogni tipo di tiratura. La linea Varyflex è dedicata alla stampa di imballaggi, etichette e materiali speciali, ed è disponibile fino a 850 mm di larghezza. E' la piattaforma di stampa più flessibile e personalizzabile oggi disponibile sul mercato.
Lisa Milburn, Managing Director della Gulf Print & Pack, ha dichiarato che "Il Medio Oriente resta uno dei mercati chiave per il settore della stampa, con un enorme potenziale legato alle tecnologie digitali. Durante la scorsa edizione della fiera oltre la metà dei visitatori hanno mostrato interesse verso le macchine digitali e ci aspettiamo che quest'anno il trend esploda".
"Con la tecnologia e l'innovazione OMET siamo pronti ad incontrare e sorprendere il mercato del Medio Oriente, dove già si contano oltre venti installazioni OMET – spiega Paolo Grasso, Head of Sales – OMET Labels Business Unit -. La Gulf Print & Pack è un'ottima opportunità per espandere il business in una regione che, nonostante la situazione non semplice di questi ultimi anni, ha sempre mostrato alti tassi di crescita, trainata dal forte sviluppo del packaging. Nel prossimo futuro sarà fonte di molte nuove opportunità soprattutto in vista dell'Expo di Dubai 2020".
La Gulf Print & Pack 2017 ha attratto circa 10mila visitatori da 98 paesi e oltre 250 espositori. Per l'edizione 2019, i numeri sono destinati a crescere esponenzialmente.
http://www.gulfprintpack.com/