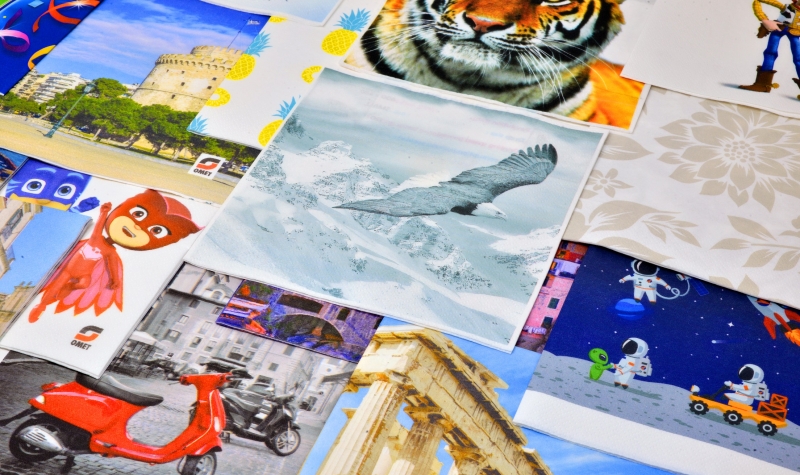 Digital printing on napkins: endless possibilities for success with the new Chameleon by OMET
July 30, 2019
Maximum flexibility and efficiency with the new Chameleon by OMET, the digital printing unit developed by OMET for the tissue market. Now Chamelon is available on all OMET machines, both for mechanical and vacuum folding solutions, and can process paper rolls from 180 mm up to 800 mm. The highest printing quality is guaranteed up to speed of 200 m/minute on any kind of paper, including point-to-point embossed napkins and airlaid materials (non-woven fabrics), with low pre-printing costs and different graphics for each napkin.
Chameleon by OMET offers superior performances and quality to tissue converters, who are looking for solutions both economical and brilliant in the eyes of the market. Digital technology allows an increase of efficiency with cost reduction, and an upgrade of the portfolio with innovative proposals.
Its endless possibilities for customization allows customers to use folded products as a marketing tool, going beyond their innate use.
Digital printing ensures also greater flexibility and speed in the execution of works: the easy configuration of the software used for managing the line is the key for shorter production and delivery times (just-in-time). It allows quicker job changes, the update of graphic projects anytime, the reprint of any subject as needed, without having to stock obsolete products.
"The amount requested for each printed subject is increasingly smaller – explains Fabio Secondin, Digital Printing Manager of OMET Tissue Division -. Digital technology allows appropriate margins even in these cases because avoids start up and storage costs, increasing at the same time the ease of use of the machine. With digital printing, the product and the brand can be enhanced and increase their value in the tissue industry".
This way, printers can efficiently support short runs for customized products, even with variable data. The cost reduction can reach 50%: you can print directly from files, with no need of plates, clichés or pre-press works. Chameleon digital printing by OMET is managed with a software installed on a PC on the machine: it's simple and intuitive for any operator, it allows printing of all kinds of graphics and variable data at a 200 meters per minute speed, with just-in-time delivery.
Digital printing is a step beyond even in terms of color brilliance: it has a very wide color range with fine lines and very small texts, difficult to obtain with traditional printing technologies. This allows the printing of high quality photographic and landscape images: photography is the top level of product customization, because the number of prints originated from digital images taken by users is really booming.
"Now digital printing is available on all machines of the OMET portfolio, with the possibility of printing any type of material – says Marco Calcagni, OMET Sales & Marketing director -. We are going to satisfy one of the most important requests of converters, who increasingly need to differentiate and offer new ideas for final products: for example, companies using product customization for their marketing campaign, for particular events, or users of online printing services. OMET's continuous innovation and technology allow them to take advantage of more and more flexible production opportunities and increasing levels of automation".
---
Stampa digitale su tovaglioli: infinite possibilità di successo con il nuovo Chameleon by OMET
Massima flessibilità ed efficienza con il nuovo Chameleon by OMET, l'unità di stampa digitale sviluppata da OMET per il settore tissue. Da oggi Chamelon è disponibile su tutte le macchine della gamma OMET, sia a piega meccanica che aspirata, con bobina da 180 mm fino a 800 mm. La stampa è garantita nella massima qualità con velocità di 200 m/minuto e su qualsiasi tipo di carta, compresi tovaglioli goffrati punta a punta e materiali airlaid (tessuto non tessuto), con costi di pre-stampa ridotti ed anche un soggetto per tovagliolo.
Chameleon by OMET offre prestazioni e qualità superiori ai converter del settore tissue, che oggi cercano soluzioni allo stesso tempo economiche e capaci di fare la differenza sul mercato. La tecnologia digitale permette sia un aumento dell'efficienza con riduzione dei costi, sia un ampliamento dell'offerta con servizi innovativi per i clienti.
Sono infinite, infatti, le possibilità di personalizzazione dei prodotti piegati, che diventano un vero e proprio strumento di comunicazione e marketing, oltre che per la loro funzione originale. La stampa digitale assicura inoltre maggior flessibilità e rapidità nell'esecuzione e nella fornitura delle commesse: la facilità del software di configurazione garantisce tempi di lavoro e di produzione brevissimi just-in-time. Consente cambi lavoro rapidi e permette di aggiornare, nel tempo, i progetti grafici ristampandoli al bisogno, senza dover far magazzino con copie destinate a diventare obsolete.
"I quantitativi richiesti per singolo soggetto sono sempre più contenuti– spiega Fabio Secondin, responsabile Stampa Digitale della divisione Tissue OMET – e la tecnologia digitale consente margini anche in questi casi perché evita i costi di avviamento macchina e di magazzino, aumentando allo stesso tempo la semplicità d'uso della macchina. Con la stampa digitale si può finalmente valorizzare il prodotto finito e di conseguenza anche il proprio brand".
Lo stampatore può sostenere con efficienza basse tirature e allo stesso tempo personalizzare i prodotti, anche singolarmente e con dati variabili. L'abbattimento dei costi può arrivare al 50%: la stampa viene fatta direttamente da files su supporto, senza necessità di lastre o clichè nè di lavori di prestampa. La stampa digitale Chameleon by OMET è gestita da un software su PC installato sulla macchina ed è semplice ed intuitiva per qualsiasi operatore, permette di stampare grafiche di ogni tipo e dati variabili ad una velocità di 200 metri al minuto, con consegna just-in-time.
La stampa digitale è un passo oltre anche in termini di brillantezza di colori: offre una gamma cromatica molto ampia con tratti fini e testi piccolissimi, difficili da ottenere con tecnologie di stampa tradizionale. Ciò consente la stampa di immagini fotografiche e paesaggistiche di alta qualità: la fotografia è considerata il vero culmine della customizzazione di prodotto, perché il numero di stampe originate da immagini digitali scattate dagli utenti è in poderosa crescita.
"Oggi OMET rende disponibile la stampa digitale su tutte le macchine del portfolio, con possibilità di stampa su qualsiasi tipo di supporto – spiega Marco Calcagni, sales & marketing director OMET -. Andiamo a soddisfare una delle più importanti esigenze dei converter che hanno sempre maggiore necessità di differenziarsi e offrire nuove idee per i prodotti finali: ad esempio, aziende che basano il marketing sulla personalizzazione dei prodotti o per particolari eventi, o utenti dei siti di stampa online. Le continue innovazioni e la tecnologia delle nostre macchine permettono di avere una produzione sempre più flessibile e di aumentare il livello di automazione".