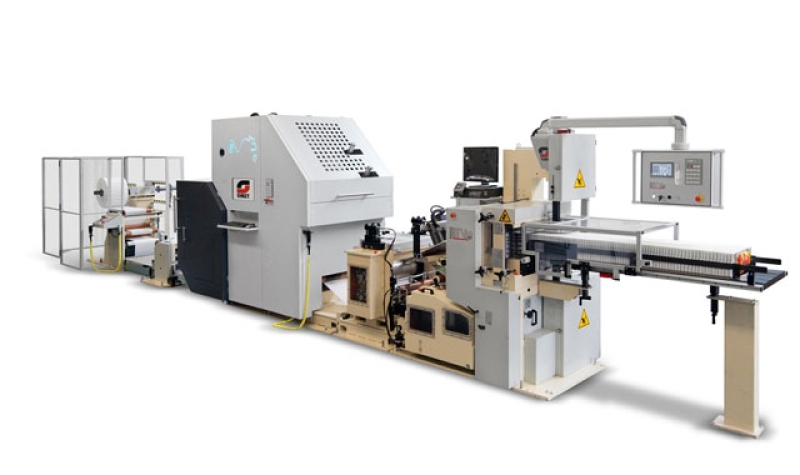 Digital printing for tissue products: Chameleon by OMET
November 21, 2016
The continuous research and development of integration between the digital printing unit and tissue converting machine has reached a very high standard of efficiency, making this solution even more attractive today for napkin manufacturers.
Chameleon by OMET is the digital printing system that can be integrated in line on a TV 503 machine for the production of napkins and customised placemats. With Chameleon the goal of short-run printing with variable graphics and data is achieved thanks to the ability to print any digital file in a simple PDF format within minutes, using a standard PC installed in the digital printing unit.
Developments in napkin and placemat printing consists in the ability to print products different from one another, fully customised, with no print set-up times and costs.
Chameleon changes the production process for napkins manufacturers with regard to printing and the final product customisation.
The software developed by OMET processes the graphic files according to specific parameters set by the operator and reproduces the graphic subject directly onto the finished product, without any need for a print preview, which means immediate printing with the ability of reproducing variable data!
The variability of the data is a unique strong point available only on Chameleon digital printing unit, which allows the realization of incremental data impression, for example with serial numbers or dates.
With Chameleon costs and times in creating graphically customised products and for small runs are cut down drastically by offering a new perspective for the manufacturer of napkins and placemats in terms of just-in-time delivery and customisation of the final product, adding a value that goes beyond the simple printed napkin.
---

La stampa digitale per i prodotti tissue: Chameleon by OMET
La continua ricerca e sviluppo dell'integrazione tra il gruppo stampa digitale e la macchina di tissue converting ha raggiunto uno standard di efficienza molto elevato, rendendo oggi questa soluzione ancora più interessante per i produttori di tovaglioli.
Chameleon by OMET è il sistema di stampa digitale integrabile in linea su una macchina TV 503 per la produzione di tovaglioli e tovagliette sottopiatti personalizzati. Con Chameleon viene raggiunto l'obiettivo di stampa di piccole tirature con grafiche e dati variabili grazie alla possibilità di stampare in pochi minuti un qualsiasi file digitale in semplice formato pdf, utilizzando un normale pc installato nel gruppo di stampa digitale.
L'evoluzione nella stampa di tovaglioli e tovagliette consiste nella possibilità di stampare prodotti l'uno diverso dall'altro, completamente personalizzati, senza tempi e costi di prestampa.
Chameleon cambia il processo di produzione per i produttori di tovaglioli per quanto riguarda le possibilità in termini di stampa e dei criteri di personalizzazione del prodotto finale.
Il software sviluppato da OMET elabora i file grafici secondo i precisi parametri stabiliti dall'operatore e riproduce il soggetto grafico direttamente sul prodotto finito, così come generato dal file grafico senza bisogno di alcuna prestampa: una stampa immediata con la possibilità di riprodurre dati variabili!
La variabilità dei dati è un plus unico e presente solo sul gruppo stampa digitale Chameleon, consente la realizzazione di stampe con dati incrementali, per esempio con numeri di serie o date.
Con Chameleon i costi e i tempi per la realizzazione di prodotti graficamente personalizzati e per piccole tirature vengono abbattuti drasticamente, offrendo un cambio di prospettiva per il produttore di tovaglioli e tovagliette in termini di consegne just-in-time e customizzazione del prodotto finale, a cui si conferisce un valore aggiunto che va al di là del semplice tovagliolo stampato.