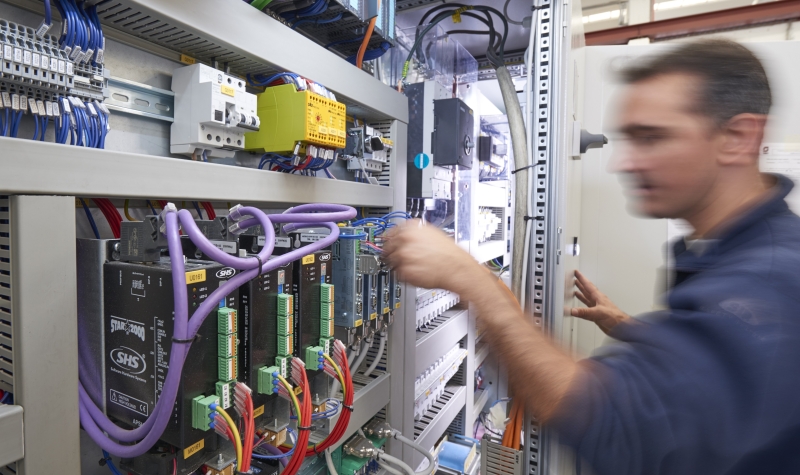 CUSTOMER FIRST – Customer Service becomes 4.0
May 14, 2019
OMET Intelligent Plant software represents a major breakthrough for customer assistance. Technicians becomes able to remotely monitor any OMET line, wherever is it installed, to check real time parameters, trends and problems, and to perform remote tests, checkups as well as technical interventions.
The data trends detected by the software allow the assistance to identify immediately the cause of any alert, keeping track of stops or malfunctions of the machine. The analysis of these trends over time make it possible to verify critical issues and take actions not only to solve problems but also to increase the efficiency of the line with targeted interventions.
Moreover, the analysis of deviations from the standard parameters allows to program maintenance, avoiding wear problems. This allows customers to have scheduled downtimes, with significant time saving and loss limitations.
This all responds to the "Customer First" vision that OMET is promoting to improve its reliability: a value that has always made OMET stand out on the market, one of the cornerstones of its reputation. Thanks to this software more and more activities can be managed remotely, diagnostics is increasingly precise, allowing rapid and specific interventions, and the supply chain goes towards the complete digitalization and maximum efficiency.
OMET assistance is available 24 hours a day, 7 days a week thanks to OMET service centers located in North America (USA), Europe (Italy), Asia (China).
---
CUSTOMER FIRST – E l'assistenza diventa 4.0
Il software OMET Intelligent Plant rappresenta una svolta epocale nel mondo dell'assistenza al cliente. Per i tecnici, diventa possibile collegarsi da remoto alle linee OMET, ovunque esse siano installate, per controllare in tempo reale parametri, trend e problemi, effettuare test e checkup oltre che interventi tecnici da remoto.
I dati rilevati dal software consentono di collegare immediatamente allarmi e segnalazioni alla loro causa, tenendo traccia degli episodi di malfunzionamento. La possibilità di analizzare questo trend nel tempo permette di verificare criticità che si ripresentano e intervenire non solo per risolvere puntualmente i problemi ma anche per aumentare l'efficienza della linea con interventi mirati.
L'analisi degli scostamenti dai parametri standard permette inoltre di intervenire con la manutenzione predittiva, anticipando possibili anomalie dipendenti dall'usura. Questo consente ai clienti di avere fermi macchina programmati e non improvvisi, con notevoli guadagni di tempo e limitazione delle perdite.
Tutto questo risponde alla logica "Customer First" che OMET sta sostenendo con l'obiettivo di investire sull'affidabilità: un valore che ha sempre distinto OMET sul mercato e che costituisce uno dei pilastri della sua reputazione. Sempre più attività diventano gestibili da remoto, la diagnostica è sempre più precisa consentendo interventi rapidi e specifici, e la catena produttiva va verso la completa digitalizzazione e la massima efficienza.
L'assistenza OMET è disponibile 24 ore su 24, 7 giorni su 7 grazie a centri di servizio OMET localizzati in Nord America (USA), Europa (Italia), Asia (Cina).