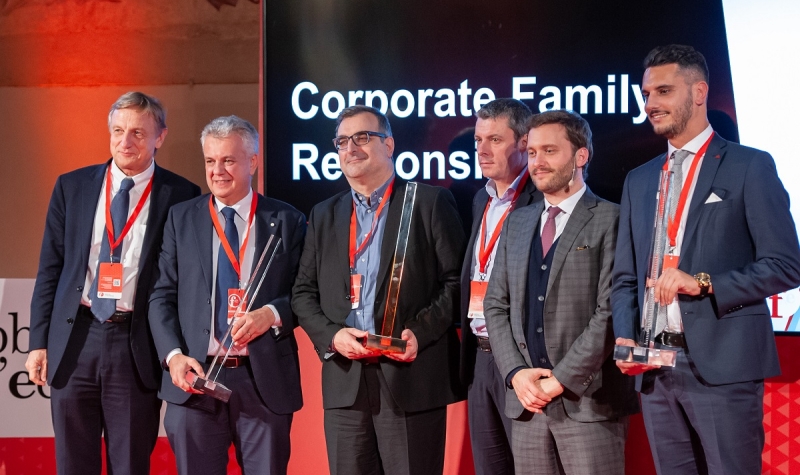 Corporate Family Responsibility, OMET awarded in Florence
November 28, 2019
OMET is among the winners of the Corporate Family Responsibility award delivered during the 3rd Annual Forum of the Medium Italian companies, organized by "Fabbrica per l'Eccellenza" (Factory for Excellence) in Florence on 22nd November 2019.
According to the study issued in 2019 by the Centro Studi Cdo, OMET is among the Italian companies most attentive to the work-family balance. The Corporate Family Responsibility (CFR) Index represents the company's ability to support its workforce in their balance between work and private life.
"We must reverse the stereotypes – said Gigi Gianola, general director of Cdo – according to which families and companies must compete in the distribution of time, public funds and resources. A lot of women and men have to face a thousand challenges every day to balance their responsabilities between work and family. And it is not just a problem for people with small children but also for those who take care of sick or elderly people".
The data were processed by a team of researchers from the University of Bergamo and the University of Lancaster. The analysis made it possible to calculate a CFR value for each company of the sample; OMET was ranked second after E Pharma Spa and before Zeta Service, Illumia and ETT.
Ranking
E PHARMA S.P.A. (CFR INDEX 11.11)
OMET srl (CFR INDEX 10.47)
Zeta service (CFR INDEX 10.21)
Illumia S.P.A. (CFR INDEX 10:01)
ETT S.P.A. (CFR INDEX 9.87)
"These companies are an example of how is possible to organize work time and make it compatible with family time. This confirms that the more we incentivize companies the more families can have a real and constant benefit over time: more attention for young children or elderly parents, but also a more attractive work environment for new generations. This means more possibilities that they choose to work in the territory where they live, without having to look for better solutions far from home. The CFR is an aid to recognize and measure the commitment of these entrepreneurs, rewarding those who are already doing their part to change internal structures of the company but also the cultural approach".
CFR index
The CFR index is calculated by assessing two dimensions: structural and cultural. For the structural one we speak of flexibility of working times (eg part-time; flexible working hours); worker autonomy (eg telework); and provision of bonuses, or information and work-family or time-saving conciliation services. The cultural dimension instead includes the support of superiors and colleagues towards family commitments, the diffusion of an organizational culture that does not penalize career advancements for caregivers; perceived workload.
The CFR index is the sum of the average values found within the two dimensions. For more information http://www.fabbricaperleccellenza.it/cfr/
---
Corporate Family Responsibility, OMET premiata a Firenze
OMET è tra i vincitori del premio dedicato alla Corporate Family Responsibility consegnato nell'ambito del 3° Forum annuale della Media Impresa Italiana, organizzato da Fabbrica per l'Eccellenza presso il cenacolo della basilica di Santa Croce a Firenze il 22 novembre scorso.
Secondo lo studio condotto nel 2019 dal Centro Studi Cdo, OMET è tra le aziende italiane più attente all'equilibrio tra lavoro e famiglia. Con l'espressione "responsabilità familiare d'impresa" o "Corporate Family Responsibility" (CFR) si fa riferimento infatti alla capacità dell'impresa di sostenere la famiglia e il bilanciamento tra lavoro e vita privata delle persone impiegate in azienda.
"Dobbiamo ribaltare gli stereotipi – ha dichiarato Gigi Gianola, direttore generale di Cdo – secondo cui famiglia e impresa sono concorrenti nella distribuzione dei finanziamenti pubblici e nel reperimento delle risorse. Ci sono infatti moltissime donne e moltissimi uomini che lavorano e devono affrontare quotidianamente mille peripezie per conciliare le proprie responsabilità lavorative con quelle familiari. E non è solo un problema per chi ha figli piccoli ma anche di cura delle persone malate o anziane che compongono il nucleo familiare".
I dati sono stati elaborati da un team di ricercatori dell'Università di Bergamo e dell'Università di Lancaster. L'analisi ha consentito di calcolare un valore di CFR per ciascuna delle imprese del campione; OMET si è classificata al secondo posto dopo E Pharma Spa e prima di Zeta Service, Illumia ed ETT.
Classifica:
E PHARMA S.P.A (CFR INDEX 11.11)
OMET srl (CFR INDEX 10.47)
Zeta service (CFR INDEX 10.21)
Illumia S.P.A. (CFR INDEX 10.01)
ETT S.P.A. (CFR INDEX 9.87)
"Queste aziende sono l'esempio di come sia possibile organizzare il tempo del lavoro per renderlo più compatibile con il tempo per la famiglia. E questo conferma che più incentiviamo le aziende più le famiglie possono averne un beneficio reale e costante nel tempo: più attenzione per figli piccoli o genitori anziani ma anche un ambiente di lavoro più attraente per le nuove generazioni e dunque la possibilità che scelgano di lavorare sul territorio dove vivono senza dover cercare soluzioni migliori andando lontano. La CFR è un aiuto per rendere esplicito e misurabile l'impegno di questi imprenditori e per premiare chi sta già facendo la sua parte per cambiare non solo le strutture interne all'azienda ma anche per modificare l'approccio culturale alla famiglia".
CFR Index
L'indice CFR viene calcolato valutando due dimensioni: strutturale e culturale. Per quella strutturale si parla di flessibilità dei tempi lavorativi (es. part-time; orario di lavoro flessibile); autonomia dei lavoratori (es. telelavoro); ed erogazione di bonus, o informazioni e servizi di conciliazione famiglia lavoro o salva-tempo. La dimensione culturale comprende invece il supporto di superiori e colleghi verso gli impegni familiari, la diffusione di una cultura organizzativa che non penalizzi gli avanzamenti di carriera per chi ha compiti di cura; carico di lavoro percepito.
L'indice CFR è dato dalla somma dei valori medi rilevati all'interno delle due dimensioni. Per maggiori informazioni http://www.fabbricaperleccellenza.it/cfr/