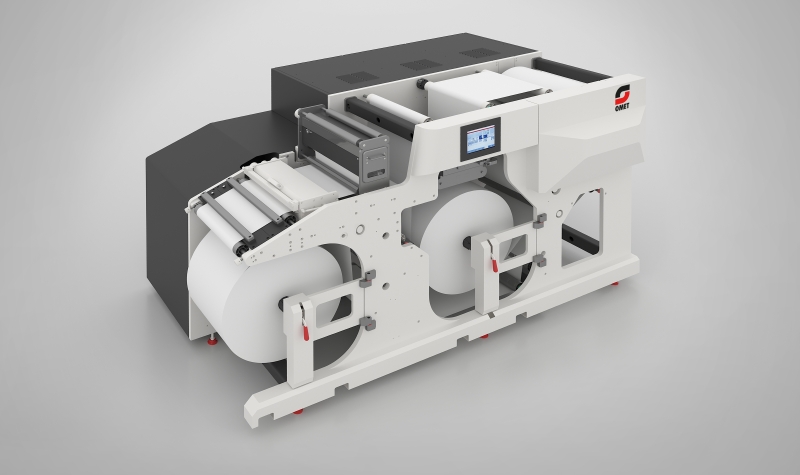 Core Linerless Solution: great news at Labelexpo Europe 2019
July 26, 2019
OMET engineered the laminating module to process CLS film (Core Linerless Solution), a project in collaboration with Ritrama and Spilker. At Labelexpo it will be possible to see the first results of the printing project of linerless labels on self-adhesive film, which is gathering strong interest among printers and brand owners all over the world, especially in the food & beverage, home, and personal care industries.
Core Linerless Solution® is an innovative self-adhesive film engineered to be transformed into a single ply Linerless web, ready to be dispensed using a special linerless module. A revolutionary innovation that allows significant improvements on efficiency and environmental sustainability of the printing process.
The module that OMET has developed separates the material and laminate the siliconized liner onto the face stock. It's a heat-activated lamination of the siliconized PET liner on the face stock that has been previously printed: it encapsulates the print as a protective film, eliminating the need of lamination or the application of a protective varnish.
The film has the proper stiffness to be printed and dispensed at high speed but will has a lower thickness than traditional labels, with several advantages for the whole production and logistic process.
This kind of labels allows savings on materials, transport and machine downtime. The printing process is more sustainable, reducing environmental footprint impact (CO2 emissions).
They need no die-cutting, thanks to a micro-perforation module developed by Spilker, they will be simply torn away from the roll and applied to the final product.
The whole process brings more efficiency in the materials and waste management, lower transport and logistics costs, less downtimes because the line prints twice as many labels per roll.
All these considerable advantages have already attracted the global attention of printers and brand owners, who will have the possibility to find further information and evidences at the next Labelexpo.
OMET – Hall 6 – Stand C49-C53
---
Core Linerless Solution: grandi novità a Labelexpo Europe 2019
OMET ha creato il gruppo di laminazione per il processo di lavorazione del materiale CLS (Core Linerless Solution), progetto in collaborazione con i partner Ritrama e Spilker. A Labelexpo sarà possibile vedere i primi risultati del progetto di stampa di etichette linerless su film autoadesivo, che sta riscuotendo un fortissimo interesse fra i principali stampatori e brand owner di tutto il mondo del settore beverage, food, home & personal care.
Il Core Linerless Solution® è un film autoadesivo prodotto da Ritrama che tramite un apposito processo di converting si trasforma in un laminato senza liner, pronto per essere applicato sul prodotto finito (bottiglie, barattoli, ecc…) con un'etichettatrice linerless. Un'innovazione rivoluzionaria che consente notevoli impatti positivi sia sull'efficienza sia sulla sostenibilità ambientale del processo di stampa.
OMET ha sviluppato un modulo che separa il supporto inferiore del film e tramite un processo di laminazione a caldo applica il liner PET siliconato sul frontale precedentemente stampato, incapsulando l'etichetta che risulta quindi protetta senza necessità di sovraverniciare o sovralaminare.
Il supporto mantiene una rigidità adeguata per essere lavorato ad alte velocità ma ha uno spessore inferiore alle etichette tradizionali, con tutti i vantaggi che ne derivano in termini di logistica e applicazione finale.
Questo tipo di etichette permette un risparmio sui materiali, sul trasporto e sui tempi di fermo macchina, e il processo di stampa diventa più sostenibile in termini di riduzione della Carbon footprint (emissioni di CO2).
Questo tipo di etichette non vengono fustellate, ma grazie ad un modulo di micro-perforazione elaborato da Spilker, saranno semplicemente strappate dal rotolo e applicate sul prodotto finale. L'intero processo porta una maggiore efficienza sia nella gestione dei materiali e degli scarti, sia nel trasporto che sui tempi di fermo macchina perché vengono prodotte più etichette per ogni bobina.
Tutti questi vantaggi hanno già attirato le attenzioni dei principali stampatori e brand owner a livello globale che alla prossima Labelexpo potranno trovare ulteriori conferme.
OMET – Hall 6 – Stand C49-C53