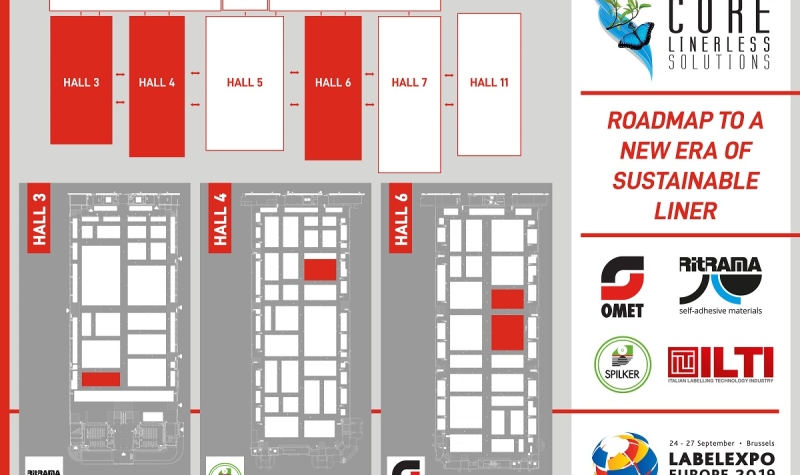 CLS® Core Linerless Solution: follow the Labelexpo roadmap
September 21, 2019
Linerless labels: efficiency, sustainability and savings. OMET brings to Labelexpo 2019 the first results of the printing and converting project of linerless labels on the CLS® Core Linerless Solution self-adhesive film by Ritrama. This innovative technology platform was fulfilled in collaboration with Ritrama and Spilker.
OMET engineered the laminating module to process CLS film (Core Linerless Solution),
an innovative self-adhesive film produced by Ritrama, which is transformed into a single ply Linerless web ready to be applied on end-users products with a linerless labeller designed by ILTI.
Thanks to the finishing module developed by Spilker, the rolls of printed and laminated labels are prepared to be dispensed on the end-users product.
This revolutionary innovation brings more efficiency and sustainability to the printing process, in particular for materials, waste and logisitcs management.
That's why it is gathering strong interest among printers and brand owners from all over the world.
To know more about the project visit our booth and our partners' at Labelexpo 2019:
• Ritrama – Hall 3 Stand A15
• Spilker – Hall 4 Stand C58
• OMET – Hall 6 Stand C49-C53
OMET – Hall 6 – Stand C49-C53
---
Core Linerless Solutions®: la roadmap da seguire a Labelexpo
Etichette linerless: efficienza, sostenibilità e risparmio. OMET porta a Labelexpo 2019 i primi risultati del rivoluzionario progetto di stampa e converting delle etichette linerless realizzate con film autoadesivo Core Linerless Solutions® di Ritrama. Questa innovativa piattaforma tecnologica è stata in collaborazione con i partner Ritrama e Spilker.
OMET ha creato il gruppo di laminazione per il processo di lavorazione del materiale CLS (Core Linerless Solution), film autoadesivo prodotto da Ritrama che tramite un apposito processo di converting si trasforma in un laminato senza liner, pronto per essere applicato sui prodotti con un'etichettatrice linerless progettata da ILTI.
Grazie al modulo di finishing elaborato da Spilker, le bobine di materiale stampato e laminato vengono preparate per la dispensazione sul prodotto finale.
E' un'innovazione rivoluzionaria, che consente notevoli impatti positivi sia sull'efficienza sia sulla sostenibilità ambientale del processo di stampa, in particolare nella gestione dei materiali, degli scarti e del trasporto. Per questo sta riscuotendo un fortissimo interesse fra i principali stampatori e brand owner a livello globale.
Per saperne di più visita il nostro stand e quello dei partner a Labelexpo 2019:
• Ritrama – Hall 3 Stand A15
• Spilker – Hall 4 Stand C58
• OMET – Hall 6 Stand C49-C53
OMET – Hall 6 – Stand C49-C53