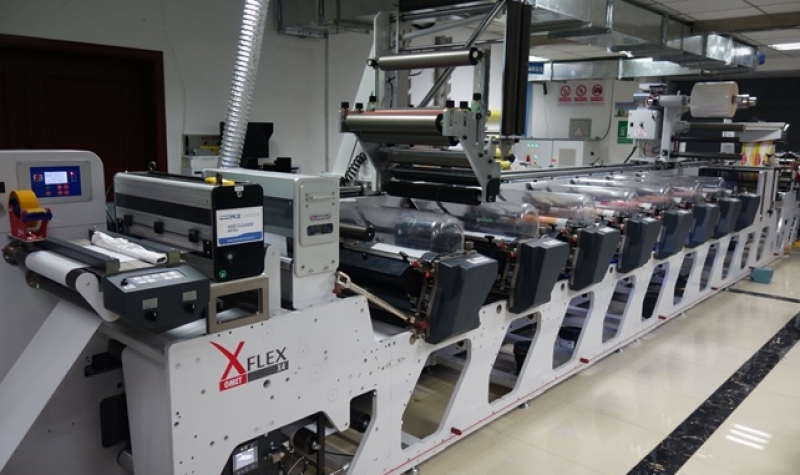 China's Top Print installs OMET XFlex X4
April 16, 2019
With digital, gravure, screen and offset printing capabilities in-house, Chengdu company Top Print I-Labels Technology has now added narrow web flexo in the form of an OMET XFlex X4 line. Part of a group of companies with headquarters in Singapore, the Chengdu facility, which opened in 2013, is complemented by plants in Suzhou and Chongqing, which overall employ 80 people.
General Manager at Chengdu, Mr Wang DaXun, has built a highly successful business with an enviably high profit margin that is as indicative of the specialised nature of the work he does as much as the high degree of competence involved, especially in the anti-counterfeiting sector.
Asked about his choice of an OMET press, Mr Wang commented: "Of all the leading brands, both Western and Chinese, we found that OMET performed the best on filmic substrates, which together with its 440mm web width, gives it clear advantage over the other presses and us over our competitors!" With a well-established user-base in China (now more than 70 machines installed) and a good name for after sales support from its base in Suzhou, OMET has built an enviable reputation amongst those Chinese label printers looking for quality.
Currently enjoying a high level of demand for its thermal transfer labels, which it is in the process of switching from gravure to flexo, Top Print is also growing its business in shrink sleeves for the liquor and food market sectors, and recently won an Award in the Asia-Pacific Japan region for this work. With the complex nature of many of its jobs, Top Print's new OMET is often limited to running speeds of around 70m/min, but on easier work, Mr Wang says it holds brilliant register at 190m/min and praises the press for its intuitive ease of operation. "Two or three days was all it took for our operators to learn how to run it commercially. It is a very functional machine with a high degree of efficiency with its inline capabilities," he noted.
The eight-colour X4 is squeezed into Top Print's compact production area – in fact, the intention had been to install a 10-colour, but there was insufficient floorspace in the 1200sqm facility that is split over four floors. But it is a high-spec press, with cold foil, twin die stations, web turn bars, and delam/relam facility, which will be able to work to full capacity in the company's new 6,000sqm factory that is planned.
With demand for labels growing fast, Mr Wang is looking at cooperative investment opportunities in western China. "The local Chengdu market needs more investment in new technology to satisfy the needs of the brand owners who are requesting ever more complex labels," he explained. It might have taken China a long time to awaken to branded goods, but they are catching up at the speed of light, and Mr Wang will need all of his 30 years' experience in the printing industry if he is going to grow the company fast enough. The new factory and his new OMET give him the perfect launchpad.
---
Top Print installa una OMET XFlex X4 in Cina
L'azienda cinese Top Print I-Labels Technology ha recentemente installato una OMET XFlex X4 a 8 colori, introducendo una macchina flexo a nastro stretto nel suo parco produttivo che già comprende digitale, rotocalco, serigrafia e offset. L'azienda fa parte di un gruppo con sede principale a Singapore e tre sedi produttive che complessivamente impiegano 80 persone: una a Chengdu, inaugurata nel 2013, una a Suzhou e una a Chongqing.
Mr. Wang DaXun, General Manager della sede di Chengdu, sta gestendo un business di grande successo con margini invidiabili, grazie all'alta specializzazione e all'alto livello di competenza richiesto specialmente nel settore dell'anti-contraffazione.
Riguardo la scelta della macchina OMET, Mr. Wang spiega che "fra tutti i brand leader del settore, occidentali o cinesi, OMET ha dimostrato di avere le migliori performance nella stampa su film. Con una larghezza di 440 mm offre un evidente vantaggio sia rispetto alle altre macchine sia a noi rispetto ai nostri concorrenti". OMET ha inoltre un'ottima reputazione in Cina, grazie alla rete clienti consolidata (oltre 70 macchine installate) e all'efficienza del servizio post-vendita fornito dalla sede OMET di Suzhou.
Top Print attualmente produce molte etichette a trasferimento termico e sta passando dalla stampa rotocalco alla flessografia. Sta crescendo anche nel campo delle shrink sleeves per liquori e settore alimentare: di recente ha ricevuto anche un premio a livello di regione Asia-Pacifico.
La natura complessa di molti lavori limita la velocità della nuova macchina OMET a circa 70 m/min, ma per lavori più semplici raggiunge i 190 m/min. Mr. Wang sottolinea in particolare l'intuitività e la facilità con cui possono essere eseguite le operazioni sulla macchina: "Due o tre giorni sono bastati ai nostri operatori per imparare a gestirla. E' una linea molto efficiente, con notevoli possibilità in linea".
La OMET X4 a 8 colori è stata inserita a fatica nell'area produttiva della Top Print per motivi di spazio. L'intenzione del cliente era di installare una 10 colori, ma l'area produttiva di 1200 m2 distribuiti su quattro piani non consentiva di trovare una posizione adatta. Quella acquistata dal cliente è comunque una macchina da stampa ad alta specializzazione, con cold foil, doppia stazione di fustellatura, delam/relam (stampa su adesivo) e sistema di ribaltamento banda. Sarà in grado di lavorare a pieno regime nel nuovo stabilimento di 6.000 mq che l'azienda ha in programma di aprire a breve.
Con la domanda di etichette in rapida crescita, Mr. Wang sta valutando opportunità di espandersi nella regione occidentale della Cina. "Nella zona di Chengdu c'è bisogno di investire in nuove tecnologie per soddisfare le esigenze delle aziende che chiedono etichette sempre più complesse", ha spiegato Mr. Wang. Forse la Cina ha impiegato molto tempo per apprezzare i prodotti di marca, ma sta recuperando alla velocità della luce: Mr Wang avrà bisogno di tutta la sua esperienza trentennale nel settore della stampa per far crescere la società allo stesso ritmo. La nuova sede produttiva e la nuova macchina OMET sono una perfetta rampa di lancio.