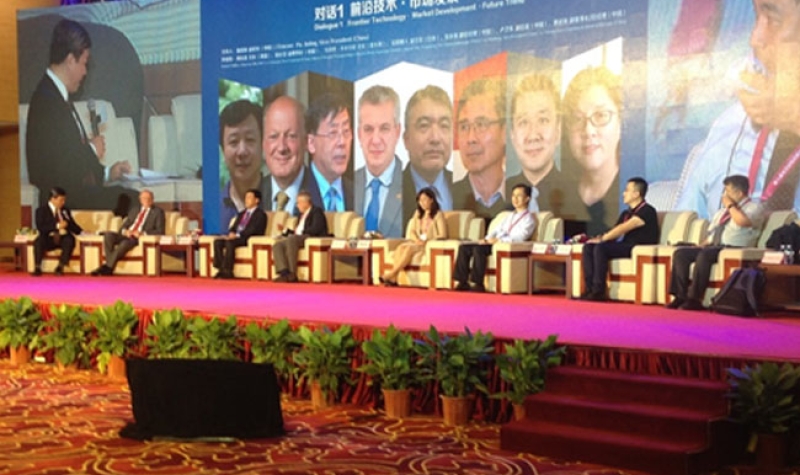 China Print 2017: The future of the Far East market
May 19, 2017
Sustainability, innovation and technology. These are the main guidelines for the development of the Far East market, emerging from "China Print 2017", the second biggest trade fair worldwide for the printing and converting sector. This event, organized by China Printing and Equipment Industry Association (PEIAC), is held every 4 years: OMET participated with the stand of its Chinese branch Omet Suzhou Mechanical Co. Ltd, in operation for more than 10 years in the Wujiang district, one of the fastest growing areas in China.
Marco Calcagni, OMET commercial director and president of ACIMGA (Italian Manufacturers Association of Machinery for the Graphic, Converting and Paper Industry), was invited as lecturer to the international convention "4th International Forum for the Development of Printing Industries, Forum- PI 2017" held on Monday 8th May, the day before the opening of the exhibition.
Print China Magazine and China Print Show Company organized this convention to support the global development of the printing industry, involving manufacturers from the entire Far East region and various associations, which shared information, data and forecasts about their specific markets. Pu Jialing, vice-president of the Beijing Institute of Graphic Communication, interviewed the speakers after their personal lecture.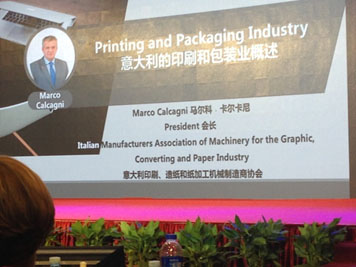 Mr. Calcagni comments: "Debating with spokesmen from other countries was essential to understand the market trends and have a general overview on the global printing industry, such as the leading role of publishing and packaging sectors in different regions, the tendency in printing technology evolution, as well as the widespread interest in digital printing. This convention, full of useful information, gave me the opportunity to rationalize export data and market trends. I had a very promising feeling resulting from the tendency of growth in a wide area, now open to integrate conventional technologies with others, like flexography".
The 9th May, China Print 2017 was inaugurated with an official ceremony attended by many authorities, politicians, players of the sector and media partners. Mr. Calcagni represented Italy and the associations considered as "partners" of the event.
Marco Calcagni continues: "The trade fair saw a great number of visitors and all the exhibitors were very satisfied with it. All the integrating events dedicated to specific subjects, like digitalization, environmental sustainability and even America markets trends, obtained great success and proved the opening tendency of China towards business, relations and promotion. Participating to China Print signified to understand where the market is heading and how to channel our offers in the Far East, a very important end market for countries like Italy, which is the second exporter of converting machinery in the world".
All the events had "the environmental sustainability" as common subject: the Chinese government recently launched a 5-year plan for the industry conversion towards sustainability. A radical change not easy to implement in this country, but also a big opportunity for the development of companies specialized in solutions against pollution, green machinery, processes and technologies as well as renewable sources of energy.
---

China Print 2017: dove va il mercato del Far East?
Ecosostenibilità, innovazione e tecnologia: ecco le grandi direttrici di sviluppo del mercato del Far East, protagoniste dell'appena conclusa "China Print 2017", seconda fiera mondiale dei settori stampa e converting per dimensioni, numero di espositori e metri quadri venduti. L'evento si tiene ogni 4 anni ed è organizzato dalla China Printing and Equipment Industry Association (PEIAC): OMET ha partecipato con uno stand della sua consociata Omet Suzhou Mechanical Co. Ltd, operativa dai primi anni 2000 a Wujiang, uno dei distretti urbani più in crescita dell'intera Cina.
Marco Calcagni, direttore commerciale OMET e presidente di Acimga (associazione costruttori italiani macchine per l'industria grafica e cartotecnica), una delle poche associazioni occidentali invitate a partecipare all'evento, è stato invitato come relatore al convegno internazionale "4th International Forum for the Development of Printing Industries, Forum- PI 2017" che si è tenuto l'8 maggio 2017, alla vigilia dell'apertura di China Print.
Il convegno, organizzato dal Print China Magazine e la China Print Show Company per favorire lo sviluppo a livello globale dell'industria del printing nel futuro, ha coinvolto costruttori di tutto il Far East e alcune associazioni che hanno condiviso informazioni, dati e proiezioni sui rispettivi mercati di origine. Ognuno ha relazionato singolarmente ed è stato poi intervistato da Pu Jialing, vice rettore del Beijing Institute of Graphic Communication. Le tavole rotonde sono state determinanti per far emergere i trend di mercato.
"E' stato molto interessante il confronto con gli altri Paesi – commenta Calcagni – per capire i trend della domanda e vedere, ad esempio, dove è ancora l'industria editoriale a trainare la stampa e dove ormai è il packaging, quali sono le tecnologie preferite nelle diverse aree e notare come tutti, comunque, siano interessati al digitale. Questo convegno, denso di informazioni utili, ha permesso di fare il punto su esportazione e trend di mercato. La sensazione è incoraggiante perché tratteggia una grande area in crescita e aperta a integrare le proprie tecnologie tradizionali con altre come la flexo, per esempio".
Il 9 maggio China Print 2017 è stata inaugurata con una cerimonia ufficiale cui erano presenti tutte le autorità, personaggi politici e del settore, media partner. Calcagni ha rappresentato l'Italia e le associazioni considerate "partner" dagli organizzatori dell'evento.
"La fiera ha visto un grande afflusso di visitatori – commenta Calcagni -, tutti gli espositori erano molto soddisfatti. Gli eventi collaterali dedicati a specifiche tematiche del settore, come il digitale, la sostenibilità ambientale e perfino le tendenze dei mercati americani, hanno ottenuto successo e testimoniato l'apertura della Cina al business, alle relazioni e alla promozione. Possiamo dire che partecipare a China Print significa davvero capire come va il mercato e come orientare le proprie proposte nel Far East, sbocco sempre più importante per Paesi come l'Italia che è il secondo esportatore al mondo di macchine per il converting".
Tema trasversale di tutti gli eventi è stata la sostenibilità ambientale: il governo cinese ha di recente varato un piano quinquennale per la conversione dell'industria verso l'ecosostenibilità. Un cambiamento non facile per questo Paese, ma che apre nuove e importanti occasioni di sviluppo alle aziende che offrono soluzioni ai problemi di inquinamento, macchinari, processi e tecnologie verdi e fonti energetiche rinnovabili.