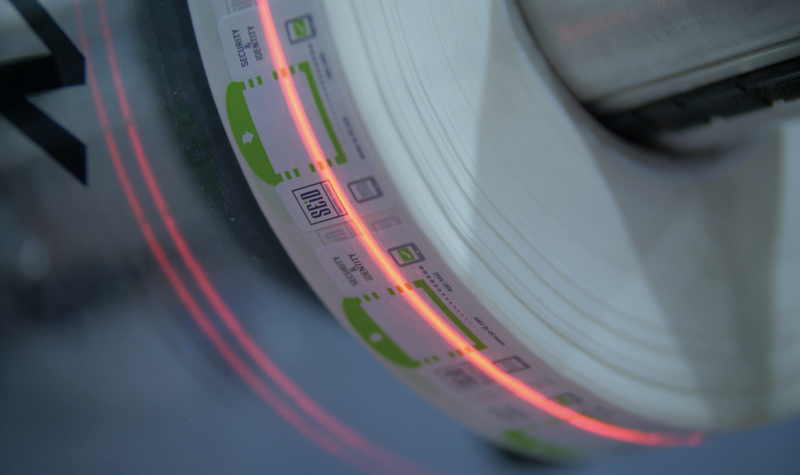 Carlucci, an excellence built upon innovation and product identity
January 17, 2020
Carlucci has been responsible to write the history of pharmaceutical labels and today stands out for its innovative anti-counterfeiting and traceability solutions. For more than 5 decades in business, this company has been able to dominate market changes, thanks to its ability to innovate by being committed to its distinctive skills: brand value, enhancement of human resources, accuracy of production and quality procedures. Fernando Staino Giocondi, Carlucci CEO, in this interview talks about his journey with the label business, which chose OMET as its partner by recently installing two XFlex X6 with screen printing unit.
Mr. Staino, tell us a bit about how Carlucci company was established?
Since 1969, our history is deeply rooted in the territory, when the founder Mario Carlucci started the business by making the best use of the "Cassa del Mezzogiorno" funds. He was a visionary man, able to anticipate the potential of the Italian pharmaceutical industry that grew exponentially in the following years. Carlucci's vocation for this market, and its high quality standards and procedures in production, come from there.
What were the main factors which attributed to Carlucci's growth, and its most important results?
Until 2000s, Carlucci worked almost exclusively in the pharmaceutical sector. At the beginning of this millennium my family entered the company with its great experience in pharmaceutical optical labels and self-adhesive supports with automatic reading codes, still used today on pharmaceutical products and drugs. In this context, the expansion of our business is to be identified with the product development and the consequent manufacturing of the optical labels on behalf of the IPZS (Istituto Poligrafico e Zecca dello Stato). The industry, which already had formed strong relationships with our company, found a partner ready to support the new market dynamics by respecting the supply standards of the pharma world: procedures, processes, departments like Quality Assurance and Quality Control are only a few of the factors that made Carlucci one of the most appreciated companies of the sector, operating with absolute excellence. The most recent among Carlucci's innovations is ability to adapt its processes according to the target market requirements. Today our company, which is diversifying its offer of printing techniques, is able to adapt its management and production processes upon the needs of its customers. Each supply relationship is has its own unique demands and Carlucci perfectly adapts with to these demands with its ability to be flexible in its approach and processes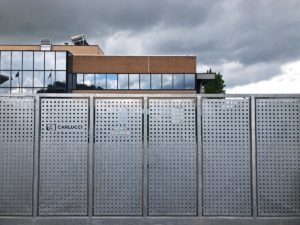 How did you move to acquire new customers in other sectors, what did you focus on?
The dismantling of the former IPZS department, which took place after its decision to internalize the label production, gave way to an industrial conversion process of 5 lines which allowed Carlucci to enter other markets with cutting-edge technologies. The purchase of the OMET X6 430 is part of this process. We entered the home & personal care, food & beverage and anti-counterfeiting markets, implementing a business development strategy that ranged on two fronts: the first is customer retention – a strategy which allowed us to consolidate relations with customers, thanks to new or ongoing projects; the second is the expansion of the product portfolio with consequent increase of our offer.
Which ones of your new products have been most successful?
We have diversified into special applications, such as, RFID, thermo-chromic or traceability and anti-counterfeiting labels. They are all produced with highly specialized manufacturing processes adhering to strict quality control and inspection requirements. The key innovations of our solutions include the track & trace labels, linked to a management software able of identifying and tracking the products by unique, univocal and unrepeatable codes. For example, the wine bottles with our labels, equipped with a QR Code that numbers and identifies them, can be traced over the entire supply chain, geolocalized and protected from illegal activities such as counterfeiting, duplication or unauthorized selling. In this market we find great satisfactions from our customers who enjoy a positive experience from two points of view: they can offer an augmented reality experience to their customers through the QR code (taking advantage from consumer engagement strategies and targeted marketing actions); and they can control their products by discovering scams along the supply chain. We offer customizable supports, (Qr code, barcode, Rfid antenna) according to the reading instrument that the customer wants to use downstream. For our solutions which require highest standards of print quality in addition to variable data printing, we use the OMET lines to produce the main label (the upper variable part is printed in digital technology).
Your collaboration with OMET has lasted for many years. What are the reasons for your choice to invest in OMET technology?
We purchased two machines because our runs have increased and OMET offers superior quality and stability. We were already using OMET machines to produce conventional labels for the pharmaceutical market. With the XFLEX X6 430 we entered strongly on an international brand of the home & personal care market, exploiting the whole web width with high speed and extraordinary stability. It is because of these factors, we have been able to double our productivity on the OMET lines
Passion for innovation and attention to people: these values coincide with OMET's ones. Did this coincidence influence the choice of us as a supplier?
Yes. When we think about OMET we think about Ethics, professionalism, closeness, and common values. We are a deeply rooted family company and we have seen a human touch in OMET, not just formalities; they pay attention to our production requirements, which is a priority for us.
Does your turnover come mainly from exports or from Italy?
80-85% of revenues come from Italy and the rest from exports.
What about your future investments?
Smart labels with variable data are an absolutely growing sector because they increase customer' loyalty and consumption. Many of our competitors extend their business to machinery resale strategies to the packaging sector: we won't, because we wish to develop the self-adhesive label business without losing our know-how. I believe it's our identity and we want to keep it as our core business. We focus on the product identity, because the label is the main vehicle for the brand value.
Sustainability is a burning issue today: in your opinion, how will it influence the market in the future and how are you facing it?
Sustainability – about the process, the service or the raw material – involves higher costs, but represents a very strong competitive advantage for those who manage to find the right way to deal with it. We manage it well in the processes, in job start-ups, in the separation of the glassine for the recycling of the liners. We also print paper with recycled fiber, and we see that when we talk about sustainability, the customer's interest in our solutions rises.
Our constant commitment is concentrated on products' enhancement, through continuous innovations aimed at sustainability.
---
Carlucci, l'eccellenza costruita sull'innovazione e sull'identità di prodotto
Ha fatto la storia delle etichette nel settore farmaceutico e oggi si distingue per le proposte innovative in materia di anticontraffazione e tracciabilità. In 50 anni di attività, la Carlucci di Pomezia ha saputo dominare i cambiamenti del mercato grazie alla capacità di innovare e, nel contempo, di restare fedele alle proprie competenze distintive: il valore del marchio, la valorizzazione delle risorse umane, il rigore nelle procedure di produzione e di qualità. Fernando Staino Giocondi, CEO dell'azienda, in questa intervista racconta un'eccellenza del settore etichette, che ha scelto OMET come partner installando di recente due XFlex X6 con gruppo serigrafico.
Dott. Staino, come nasce l'azienda Carlucci?
La storia della Carlucci è profondamente radicata al territorio, sin dal 1969 quando il fondatore Mario Carlucci avviò l'azienda utilizzando al meglio l'apertura della Cassa del Mezzogiorno. Fu un visionario, perché anticipò la localizzazione dell'industria farmaceutica che negli anni seguenti crebbe in maniera esponenziale. Qui troviamo la vocazione dell'azienda verso questo mercato e l'impostazione del lavoro su standard qualitativi e procedure di alto livello.
Quali sono le principali tappe dello sviluppo Carlucci nella storia, e quali i suoi risultati più importanti?
Fino al 2000 la Carlucci ha lavorato quasi esclusivamente nel settore farmaceutico. All'inizio di questo millennio è entrata nella società la mia famiglia che, fin dalla fine degli anni '80, aveva acquisito una grande esperienza con la progettazione e realizzazione del Bollino ottico farmaceutico e con l'impiego dei codici a lettura automatica su supporti autoadesivi che oggi ancora vediamo sui prodotti in commercio a partire dai farmaci. In questo quadro riteniamo che lo sviluppo della nostra fabbrica sia da identificare proprio nel product development e nella conseguente manifattura del Bollino per conto dell'IPZS (Istituto Poligrafico e Zecca dello Stato). L'industria, con cui la fabbrica aveva già rapporti consolidati, si ritrovò ad avere un interlocutore che era già pronto a supportare le dinamiche di mercato rispettando i canoni di fornitura del mondo pharma: procedure, processi, reparti quali il QA ed il QC sono solo alcuni aspetti che rendono oggi la Carlucci una delle realtà più riconosciute del settore e che le consentono di operare in termini di assoluta eccellenza. La più recente delle innovazioni in Carlucci invece, è sicuramente la modulazione dei processi a seconda del mercato di destinazione. Oggi la fabbrica, volendo anche diversificare l'offerta relativamente alle tecniche di stampa, si trova nella posizione di poter adattare i processi gestionali e produttivi sulla base delle esigenze del proprio cliente. Ogni rapporto di fornitura si differenzia per una determinata prerogativa e la Carlucci risponde incarnando alla perfezione il concetto di flessibilità.
Come vi siete mossi per acquisire nuovi clienti in altri settori, su cosa avete puntato?
La dismissione dell'ex reparto IPZS, avvenuta dopo la decisione da parte dello stesso di internalizzare la produzione delle etichette, ha dato il via ad un processo di riconversione industriale di 5 linee che ha permesso alla Carlucci di spingersi in altri mercati con nuove tecnologie all'avanguardia. L'acquisto della OMET X6 430 rientra proprio in quest'ottica. Ci siamo affacciati su mercati l'home & personal care, il food&beverage e l'anticontraffazione, attuando una politica di business development che spaziava su due fronti: il primo è la customer retention – una politica che ci ha permesso di consolidare i rapporti con i clienti, grazie a nuovi progetti o continuazioni di rapporto; il secondo è l'allargamento del portafoglio prodotti con consguente ampliamento dell'offerta..
Quali nuovi prodotti hanno avuto più successo?
Abbiamo aperto alle applicazioni speciali, come ad es. RFID, etichette termo cromiche o di tracciabilità ed anticontraffazione, tutti prodotti con processi manifatturieri estremamente specializzati e gestiti anche per quanto riguarda gli aspetti di controllo e bonifica. Fra i punti qualificanti della nostra attività emergono le etichette track&trace, collegate tramite codici unici, univoci e irripetibili ad un software gestionale capace di identificare e tracciare i prodotti su cui vengono applicate le etichette. Ad esempio le bottiglie di vino con le nostre etichette, munite di un QR Code che le numera e le identifica, si può tracciare l'intera filiera, geolocalizzarle e proteggerle da attività illecite quali la contraffazione, la duplicazione o lo smercio non autorizzato. In questo campo riscontriamo importanti soddisfazioni da parte dei clienti che godono di un risposte positive soprattutto sotto due punti di vista: possono offrire al consumatore un'esperienza di realtà aumentata usando il QR code (es. politiche di consumer engagement, azioni di marketing mirate); e possono controllare i propri prodotti scoprendo, come è capitato, truffe lungo la filiera. Offriamo supporti assolutamente customizzabili, (Qr code, barcode, antenna Rfid) a seconda dello strumento di lettura che il cliente vuole usare a valle. Per l'ultima tiratura a dati variabili abbiamo utilizzato anche la linea OMET che ha prodotto l'etichetta sottostante, mentre la parte superiore, variabile, l'abbiamo stampata in digitale.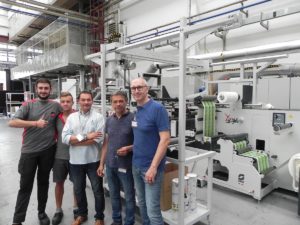 La vostra collaborazione con OMET dura da molti anni. Quali sono le ragioni della vostra scelta di investire nella tecnologia OMET?
Abbiamo acquistato due macchine perché i nostri lotti sono aumentati e OMET offre una stabilità superiore sul mercato. Copre per noi la produzione di etichette convenzionali per il mercato farmaceutico, e soprattutto con la XFLEX X6 430 siamo entrati in modo forte su un brand internazionale nel mercato dell'home&personal care, sfruttando tutta la fascia, con velocità sostenute e una stabilità straordinaria. Ecco perché abbiamo deciso di raddoppiare la produttività sulle linee OMET.
Passione per l'innovazione e attenzione alle persone: questi valori coincidono con quelli che da sempre caratterizzano OMET. Ha influito questa coincidenza nella scelta del fornitore?
Sì. Quando pensiamo a OMET pensiamo a professionalità, vicinanza, e anche ad un linguaggio comune. Noi siamo un'azienda profondamente familiare e abbiamo visto in OMET il contatto umano, non solo formalità; abbiamo visto che si premia la necessità produttiva, che è per noi prioritaria.
Il vostro fatturato proviene prevalentemente dall'estero o dall'Italia?
Dall'Italia proviene l'80-85% e il resto è estero.
In futuro su cosa prevedete di investire?
Le etichette intelligenti, a dati variabili, sono un settore assolutamente in crescita perché aumentano fidelizzazione e consumi. Molti competitor allargano anche a politiche di rivendita macchinari o al settore del packaging. Noi no, vogliamo sviluppare il mercato delle etichette autoadesive senza disperdere il nostro know how, ritengo che sia la nostra identità e quindi vogliamo mantenerla. Puntiamo sull'identità dei prodotti, perché l'etichetta è il veicolo principe per il valore di ogni marchio.
Si parla sempre più di sostenibilità: secondo lei, questo valore come influenzerà il mercato in futuro e come lo state affrontando?
La sostenibilità – sul processo, sul servizio o sulla materia prima – comporta dei costi più alti, ma rappresenta un vantaggio competitivo molto forte per chi riesce a trovare il meccanismo giusto. Noi riusciamo a gestirlo bene nel processo, sugli avviamenti, sulla separazione della glassina per il riciclo dei liner. Stampiamo anche carta con fibra riciclata e vediamo che quando si tocca questo tema, la sensibilità del cliente si alza.
Con questo nostro costante impegno intendiamo contribuire fattivamente alla valorizzazione del prodotto con l'apporto di continue innovazioni finalizzate alla sostenibilità.