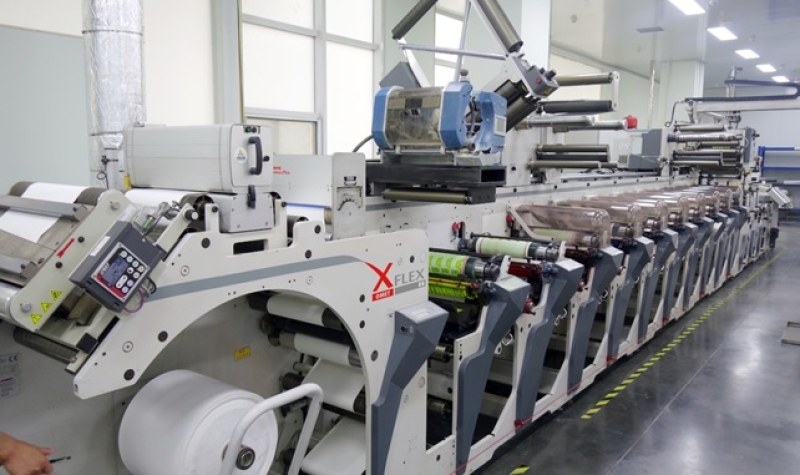 Beijing Deji installs second OMET X6
March 4, 2019
Six years after installing its first OMET XFlex X6, one of China's leading privately-owned label converters, Beijing Deji Informational Technology Co Ltd has added a second almost identical press at its facility in the Tong Zhou District, near to China's capital city.  Both presses are ten-colour machines with full UV curing and a 430mm web width.  Other capabilities include screen, hot and cold foil, delam/relam, web turn bars and twin die cutting stations.  Since being fully commissioned, the presses have continued to add at least 20% to the company's productivity year on year, according to owner Mr Yu DaYang.
Established initially in 2004 in the Chang Ping zone on the northern side of Beijing, the company's early purchases were Labelmen rotary letterpress lines for the production of automatic labelling labels.  As demand grew and diversified into new markets, Mr Yu decided he needed to research what the new flexo presses had to offer and undertook extensive print trials of his work on the leading manufacturers' machines.  " I chose OMET because the print trial went well, and the quality was very good.  We needed a machine quickly and they were able to deliver in eight weeks, which with a competitive price, made the choice easy."  He was also influenced by the fact that OMET has a good reputation in China, with more than 70 users, and the Italian manufacturer has a well-established sales and service facility in Suzhou.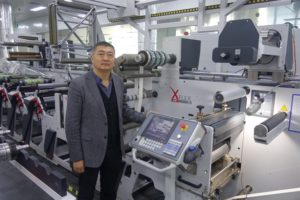 Today, much of Beijing Deji's work is for the white wine trade and in the dairy industry, especially milk labels, and the two OMET lines are kept busy working 20-hour days Monday to Saturday.  It was this rapid growth in business that highlighted the need for a second press, and after visiting Italy for more trials, the order was agreed and signed at Labelexpo Europe 2017 in Brussels, with the press being installed in August 2018.  Praising the X6 lines for their ease of make-ready, Mr Yu said that his run lengths vary between 3,000 and 100,000 linear metres, with many of the jobs run off at around 75m/min owing to the complexity of the label.  "Significantly, the OMETS take only half the time of their competitors to make ready, which means that other companies cannot compete with us on the work we produce.  The X6 is also especially good at printing on lightweight unsupported films and has IML capability.  Best of all, it does it all inline in one pass," he added.
As a private company, Beijing Deji is able to steer its own course for development, and Mr Yu has ambitious plans for growth.  In 2018 the company will generate sales of Yuan 50m, but with the new XFlex press now fully operational, he is aiming at Yuan 80m for 2019, and is fully confident of achieving it with the added-value capabilities of his OMET lines.  "Very few of our competitors have the technical competence to produce the high-end labels that we thrive on here." 
Questioned on the growth and development of digital printing, he replied: "We have digital capacity already and it accounts for around 40% of our business, while along with the operation of our new factory in south China, there'll be greater growth."  Believing the longer run lengths and lower demand for versioning in China, compared with the West, more alternatives can mitigate against digital print technology in its current form, but the new generation will activate digital printing with some innovative packaging applications, being able to create a new business model rather than a traditional factory model. Mr Yu is however keeping an eye on the proliferation of digital/flexo hybrid lines, which is the future of companies like Deji.
Despite general opinion to the contrary, Mr Yu says China takes its environmental responsibilities very seriously, especially in the narrow web print sector, and he knows that only ongoing investment in the latest technology will be good enough to meet the stricter targets.  This is part of his rationale for targeting the top end of the label market, where the margins are better, and provide the funds for air purification systems and exhaust emission control.  "Quality in – quality out, makes for a healthy and successful business, and those who deal only in price cutting cannot make the money needed for the latest technology," he added, commenting that the company is currently attracting a lot of business through online tendering, which unlike an auction with many bidders, is limited to targets with high quality requirements rather than price only.
With the China's burgeoning growth in population and income comes increased brand awareness on packaging diversification as well as more precise service that places huge pressure on the packaging sector of the printing industry.  Independent companies that can adopt more freedom of thought and action, like Beijing Deji, will be instrumental in fulfilling this demand.  With plans afoot for another OMET – this time an XFlex X4, Mr Yu and his staff of 60 can look forward to a very bright future indeed!
---
Beijing Deji installa la sua seconda OMET X6
Sei anni dopo aver installato la sua prima OMET XFlex X6, la Beijing Deji Informational Technology Co Ltd – uno dei principali converter privati del settore etichette in Cina – ha acquistato una seconda macchina per la sede del distretto di Tong Zhou, vicino a Pechino. Entrambe le linee sono 430 mm a dieci colori con polimerizzazione UV completa. Altre funzionalità includono gruppi per serigrafia, hot foil e cold foil, delam/relam (stampa su adesivo), sistema di ribaltamento banda e doppia stazione di fustellatura. Secondo il proprietario Yu DaYang, da quando sono state installate, le linee hanno aggiunto almeno il 20% alla produttività dell'azienda, anno dopo anno.
Fondata nel 2004 nella zona di Chang Ping, a Nord di Pechino, la società si è inizialmente dotata di linee rotative tipografiche Labelmen per la produzione di etichette automatiche. Con l'aumento e la diversificazione della domanda, entrando in nuovi mercati, Yu ha iniziato a valutare le prestazioni delle nuove macchine da stampa flexo ed effettuato numerose prove di stampa dei suoi lavori con le linee dei principali produttori sul mercato. "Ho scelto OMET perché la prova di stampa è stata perfetta e la qualità molto buona. Avevamo bisogno di una macchina in fretta, e sono stati in grado di consegnare in otto settimane, con un prezzo competitivo: hanno reso la scelta facile". Ha influito anche la buona reputazione locale della OMET, che vanta in Cina oltre 70 clienti e una sede commerciale e per l'assistenza a Suzhou.
Oggi, gran parte del lavoro della Beijing Deji è nei settori del commercio del vino bianco e dell'industria casearia, in particolare per le etichette del latte. Le due linee OMET lavorano per 20 ore al giorno dal lunedì al sabato. La rapida crescita del business ha evidenziato la necessità di una seconda macchina da stampa: dopo aver visitato la sede italiana per effettuare ulteriori prove di stampa, l'ordine è stato firmato a Labelexpo Europe 2017 a Bruxelles, con installazione della linea nell'agosto 2018. Complimentandosi per la facilità di preparazione delle X6, Mr. Yu ha dichiarato che la maggior parte dei lavori vengono eseguiti su lunghezze tra i 3.000 ei 100.000 metri lineari, a circa 75m/min a causa della complessità delle etichette. "Per preparare le linee OMET serve la metà del tempo rispetto alle macchine dei loro concorrenti, il che significa che non abbiamo rivali per questo tipo di lavori. La X6 è particolarmente adatta alla stampa su film leggeri non supportati e consente la stampa In Mould Label. Soprattutto, lo fa in linea e in un unico passaggio", ha aggiunto Yu.
Come azienda privata, Beijing Deji può decidere come orientare il proprio sviluppo e il signor Yu ha ambiziosi piani di crescita. Nel 2018 la società avrà un fatturato di 50m Yuan, ma con la nuova OMET XFlex X6, ormai pienamente operativa, Mr. Yu punta a raggiungere 80m Yuan nel 2019: ha piena fiducia nel conseguire l'obiettivo grazie alle funzionalità a valore aggiunto delle linee OMET. "Pochissimi nostri concorrenti hanno la competenza tecnica per produrre etichette di fascia alta come quelle che ci permettono di avere successo".
Sulla crescita e lo sviluppo della stampa digitale, Mr. Yu ha dichiarato: "Lavoriamo già sul digitale che rappresenta circa il 40% della nostra attività. Con la messa in funzione del nostro nuovo stabilimento nel Sud della Cina, ci sarà una crescita di questo business". Considerando le tirature più lunghe e la minore domanda di versioning in Cina, rispetto all'Occidente, ci sono ancora molte alternative alla tecnologia digitale attuale. La prossima generazione sicuramente arriverà alla stampa digitale grazie ad alcune innovative applicazioni di packaging, creando un nuovo modello di business invece di quello della fabbrica tradizionale. Il signor Yu sta comunque tenendo d'occhio la diffusione delle delle linee ibride digitali/flexo, che rappresentano il futuro per aziende come la Deji.
Nonostante l'opinione pubblica creda il contrario, Mr. Yu afferma che la Cina prende molto sul serio le proprie responsabilità ambientali. E' sua convinzione che specialmente nel settore della stampa a nastro stretto, solo investimenti continui nelle nuove tecnologie consentiranno di rispondere ai target sempre più vincolanti in questo campo. Questa logica è alla base della decisione di puntare alla fascia più alta del mercato delle etichette, dove i margini sono migliori e permettono di affrontare le spese per sistemi di purificazione dell'aria e controllo delle emissioni. "Quality in – quality out per un business sano e di successo: chi si limita a tagliare i prezzi non può avere fondi per le tecnologie più recenti" ha aggiunto Mr. Yu, riferendo che la società sta accrescendo il proprio business attraverso i tender online che, a differenza delle aste con molti offerenti, sono riservate a target con requisiti di alta qualità e non si basano solo sul prezzo.
Con la rapida crescita della popolazione e del reddito in Cina, sta aumentando l'attenzione ai marchi, alla diversificazione degli imballaggi e al servizio: ne deriva una forte pressione sul settore del packaging e della stampa. Le società private, che hanno maggiore libertà di pensiero e di azione, come la Beijing Deji, giocheranno un ruolo determinante in questo contesto. Nei loro piani c'è un'altra linea OMET – questa volta una OMET XFlex X4 – Mr. Yu e il suo staff di 60 persone possono aspettarsi sicuramente un brillante futuro.