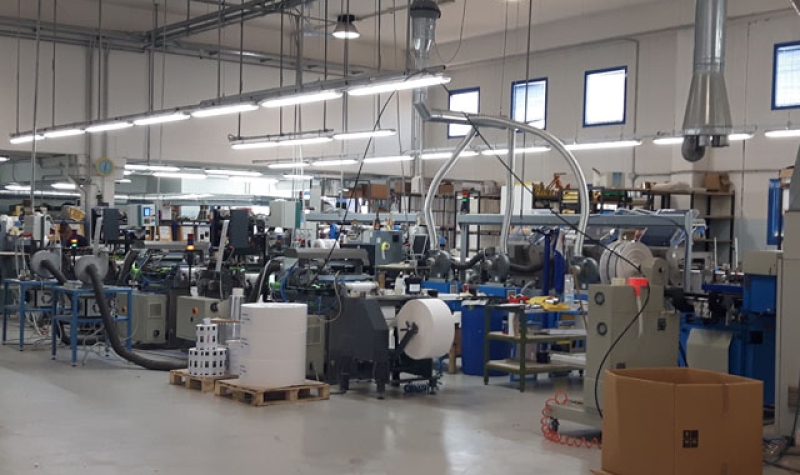 Perruccio S.r.l. to add efficiency and productivity with XFlex X4 370
September 21, 2016
Perruccio S.r.l. is the largest label factory in Puglia with its own fleet of machines, comprising of many different printing technologies such as silk screen, letter-press, offset and digital.
The Apulian company has decided to introduce a new flexographic printing line into their fleet of machines, in order to widen their productive range and provide the most complete  service, with all kind of printing technologies.
The search for a flexographic printing machine induced Perruccio S.r.l. to identify OMET as a potential supplier, since it is one of the international leaders in the production of packaging printing presses.
In very short time, Massimo Perruccio, Managing Director of Perruccio S.r.l., and OMET's Sales Manager Enrico Gandolfi have reached a deal for the purchase of a XFlex X4 370 with 8 UV colours, featuring cold foil, turning bar system and Delam-Relam, for printing on adhesive.
This line is capable of printing on different types of materials, from supported paper to unsupported plastic film, as it is equipped with chill drums cooling system. Thanks to the automatic adjustment and control through the patented Omet Vision-1 system, together with a series of additional automatic controls, the XFlex X4 370 guarantees the best printing quality and the least waste during daily production.
Many are the pre-conditions for the two companies to establish and maintain a long-lasting and durable collaboration. Perruccio's company will undoubtedly grow from strength to strength in years to come thanks to its positive dynamism, the same quality shown by its owner Massimo.
We wish Perruccio S.r.l. all the best in continuing to go full speed ahead, as they have done in most recent years, for a long time to come.
---
Avviata con successo la XFlex X4 370 flessografica presso la Perruccio S.r.l.
La Perruccio S.r.l. è il più grosso etichettificio in Puglia e nel proprio parco macchine include differenti tecnologie di stampa, tra cui serigrafia, tipografia, offset e digitale.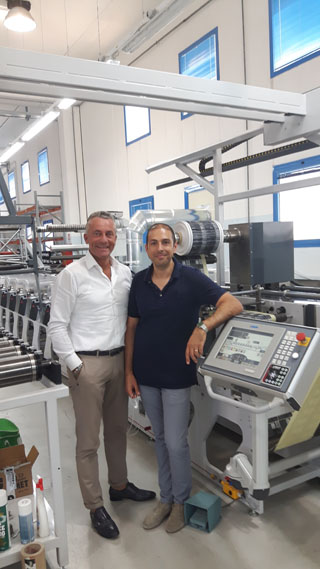 Per completare l'offerta e fornire alla propria clientela un servizio di stampa che comprendesse tutte le tecnologie, l'azienda pugliese ha preso la decisione di introdurre nel proprio parco macchine una nuova linea flessografica.
La ricerca di un macchina da stampa flessografica ha portato la Perruccio S.r.l. a selezionare come potenziale fornitore l'azienda italiana OMET, riconosciuta a livello internazionale come leader nella produzione di macchine da stampa per etichette e packaging flessibile.
In breve tempo l'amministratore delegato sig. Massimo Perruccio ed Enrico Gandolfi, responsabile vendite OMET del mercato italiano, hanno trovato l'accordo per l'acquisto di una linea XFlex X4 370 ad 8 colori UV, con lamina a freddo, barra di ribaltamento carta e stampa su adesivo.
La linea è in grado di stampare su diversi tipi di materiali, siano essi cartacei con supporto oppure film plastici mono-supportati, essendo la linea dotata di sistema di raffreddamento. Grazie al dispositivo di messa a registro e relativo controllo con sistema brevettato Omet Vision-1, unitamente ad un'altra serie di controlli automatizzati, la XFlex X4 370 garantisce la massima qualità di stampa ed il minimo scarto.
I presupposti per una lunga e duratura collaborazione tra le due aziende ci sono tutti, vista anche la dinamicità della Perruccio stessa che con Massimo, il suo titolare, non potrà far altro che crescere in questi anni a venire.
Auguriamo alla Perruccio di proseguire a vele spiegate, come sta facendo in questo ultimi anni, per lungo tempo ancora.
Nella foto a lato, Enrico Gandolfi sulla sinistra a fianco di Massimo Perruccio.