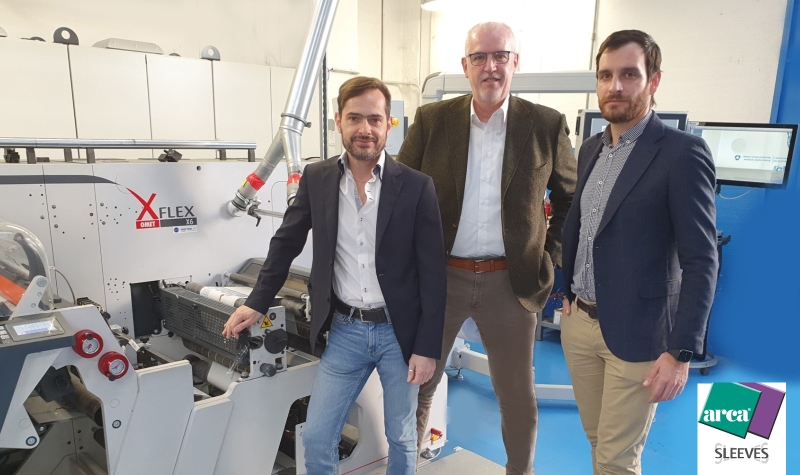 Arca Sleeves, pioneers of the future
April 30, 2020
Presenting itself as a powerful marketing tool, in addition with a safe protective wrapping, "Shrink Sleeves" have been widely accepted by brands resulting in its steady growth in the last few years. Identifying this as a great opportunity, the 70 years old Arca Etichette Group has entered into supplying high quality, sustainable shrink sleeves via its newly formed subsidiary Arca Sleeves. "We offer our customers with highly customizable shrink sleeve solutions capable to adapt to any format or application with a key focus on design expertise, material know how, high quality printing and quick on time delivery!". The company management talks about its success mantra in this interview.
What is the vision of launching Arca Sleeves and what have been some key milestones in the journey so far?
Arca Sleeves was launched in 2015 coming out of our successfully established Arca Group which has been in the market since 1948. The vision of the company is to offer "shrink sleeves" labels to the market in addition to our current offering of self-adhesive labels, multipage and labelling systems which we have a strong reputation of serving the market for over 70 years!
In the early days, printing of shrink material, was done in Arca Etichette facilities while post press operations such as tubing, cutting and packaging was done by Arca Sleeves. Since then the company, Arca Sleeves, backed by excellent response from the market, has quickly risen to become an independent, well established specialized supplier of shrink sleeves labels in the market! It was this early success that led to our decision to install the first state of the art, OMET X6 430 printing press in 2017 and bring the complete manufacturing solution under one company, allowing us to supply materials with better efficiency and effectiveness to our prestigious list of clients.
What was the key motivator which led to the decision of brining "All operations under one roof"? Was it driven by strategy or economic reasons?
Our strategy for growth was to supply our customers with the topmost quality shrink sleeve labels in the quickest possible time, which required a direct control of all production phases. It was this strategic choice which led us to bring all operations of pre-press, press and post press operations under one roof. Even though we are a completely independent unit now, we count on the "support" of the parent company for any exceptional request of our customers or when we are full in capacity due to peak demand.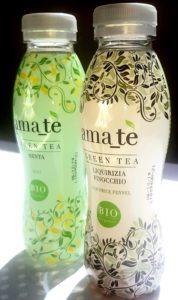 The success of your company largely depends on the growing demand for shrink sleeve labels. What are the reasons for this growth in demand?
The shrink sleeve labels have the following advantages
1. Allows greater coverage of the product's surface (bottles, jars, etc)
2. Has wider space available for texts and graphics, especially for irregular shapes
3. They are a great marketing tool or innovative marketing activities!
In addition to the above, the shrink sleeve also provides an added security features, that of a seal. Whether the sleeves are printed or neutral, covering the whole product or just the cap, shrink sleeves always guarantee the originality of the content from tampering and hence raises the safety image of the product.
Shrink Sleeves are now used by all major brands for their products. What do you think is the key factor of success for this once "Niche Product"?
Let's say that, like all innovations in the packaging sector, even the shrink sleeve needed 'someone' who believed in developing and spreading this solution. The manufacturing companies, their marketing, the market in general, did the rest, bringing the sleeve from a "niche product" to mass consumption.
However, sleeves are offered by many competitors, how has Arca Sleeves established itself as a unique player?
Assuming that, by now, quality is for every customer is a 'sine qua non' condition in an increasingly demanding market, we entrust our growth to "specialization". Our focus, and the core business of Arca Sleeve is the exclusive production of shrink sleeves. We manage hundreds of new projects every year and we stand out for the speed and the expertise in the design phase, which is the most important phase for the success of any industrial supply of 'sleeves'. In a matter of a few days, we can bring to our customers' desks a fully finished industrial samples, printed in digital, hence reducing the time to market for any new product idea or innovation.
Another competitive advantage for us is the short lead-time for deliveries, thanks to the great expertise and flexibility of our team, composed by people who believe in our company, because of whom, all these exceptional results are possible.
Which product is most requested by your customers and why?
Let's just say that shrink sleeve is our "specific product"! We offer our customers with the flexibility to select any kind of graphic and finishing available on the market. Customers can choose from a variety of options such as metallized inks, screen inks, colored foils, thick, opaque or iridescent paints, etc., which could either be used individually or in combination as desired by the objectives of the customer.
In terms of production, what are your main production equipment?
In terms of capacity, our group, Arca Etichette has more than 4 "traditional" printing machines and 2 "digital" printing. Having said that, For Arca Sleeves we wanted to purchase the next generation highly automated printing press and hence in August 2019, we purchased the 10 color OMET XFLEX X6 UV-LED press.
As confirmed by OMET, Arca Sleeves was the first company in Italy to invest in ink drying technology with "LED" in the shrink sleeves sector and this makes us proud, proving our commitment towards "sustainability" and the environment.
In addition to the OMET press, we will also be installing the second tubing line in the coming months, which too is the state of the art technology equipment available today amongst the manufacturers of such types of machines.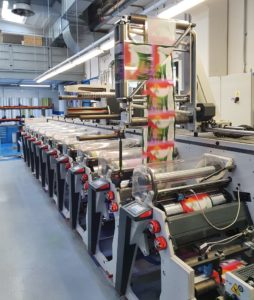 Are you satisfied with your choice of OMET machines in terms of performances and service?
Our evaluation and choice of the machine has been very thoughtful considering a lot of key parameters such as machine innovations, wastage parameters, build quality and most important supplier reliability. We have already seen improvements both in terms of production and waste reduction, since the time we have installed the new OMET machine.
What growth prospects do you see with OMET machines in the coming years?
Growth has always been the focus area of Arca Sleeves. It's for this reason we have recently invested heavily on doubling our factory floor space, added new technical and commercial resources and also new management system. We plan to maximize the return on these investments in 2020 and 2021. However we are keen to invest in another machine, probably with a larger width within our expansion plan of 2021-2022.
What market developments do you foresee in the near future? How are your investments oriented?
We can say that today Arca Sleeves excellence lies in the "Wine & Beverage" sector and hence in the future we wish to develop the Cosmetic, Chemical and Detergency/Hygiene sectors.
After a long series of important investments in equipment and structure, we have initiated an interal project aimed at implementing training and specialization of our staff to enable us to grow in this direction.
Sustainability and environment are considered as one of the most important trends in the packaging industry now. Are you willing to follow them?
Obviously yes, as previously mentioned and demonstrated, we are already moving in this direction and will continue to invest further to enhance our solutions which are innovative and sustainable for the environment. It's for this reason we regularly collaborate with our main suppliers and assist them in testing and evaluating new raw materials.
How are you positioned on the Italian market and what growth prospects do you see in the short term?
The Italian market currently consists of 99% of our target customers. While it's difficult to assess our market share, we can surely say if the customer is looking for a "100% specialized" supplier of shrink sleeves, exclusively working in sleeves sector and is capable to handle the complete workflow from design to production, with a large production capacity and fast delivery, we are one of the very few ones with such capabilities.
---
Arca Sleeves, pionieri nel settore del futuro

Potente strumento di marketing oltre che involucro protettivo, le etichette "sleeve termoretraibili" sono un prodotto che il mercato apprezza in modo particolare da alcuni anni a questa parte. Un trend che l'affermato Gruppo Arca Etichette ha saputo cogliere al momento giusto, dedicando un'azienda specifica a questa nicchia. Parliamo di Arca Sleeves, che produce "sleeve termoretraibili" di qualsiasi formato, e per qualsiasi applicazione, con un'attenzione particolare alla sostenibilità. "Scegliamo i materiali più idonei al prodotto da "vestire" e, grazie alle tecnologie più avanzate, siamo in grado di offrire ai clienti consulenza progettuale, professionalità, velocità di consegna e qualità assoluta".  Ne abbiamo parlato col management dell'azienda, in questa intervista.
La vostra società nasce da un gruppo che ha oltre 70 anni di esperienza nel settore etichette e packaging. Quali sono le principali tappe del vostro cammino di sviluppo?
Arca Sleeves nasce nel 2015 per volere del gruppo Arca, con l'obiettivo di estendere il mix prodotti da offrire al mercato con lo "sleeve termoretraibile". Fu una scelta strategica perché, grazie al nome di Arca e del suo storico importante nel mondo delle etichette autoadesive, dei multipagina e della produzione di impianti di etichettatura, allo stesso tempo mantenendo società separate, crearono un'azienda autonoma, solida e specializzata, che iniziò subito a crescere. Inizialmente si stampava in Arca Etichette, mentre la tubolazione, taglio e confezionamento in Arca Sleeves, ma le vendite e Il mercato hanno dato fin da subito ottimi riscontri, tant'è che nel 2017 abbiamo deciso di installare la prima OMET X6 430 per essere completamente autonomi nell'avere 'internamente' e sotto diretto controllo tutti gli step produttivi, con conseguenti vantaggi di efficienza ed efficacia.
La scelta di internalizzare è stata spinta da ragioni economiche o strategiche?
Avere il diretto controllo di tutte le fasi produttive è stata indubbiamente una scelta strategica e i buoni risultati raggiunti, ci hanno dato coraggio per acquistare una prima macchina da stampa. Oggi realizziamo tutto internamente pur avendo sempre a disposizione "l'appoggio" della capogruppo per quelle richieste che, eccezionalmente, risultassero tecnicamente non realizzabili con la nostra macchina e/o per far fronte ad eventuali picchi di produzione.
Alle origini del successo c'è sicuramente la crescita della nicchia delle etichette termoretraibili. Perché questo tipo di etichette ha successo?
Lo "sleeve termoretraibile" oltre a consentire una maggiore copertura delle superfici di tutti i prodotti (flaconi/bottiglie/barattoli, ecc.) permette di aumentare lo spazio a disposizione per i testi e la grafica, in particolare per quelle forme più irregolari, una vera 'manna' per le attività di marketing!
Più in generale si è adottato lo sleeve non solo per le importanti caratteristiche citate, bensì anche per la possibilità di utilizzarlo nella sua funzione di sigillo; infatti sia che gli sleeves siano stampati e/o neutri, sia che "vestano" tutto il prodotto o solo il tappo, garantiscono l'originalità del contenuto dalla manomissione, tutto ciò innalzando l'immagine di sicurezza del prodotto contenuto; abbiamo già sotto i nostri occhi e da tempo tantissimi esempi, basta 'fare un giro' in una GDO.
In effetti, pensando agli scaffali dei supermercati, questo particolare tipo di etichette le troviamo su tantissimi prodotti. Prima forse era un prodotto di nicchia?
Diciamo che, come tutte le innovazioni nel settore del packaging, anche lo sleeve termoretraibile ha avuto bisogno di 'qualcuno' che ha creduto nello sviluppare e diffondere questa soluzione;
le aziende produttrici, i loro marketing, il mercato in genere, hanno fatto il resto, portando lo sleeve da un "prodotti di nicchia" al largo consumo.
Comunque, è un prodotto offerto da molti competitor, quali sono i plus che cercate di offrire ai vostri clienti per distinguervi sul mercato?
Partendo dal presupposto che, ormai, la qualità è per tutti una 'condicio sine qua non' per essere presenti in un mercato sempre più esigente, affidiamo la nostra crescita alla "specializzazione"; il focus, il core business di Arca Sleeve consiste esclusivamente nella produzione di sleeve termoretraibili, gestiamo centinaia di nuovi progetti ogni anno e ci distinguiamo nella velocità e professionalità nella fase progettuale, la più importante per una buona riuscita di una fornitura industriale di 'sleeve'; in pochi giorni 'portiamo' sulle scrivanie dei nostri clienti, campionature industriali, realizzate grazie anche alla tecnica di stampa digitale.
Tuttavia, è un ulteriore nostro plus, un reale breve lead-time di consegna, ciò anche grazie alla grande professionalità e flessibilità di un team di lavoro, composto da persone che credono nella nostra azienda.
Qual è il prodotto specifico più richiesto dai clienti e perché?
Lo "sleeve termoretraibile" è il nostro "prodotto specifico"!
Ai clienti offriamo qualsiasi tipo di nobilitazione grafica disponibile nel settore; inchiostri metallizzati, inchiostri serigrafici, lamine colorate, vernici spessorate, opache, iridescenti, ecc., utilizzati singolarmente o in un mix adeguato alla richiesta del cliente.
Sotto il profilo produttivo, quali sono le vostre principali linee di produzione?
In termini di potenzialità di gruppo, abbiamo la disponibilità di oltre 4 macchine da stampa "tradizionale" e 2 per la stampa "digitale".
Abbiamo però voluto riservare al reparto produttivo di Arca Sleeves una macchina da stampa di eccellenza, appena acquistata ed installata (agosto 2019), una OMET FLEXO-UV-LED a 10 colori;
come anche testimoniato dalla stessa OMET di Lecco, Arca Sleeves è stata la prima azienda in Italia ad investire nella tecnologia di essicazione inchiostri con i "LED" nel settore degli sleeve termoretraibili (ndr) e ciò ci inorgoglisce, testimoniando altresì anche la nostra attenzione verso la "sostenibilità" e l'ambiente.
Installeremo il prossimo mese, la seconda linea di tubolatura; ovviamente, anche per questo importante investimento, si tratta di una scelta al top della tecnologia disponibile oggi tra i produttori di queste tipologie di macchine.
Siete soddisfatti della scelta fatta a livello di performances e di servizio?
La valutazione e la scelta della macchina è stata molto ponderata e quanto stiamo registrando oggi, sebbene siano passati pochi mesi dall'installazione, ci sta dando ragione.
Abbiamo riscontrato miglioramenti sia a livello di rese produttive che di riduzione degli scarti.
Quali prospettive di sviluppo vedete con le macchine OMET?
Una delle parole chiave di Arca Sleeves è sicuramente la crescita: tuttavia, parlando di 2020 e 2021, cominciamo a massimizzare il recentissimo investimento, anzi, i recentissimi investimenti che hanno visto anche il raddoppio della superficie dello stabilimento, l'inserimento di nuove risorse tecnico-commerciali, un nuovo gestionale ….
Non è comunque escluso che nei progetti di investimento 2021-2022, si possa prevedere un'altra macchina, probabilmente con larghezza più grande.
Quali sviluppi del mercato prevedete per il futuro? Su cosa intendete investire con la vostra azienda?
Possiamo dire che oggi il nostro settore merceologico di eccellenza consiste nel "Wine & Beverage", pertanto desideriamo sviluppare ulteriormente i settori Cosmetico, Chimico e Detergenza/Igiene Casa.
Dopo questa lunga serie di importanti investimenti in beni strumentali e strutturali, abbiamo iniziato un progetto volto ad implementare la formazione e la specializzazione del nostro team di lavoro.
Si parla molto di sostenibilità ed ambiente: per voi sono un trend da seguire?
Ovviamente sì, come detto e dimostrato nei contenuti precedenti, lo stiamo già facendo, compatibilmente con ciò che dipende principalmente da nostre scelte dirette.
Collaboriamo con i nostri principali fornitori di materie prime per affiancarli nei test e nelle valutazioni di nuovi materiali.
Come siete posizionati sul mercato italiano e quale andamento e prospettive di crescita vedete a breve?
Il mercato italiano consiste, al momento, nel 99% del nostro target.
Difficile fare una valutazione percentuale della nostra quota; più facile, invece, sostenere senza timore di essere contraddetti, che se un cliente ricerca un fornitore di sleeve termoretraibili che sia esclusivamente "specializzato al 100%" nello sleeve, nella sua progettazione, produzione con ampia capacità produttiva e veloce nelle consegne, non abbia una scelta molto ampia …