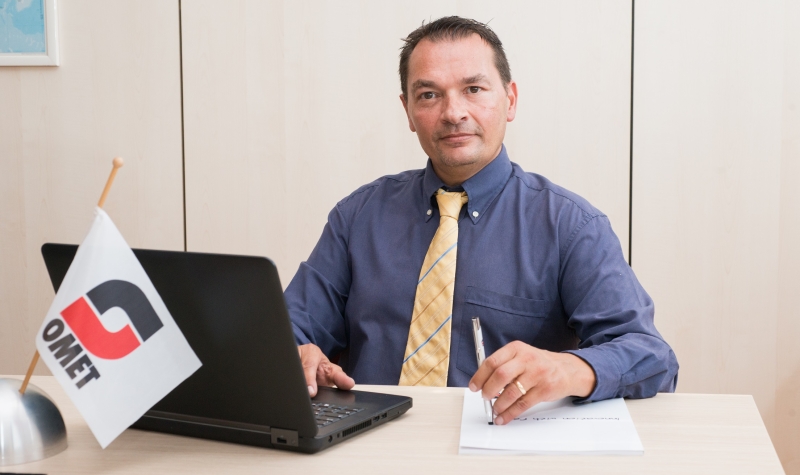 Andrea Campani is the new OMET Sales Manager for Italy
July 17, 2018
OMET announces the name of the new Italy Sales Manager for the Label division: Andrea Campani.
Campani has an extensive sales experience in the printing industry, having worked for several multinational companies. For over ten years he worked as a sales manager in the North of Italy representing sheet-fed machines companies and for fifteen years as country sales manager for CI flexo lines. Recently he gained experience as European dealer for flexo and converting machines and as area manager for Italy and Balkan countries for the flexo industry.
Beyond this considerable experience, Campani brings with him a strong attitude for team working and a particular attention to customer relations. "I am enthusiastic about this new opportunity, which allows me to grow, step by step, towards the leading brands of the market with new goals. OMET is a great company, and I wish I can contribute to its continuous growth thanks to the experience I've gained on the market. OMET is one of the best brands of the label industry, it is well known all over the world, and I trust I can bring some added value to its sales force".
The whole OMET team wishes Andrea Campani the maximum success and satisfaction in his new role.
---
Andrea Campani nuovo Sales Manager OMET per l'Italia
OMET rende noto il nome del nuovo Sales Manager Italia per la divisione Label: è Andrea Campani.
Campani ha una grande esperienza di vendita nel settore delle macchine da stampa avendo lavorato per diverse aziende multinazionali del settore: per oltre dieci anni è stato responsabile vendite in Lombardia per macchine a foglio e per quindici anni ha lavorato come venditore sul mercato italiano per macchine flexo a tamburo centrale. Recentemente ha avuto importanti esperienze come dealer europeo per macchine da stampa flexo e da converting e come area manager Italia e paesi balcanici sempre nel settore delle macchine flexo.
Oltre alla notevole esperienza, Campani porta con sé una forte propensione al lavoro in team e un'attenzione particolare alla relazione con i clienti. "Sono molto entusiasta di questa nuova opportunità, che mi permette di continuare il mio percorso, step by step, verso i brand leader di mercato, con nuovi obiettivi. Considero OMET una grande azienda, e il mio obiettivo è di contribuire alla sua continua crescita grazie all'esperienza maturata lavorando con altri leader del mercato. OMET è uno dei migliori marchi di settore, conosciuto in tutto il mondo, e confido di poter portare valore aggiunto".
Tutto il team OMET augura ad Andrea Campani il massimo successo e soddisfazione nel suo nuovo ruolo.