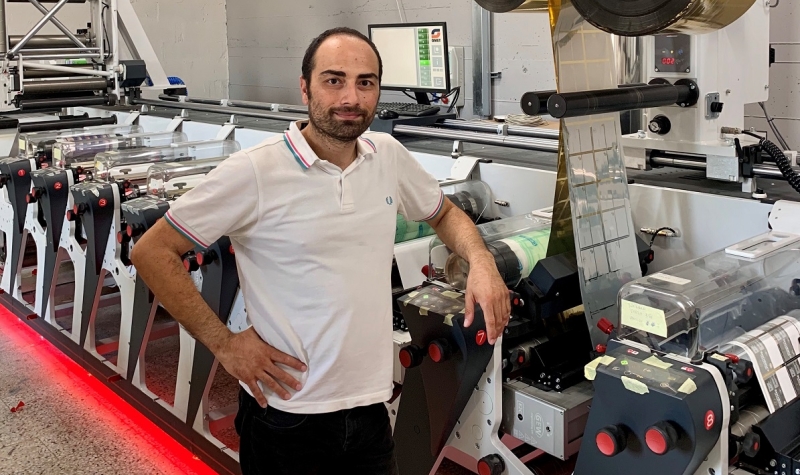 An excellence born in spite of troubles: Future Label, the innovation that moves the South of Italy
September 9, 2019
Launching a startup company is not easy: it's an ongoing challenge to gain the trust of investors and overcome practical and bureaucratic troubles. Benedetto Auletta, 31, owner of Future Label, shows how dedication, positive attitude and the right partners can open the way to success. His label factory in Basilicata, near Matera, has entered successfully the market this year with an OMET iFlex 370. "My focus is innovation – Auletta tells in this interview – from eco-friendly substrates to special inks, I can guarantee superior quality thanks to the OMET machine".
From empty spaces to production in just a few months: how did Future Label start?
The idea came about two years ago, visiting with my father the OMET stand at Labelexpo Europe in Brussels: it was the largest, brightest and most beautiful of the whole fair. We made an almost impossible request to OMET … and within a week they contacted us with a proposal that allowed the birth of Future Label. However, it was still an uphill climb as for any startup: especially here in the South of Italy, it's difficult to find investors and supporters: we had difficulties even with the telephone line, the water supply and electricity. We often hear about encouraging young people in creating business, but a few are willing to take on the risk. Last November we finally found investors and in March 2019 Future Label started production with an OMET iFlex 370. We are already having outcomes: the quality of an OMET product is immediately noticed by the market.
Why did you choose this industry to start your own business?
My father worked for thirty years in the label printing industry with his own company. As a child, I dreamed of working with printing machines because I have always loved colors. Moreover, I admired my father's commitment to work and I appreciated the satisfactions he gained: he was one of the first printers in the Basilicata region, if not the only one. I remember OMET's magazine and OMET's machines, always a step ahead of the competitors: I saw them so big, so long, and I thought "someday I'll have one too".
Now my father's company has closed down because his old equipment was unable to offer the quality and innovation on which I am focusing with Future Label. My father is helping me in this new adventure.
So you decided to follow your father's footsteps out of passion, not out of duty …
Yes, and he is very happy about it. I graduated in economics and I had a few years of experience in another company before starting my own business. I had no funding to start, I did everything on my own with the help of my family and a friend. To start production in a shorter time, we restructured the production space on our own, with the best that the local artisans could offer.
I think it's worth to rediscover the origins and preserve our history of craftsmen: we are classified as a small and medium-sized company but I like to call us "artisans" because there is still an important part of handwork in producing labels. We offer flexibility and customization, not standardization.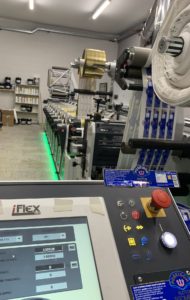 Which is your target and your element of differentiation?
We work for various industries: food, pharmaceutical, cosmetics and in a small part for the wine sector (but this is a niche for specialized printers). I don't want to start any price war: we focus on innovation, eco-sustainable products, special inks and everything that OMET's R&D can offer. Taking new paths is the only chance I have to win over local and estabilished competitors.
How is the market responding?
The innovations we offer are highly appreciated. Some customers are initially cautious, they order small batches, but when they see the higher quality and the good prices, they start to trust in us. To expand our business, we propose innovative substrates to our potential customers thanks to collaborations with paper mills, and we carry out on demand labeling and packaging tests on shelf products. Right now, we are working for Italian customers, but we are starting to accept orders from Europe and Middle East.
How is your production process?
Production is very flexible: innovative labels are still a niche and I can afford peak demands with the maximum flexibility and speed. The only delays can come from incoming logistics, because we are far from the paper mills and from other suppliers, but we always manage to solve them.
Why did you choose an OMET iFlex?
We chose an 8-color OMET iFlex 370 with web turn bar, in-line lamination, cold foil and plate mounter. It was affordable for my possibilities, but above all it's able of big satisfactions: it is extremely versatile, precise and enjoyable: you can change colors in real time, make any kind of test with an easy and intuitive use. I would recommend it to many, and I confess I would like to double up soon. It's a "golden" machine.
What are the advantages of OMET's technology, in your opinion?
I immediately received a very positive feedback from a client who couldn't get his labels in time from other suppliers. This machine is so fast and precise that the difference from competitors is immediate, not only for its speed but also for the quality and brilliance of the colors. I don't need to use any varnish to make products brighter and they like it because they have no expiring problems. I know I'm offering a product 10 times better than the others at first sight.
Are you satisfied with the OMET service?
Yes, everyone is very kind and prepared. I had a service problem and it was solved in less than 24 hours, on a Saturday. I am very satisfied, but I was aware of my choice: thanks to my father's experience, I knew I could trust in OMET, it's an excellent partner to work with. A nice coincidence: during the works, I painted the walls with the same gray colour of the OMET machine!
Going back, and knowing the difficulties of starting a new business, would you do it again?
Yes, because I like challenges. I like to bring new proposals to my clients and convince them to try innovative materials that my competitors don't offer because of higher costs or risks. I like to convince them that I'm giving a better service than any other. I have a couple of important companies already focusing on new sustainable materials, and this is a good guarantee for my suppliers. Every day is a challenge for me, but I'm building something on my own and for a young man of 31, is already a big deal.
Future Label: what do you see in the future of your business?
Label market will grow, but it's going to change radically. Innovation is faster and faster, not only about materials but also about their essence: for example, I can quote embedded microchips. OMET is at the forefront of research and development in this field, and I want to keep up with it because customers must be guided to offer the best to the end users. I want to be a supplier that encourages them to try new things and to improve their offer. You must pay attention to market changes, and I know that I can count on OMET for assistance and help for any need.
My dream, if I had the support of the institutions, would be to grow my label factory to create a large production area and improve economy of our region. I would like to choose suppliers from our region and build a warehouse, contributing to create positive economy and new jobs. I have to work hard to grow, because only if I do it, everything around me will do the same. I'll do my best.
---
Un gioiello nato tra mille difficoltà: Future Label, l'innovazione che muove il Sud
Avviare una start-up non è facile. E' una sfida continua, per guadagnarsi la fiducia degli investitori e superare difficoltà pratiche e burocratiche. Ma l'entusiasmo e la passione di Benedetto Auletta, 31 anni, titolare della Future Label, dimostrano che un atteggiamento positivo e la scelta dei giusti partner aprono la strada verso il successo. Il suo etichettificio situato in Basilicata, vicino a Matera, in pochi mesi è riuscito a far breccia nel mercato con i prodotti realizzati dalla OMET iFlex 370. "Punto tutto sull'innovazione – ci racconta in questa intervista – dai prodotti eco-sostenibili agli inchiostri speciali, garantendo una qualità superiore grazie alle possibilità offerte dalla macchina OMET".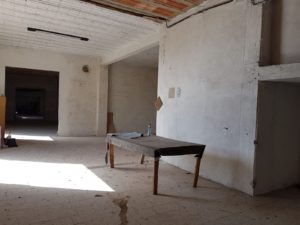 Dai locali vuoti alla produzione in pochissimi mesi: com'è iniziata la storia della Future Label?
L'idea è nata circa due anni fa, alla Labelexpo Europe di Bruxelles. Io e mio padre abbiamo visitato lo stand OMET, il più grande, luminoso e bello di tutta la fiera. Abbiamo fatto alla OMET una richiesta impossibile… e invece nel giro di una settimana siamo stati contattati con una proposta che ha permesso la nascita della Future Label. La strada però era ancora in salita, come per tutte le start-up: soprattutto al Sud, è difficile trovare chi ti dia fiducia, abbiamo avuto difficoltà perfino con la linea telefonica, l'allaccio idrico e la corrente. Spesso si parla di incentivare i giovani ma pochi sono disposti a farsi carico del rischio. A novembre abbiamo trovato finalmente degli investitori e da marzo 2019 Future Label è attiva, in produzione con la OMET iFlex 370. Stiamo già avendo un ritorno: la qualità di un prodotto OMET è stata subito notata dal mercato.
Come mai ha deciso di avviare l'attività proprio in questo settore?
Mio padre ha un'esperienza trentennale nella stampa etichette, aveva una ditta in proprio. Io sin da bambino sognavo di lavorare nel mondo della stampa perché mi sono sempre piaciuti i colori. Ammiravo l'impegno di mio padre sul lavoro e apprezzavo le soddisfazioni che arrivavano: eravamo una delle prime aziende in Basilicata, se non l'unica, a fare questo mestiere. Ricordo la vostra rivista che arrivava in azienda e ricordo le macchine OMET sempre un passo avanti alla concorrenza. Le vedevo grandi, lunghissime e pensavo "un giorno ne avrò una anch'io". Ora la sua azienda ha chiuso, aveva macchinari vecchi e non poteva offrire la qualità e l'innovazione su cui io sto puntando con Future Label. E lui mi aiuta nella nuova avventura.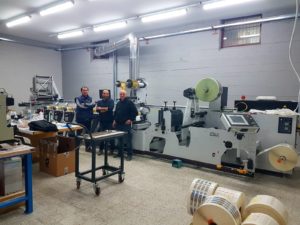 Ha quindi deciso di seguire le orme di suo padre per passione, non per dovere…
Sì, e lui ne è molto contento. Mi sono laureato in economia e commercio e ho fatto qualche anno di esperienza in un'altra azienda, prima di avviare la mia attività. Non ho avuto finanziamenti, abbiamo fatto tutto io, la mia famiglia e un amico. Per avviare la produzione in tempi brevi, abbiamo sistemato i locali grezzi con le nostre mani e con il meglio che potessero offrire le aziende del posto.
Penso sia giusto riscoprire le proprie origini e salvaguardare la storia, l'artigianato: queste sono piccole e medie imprese che a me piace definire "artigiane" perché c'è ancora una lavorazione manuale delle etichette. Offriamo massima flessibilità ai nostri clienti e siamo disposti a personalizzare i prodotti, non è tutto standardizzato e automatizzato.
Qual è il vostro mercato di riferimento e su cosa puntate per differenziarvi?
I settori sono alimentare, farmaceutico, cosmetico, in parte vinicolo anche se in quest'ultimo dominano aziende molto specializzate. Io non voglio fare guerre dei prezzi: stiamo puntando tutto sull'innovazione, sui prodotti eco-sostenibili, inchiostri speciali e tutto quello che il mondo OMET ha da propormi. Solo prendendo nuove strade posso sperare di competere con i nostri concorrenti locali, affermati da anni.
Come sta rispondendo il mercato?
Sta apprezzando molto le innovazioni che proponiamo. Inizialmente alcuni sono restii, fanno fare dei piccoli lotti, ma poi vedono che la qualità è superiore e i prezzi corretti, quindi iniziano a fidarsi. Per far breccia nel mercato, stiamo avviando collaborazioni con alcune cartiere che ci mettono a disposizione materiali innovativi da proporre al cliente, e siamo disponibili ad effettuare prove di labeling e packaging sui prodotti da scaffale per vedere cosa gradisce l'utilizzatore finale. Per il momento abbiamo clienti italiani, ma stiamo aprendo all'estero con commesse in Europa e in Medio Oriente.
Come è organizzata la produzione?
La produzione è molto flessibile: il fabbisogno nella nicchia dei prodotti innovativi non è ancora così alto e posso affrontare i picchi di richieste con la massima flessibilità e tempi brevi. Gli unici problemi, o ritardi, possono arrivare dalla logistica in entrata, perché siamo distanti dalle cartiere e da chi fornisce il materiale per la stampa, ma riusciamo a compensarli.
Perché ha scelto una OMET iFlex?
Abbiamo scelto una OMET iFlex 370 a 8 colori con barra di ribaltamento, laminazione, cold foil e montaclichè. E' una macchina accessibile alle mie disponibilità, ma soprattutto capace di dare bellissime soddisfazioni: è estremamente versatile, stampa con precisione e ti fa "divertire": puoi modificare ogni colore in tempo reale, fare prove e rifarle, la gestione è ottima, facile e intuitiva. La consiglierei a molti, e non nascondo che a breve vorrei fare il raddoppio. E' una macchina d'oro.
Quali vantaggi ha, a suo avviso, la tecnologia OMET?
Ho avuto subito un feedback molto positivo da un cliente che non riusciva ad ottenere le sue etichette in tempo dagli altri fornitori. La macchina è così veloce e precisa che si nota la differenza con i concorrenti, non solo per la velocità di produzione ma anche per la qualità e la brillantezza dei colori. Non ho necessità di usare vernici per rendere più brillanti i prodotti e questo piace perché non hanno problemi di lotti e scadenze. Mi rendo conto di offrire un prodotto che già al primo impatto si presenta 10 volte superiore alla concorrenza.
E' soddisfatto del servizio OMET?
Tutti sono gentilissimi e preparati. Ho avuto un problema di assistenza ed è stato risolto in meno di 24 ore, di sabato. Sono soddisfattissimo, ma ne ero certo: grazie all'esperienza di mio padre, sapevo di potermi fidare e che OMET sarebbe stato un ottimo partner con lavorare. Una coincidenza
simpatica: durante i lavori ho dipinto le pareti di grigio, e neanche a farlo apposta è lo stesso colore della macchina OMET!
Tornando indietro, e conoscendo le difficoltà di avviare una nuova attività, lo rifarebbe?
Sì, perché mi piacciono le sfide. Mi piace proporre cose nuove ai clienti e convincerli a scegliere me perché sto dando un servizio che i concorrenti sono restii ad offrire, per i costi elevati o per il rischio di proporre materiali innovativi. Ho un paio di clienti importanti che vogliono puntare sui materiali eco-sostenibili, e questo mi ha dato delle garanzie da offrire ai fornitori. Ogni giorno è una sfida, ma sto costruendo qualcosa di mio e per un giovane di 31 anni è già tantissimo.
Future Label: cosa vede nel futuro della sua attività?
L'etichetta sarà sempre presente sul mercato, ma non sarà più una classica etichetta. L'innovazione è sempre più veloce, non solo nei materiali ma anche nella struttura dei prodotti: si parla già, ad esempio, di microchip incorporati. OMET è in prima linea sulla ricerca e sviluppo, e io voglio stare al suo passo perché il cliente va sempre accompagnato ad offrire il meglio all'utente finale. Voglio essere un fornitore che lo stimola a provare cose nuove per migliorare la sua offerta. L'attenzione va mantenuta alta sui cambiamenti di mercato, e so che posso contare su OMET per l'assistenza sui materiali e per un aiuto in qualsiasi altra necessità.
Il mio sogno, se avrò anche l'appoggio delle istituzioni, è di far crescere il mio etichettificio fino a creare un polo di produzione locale, per creare lavoro nella nostra regione. Mi piacerebbe scegliere il Sud per gli approvvigionamenti, creare un deposito, insomma creare lavoro. Mi devo impegnare a crescere perché se cresco io, cresce anche ciò che ho intorno. E ce la metterò tutta.