20th OMET line for CARTIERE CARRARA Group
December 20, 2016
The Carrara family, which today is one of Europe's leading integrated producers of tissue paper, is present on both the professional market and the consumer market, exporting to over 40 countries worldwide.
Born from the strategic merger of the family companies MC Tissue and Cartiera Carma, CARTIERE CARRARA makes use of valuable benefits from the synergies of the new improved structure as well as the constant investment programme in cutting edge technology, guaranteed by the experience and solidity of the Carrara family.
OMET Tissue Converting has been a trustworthy partner of the Carrara family's excellence for many years.  The relationship began with Mario Carrara, honoured with Merit Certification for Labour, and then continued very well with his son Massimo, who has picked up the baton.
Besides a towel line, over the last eight years Omet has provided the Carrara family a good 19 napkin lines with various configurations and sizes, capable of covering all market needs, whether printed napkins or neutral, single-ply or more plies, micro embossed or plain.
CARTIERE CARRARA concentrates its production and processing activities within over 160,000 square metres, located entirely in Italy, and currently provides employment to over 500 employees. OMET confirms the Carrara Group's made in Italy choice, ensuring with its 100% Italian technology not just  quality products, but also a valid technical support thanks to more than 50 years of experience in the sector.
In the photo, full unity of purpose between Massimo Carrara, president of CARTIERE CARRARA and Enrico Gandolfi, OMET's sales director Italy.
Nella foto, piena unità di intenti fra Massimo Carrara, presidente delle CARTIERE CARRARA ed Enrico Gandolfi, direttore vendite Italia di OMET.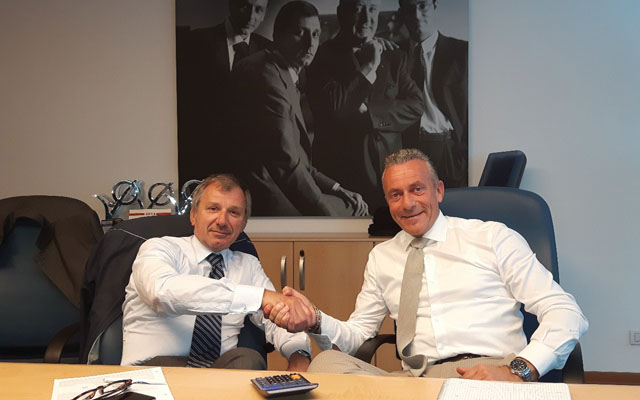 ---
20esima linea OMET al Gruppo CARTIERE CARRARA
La famiglia Carrara, che rappresenta oggi in Europa uno dei principali produttori integrati di carta tissue, è presente sia sul mercato professionale che sul mercato consumer, esportando in oltre 40 paesi nel mondo.
CARTIERE CARRARA, nata dalla fusione strategica delle aziende di famiglia MC Tissue e Cartiera Carma, si avvale dei preziosi benefici provenienti dalle sinergie della nuova struttura ottimizzata nonché del costante programma di investimenti in tecnologia all'avanguardia, sempre garantito dall'esperienza e solidità della famiglia Carrara.
Da molti anni OMET Tissue è un partner dell'eccellenza della famiglia Carrara: i rapporti sono iniziati con il Cav. del Lavoro Mario Carrara e poi ottimamente proseguiti con il figlio Massimo, che ne ha raccolto il testimone. 
Oltre ad una linea asciugamani, negli ultimi 8 anni Omet ha fornito alla famiglia Carrara ben 19 linee per tovaglioli con le più svariate configurazioni e formati, in grado di coprire tutte le esigenze che il mercato può richiedere, siano essi tovaglioli stampati o neutri, monovelo o più veli, microgoffrati o non.
CARTIERE CARRARA concentra la propria attività produttiva e di trasformazione su oltre 160 mila mq coperti, dislocati interamente sul territorio Nazionale, e attualmente garantisce l'impiego ad oltre 500 dipendenti. OMET conferma la scelta del made in Italy del Gruppo Carrara, garantendo con la sua tecnologia 100% italiana non solo una qualità di prodotto sui tovaglioli in carta, ma anche un valido supporto tecnico grazie agli oltre 50 anni di esperienza nel settore.