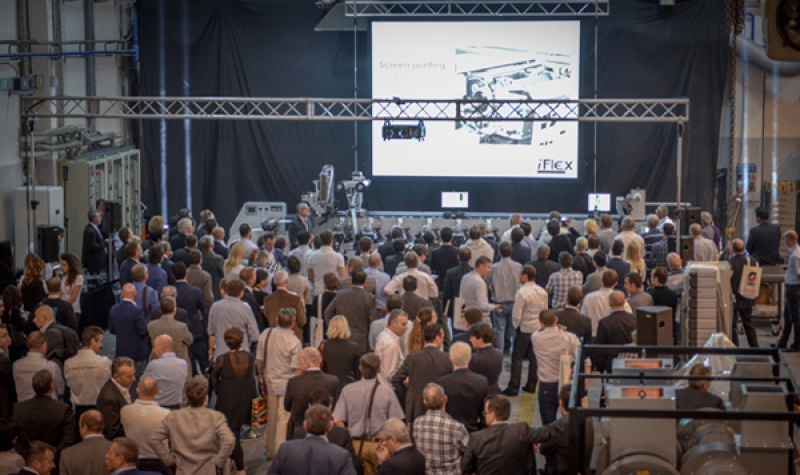 200 people 'WELCOMED THE FUTURE' and 2 new presses
May 26, 2015
Customers from every corner the world visited OMET premises in Lecco on May 19, 2015 to welcome the company's two new presses: iFLEX, narrow web press for labels and Varyflex V2 Offset mid-web variable size press for flexible packaging printing.
The afternoon event started with the visit of the Italian Minister of Social Affairs and Employment Giuliano Poletti who was guided in a tour of the company by Antonio Bartesaghi, managing director of OMET Group, and Marco Calcagni, sales and marketing director, and introduced to OMET's products excellence. The visit endorses the success of a company voted to innovation and with a large installed base all over the world.
At 6pm the event officially started with the unveiling of iFLEX, which had been kept secret until then, followed by demos on both iFLEX and Varyflex V2 Offset presses. The 200 guests, a mix of  customers, potential and journalists, were introduced to OMET's new machines and could assist to demos highlighting the presses characteristics of user-friendliness, operational efficiency, ergonomics and rapidity in changeover. Both presses performed greatly and produced diverse high-level quality jobs.
iFLEX, entry-level machine for labels, stunned the public with its simplicity of use, incredibly short set-up times and low waste operation. On iFLEX press, innovative devices like iLIGHT, pre-register system through laser pointers, and iVISION, smart camera-assisted register on each print unit, left the public speechless.
Varyflex V2 Offset, an impressive press for technology and performance, ideal for flexible packaging printing and for difficult substrates, performed greatly on shrinkable materials and thin films. Through the patented Easy Sleeve Format Change system, job changeovers are quick to perform, involve little waste and bring flexibility to the whole printing process. Varyflex V2 Offset is the perfect press to print flexible packaging in direct competition with CI Flexo and rotogravure presses or to accommodate runs of shrink sleeves, IML, multi-layer films, laminates and special applications.
printing.omet.com/varyflexoffset